Chips with everything...
A UAE-based start-up company is working with Etihad Airways to harness the internet of things (IoT) and reduce waste, cost, and environmental impact. Jill Stockbridge reports.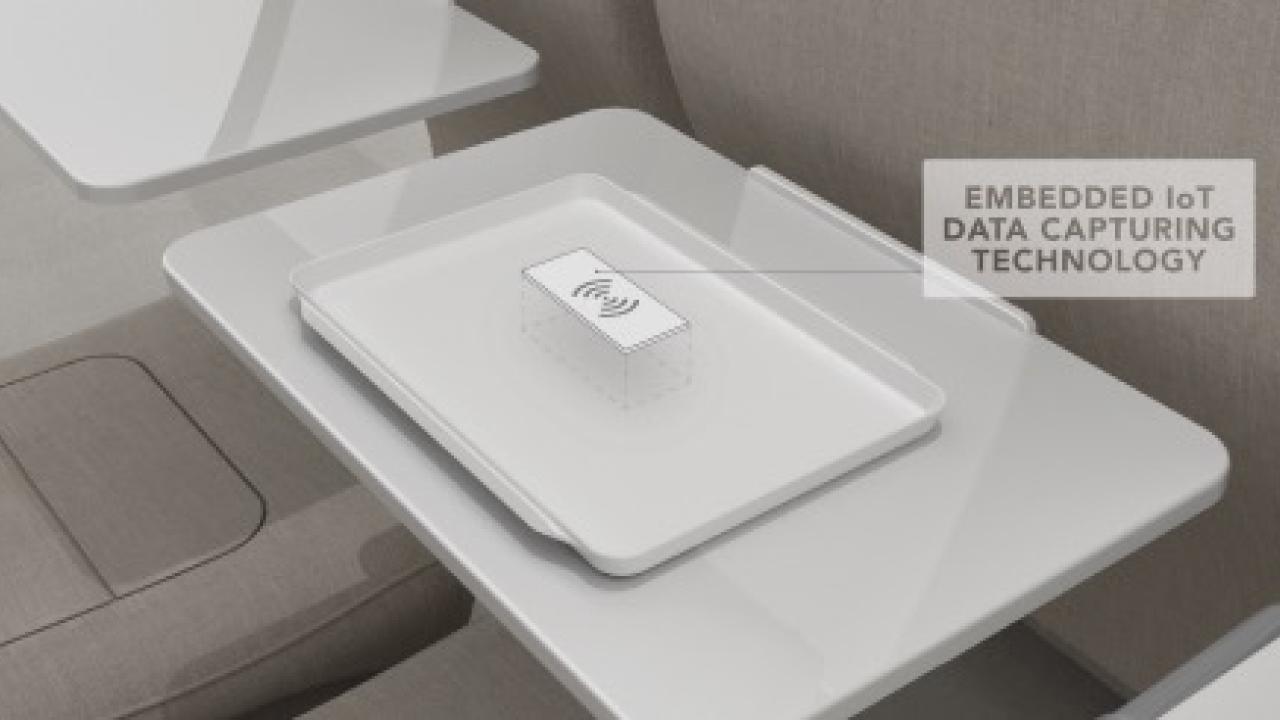 The three developers (from left): Yadhushan Mahendran, Maria Sobh, co-founder and chief design and creation officer, and Muhammad Rijal, co-founder and chief executive engineer. Picture: The Concept.
Who would have thought that changes made to a humble aircraft food tray could help save the planet and, potentially, billions of dollars as well?
The team at The Concept certainly do.
The company is introducing its NEOS Fly+, an IoT-embedded smart food tray, which it believes will reduce food waste on aircraft, a problem estimated to cost the airline industry around $3.9 billion annually (pre Covid), and collect valuable data on passenger consumption and preferences, while providing an environmentally sound, lightweight, and economical product.
CEO and co-founder, Yadhushan Mahendran, explained: "The IoT chip embedded within the tray is constantly communicating with our proprietary receivers, which are retrofitted to a cabin trolley. The chips are able to provide data that will be relayed and stored on the receivers with regards to meal type, location, and consumption level, based on tray weight."
The Concept focuses on creating sustainable solutions for clients using a combination of hardware and technology innovation. Since April, the team has been working closely with Etihad Airways to test and develop the in-flight product.
Mahendran said: "We are working with multiple stakeholders at Etihad Airways and the catering centre in order to ensure that our products are built to work within their environments, but also to further understanding how NEOS Fly+ can solve some other existing problems.
"Having Etihad Airways as part of our development has been amazing because it's given us the opportunity to test our products and develop them around actual scenarios, rather than just purely on simulations."
Not only does the tray save on food waste, but the manufacture method increases the user's green credentials and cuts costs.
High-tech: The tray concept that keeps on giving. Picture: The Concept.
Mahendran explained: "We apply the circular economy approach of manufacturing to our production cycle. Normally, airlines have to pay in order to dump their cabin waste post-flight into landfills. With NEOS Fly and NEOS Fly+ we take any recycled plastic (PET) cabin waste, such as water bottles or juice bottles, free of cost and use that to manufacture our trays.
"Since we use their waste to create new trays, we need fewer raw materials, and as they are providing part of the raw materials, we provide the airline with a percentage rebate for each tray's cost. This is a great business model as it helps airlines to reduce the amount of waste they put in landfill; they pay less to dump waste; and they are able to get their trays for a cheaper price," he added.
When the trays reach the end of their life cycle, due to damage or age, they are returned to The Concept, which recycles them once again into new trays. Mahendran said: "We want to ensure none of our products end up in landfill, but always have the opportunity to be re-made into the original products or repurposed into another product."
The smart trays are manufactured at a facility in Europe, where The Concept owns the tooling and production line. "Our production partner is more than 50 years old and manufactures for the likes of Ikea and Carrefour. Not only has this experience added credibility to our offering, but the company also supported us from the start," said Mahendran.
News of the NEOS Fly smart tray has generated industry interest, with a number of global airlines wanting to discuss being a developmental airline and potentially an initial launch customer. But for Mahendran and his partners, this is just the beginning.
"We want to create the 'Google Home' for the sky. As we finish the development of NEOS Fly+, our team will embark on redesigning existing products within the cabin using sustainable materials, and looking at how we can use IoT technology to collect valuable data that can help an airline enhance the passengers' on-board experience, while being more environmentally friendly and saving on cost."
He concluded: "Our goal is to have a host of IoT products within the aircraft cabin that can be connected to our receivers. We will then collect and provide this data to the airlines in a manner that is feasible and minimally priced."
Stay up to date
Subscribe to the free Times Aerospace newsletter and receive the latest content every week. We'll never share your email address.