The green dream
In a quest to reduce their greenhouse gas emissions, the use of sustainable aviation fuel is moving up the agenda for Arab carriers.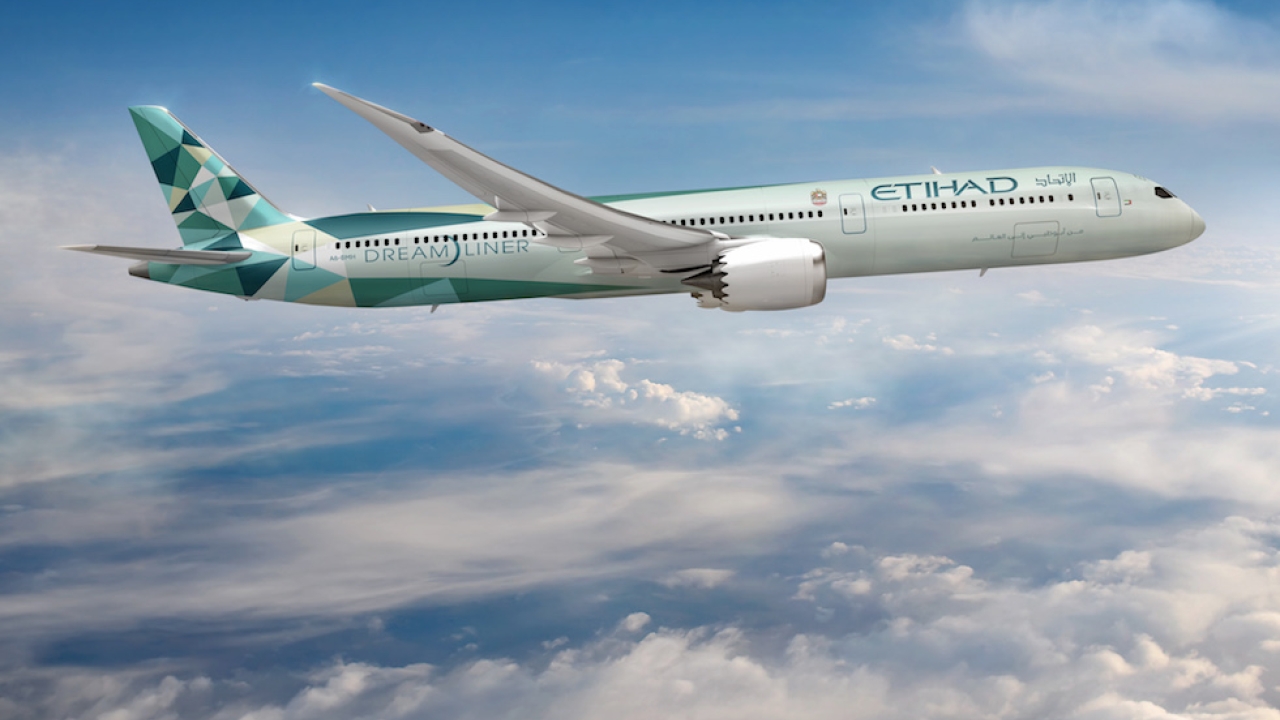 There is growing will among Arab carriers to jump on the sustainable aviation fuel (SAF) bandwagon.
The region's big three – Emirates, Etihad, and Qatar Airways – have the most comprehensive plans, and in some cases roadmaps, for the increasing uptake of fuels that promise emissions reduction.
Others are studying SAFs and developing environmental strategies that will see their introduction in this decade as availability increases.
Mariam Musallam Al-Qubaisi, who studied engineering for sustainable development at the UK's Cambridge University and is now the head of sustainability and business excellence at Etihad Aviation Group, had her own questions about the commitment airlines truly had towards the environment when she joined the Abu Dhabi-based carrier in 2019.
Also, there are analysts who question the pace at which a region, where oil and gas exploitation has enabled the rapid development of entire countries, wants to move past economies based on fossil fuels.
Al-Qubaisi acknowledged that there are "some people who are sceptical about the intentions of the United Arab Emirates" but added: "Our government is taking this topic extremely seriously."
The UAE recognises that its future lies in creating a self-sustaining energy industry that can transition from fossil fuels to renewable and low-carbon fuels.
As the UAE, and other countries in the region, invest in renewable energy, the airlines are picking up the pace on sustainability too.
Al-Qubaisi said Etihad has been a leader in supporting the development of low-carbon fuels for more than a decade. It operated the Gulf's first biofuel flight in January 2011 with a Boeing 777 delivery from Seattle to Abu Dhabi powered by a blend of petroleum-based and certified plant oil-based jet fuel.
In that year, Etihad also partnered with the UAE's oil producer, Adnoc, Boeing, and others to undertake research into feedstock production and refining capability in the country to develop a supply chain for SAF. And it was one of the founders of the Sustainable Bioenergy Research Consortium hosted by the Masdar Institute in Abu Dhabi, she added.
No-one claims that this work has delivered any breakthroughs in developing a SAF industry in the UAE, but it signalled the beginning of the journey, said Al-Qubaisi. "There needs to be the development of a proper eco-system to incentivise the production of SAF. We will need at least 10 years to develop a SAF infrastructure [in the UAE]," she believed.
Shannon Scott, senior manager, environment affairs at Emirates, is also looking to the future. "Emirates is supportive of efforts to develop a commercially viable supply chain for SAF, and we acknowledge the challenges of scaling up production in a sustainable way," he said. "Along with aircraft and engine technology advancements, SAF is one of the main opportunities for reducing aviation's carbon footprint in the longer term. It is estimated that SAF will contribute 60-70% of the airline industry's emissions reductions by 2050, based on industry projections.
"With the support of our executive committee, Emirates intends to engage further with suppliers, aircraft and engine manufacturers, and governments to support the development of SAF supply in the UAE.
"We are also a member of the World Economic Forum's Clean Skies for Tomorrow coalition, which is supporting a transition to SAF as part of a pathway towards carbon-neutral flying."
Over the past year, carriers in the USA and Europe, such as United, IAG and Air France-KLM have signed large deals to buy SAF over the coming years. Arab carriers have yet to join in, partly because there is no SAF available in their networks.
The one exception is Qatar Airways, which, in November 2021, committed together with eight members of the Oneworld Alliance, to purchase 350 million gallons of blended SAF at San Francisco Airport over seven years from 2024.
A second deal for a further 200 million gallons from five Oneworld members, including Qatar, was signed in March, as major players seek to secure SAF to help meet an alliance target of 10% SAF use by 2030.
Neither Emirates nor Etihad have yet to strike a major SAF offtake deal, but it surely cannot be too long before they do.
Scott noted: "In December 2020, we received delivery of our first A380 powered by SAF. Some of our flights from Oslo and Stockholm are also operating on SAF under the Norwegian and Swedish SAF mandate policies."
These European countries, soon to be followed by others, have a new requirement for small amounts of SAF to be used on all flights. And Emirates is studying the next step. "We are currently exploring partnership opportunities in the small number of destinations on our network where SAF is being made available and are looking into the longer-term prospects for technologies such as power-to-liquid fuels," said Scott.
At Royal Jordanian, the airline is in the SAF information-gathering phase and will build the use of these fuels into its soon-to-be-launched environmental management system, said Captain Ghassan Obeidat, chief technical officer, who is also a line captain on the Boeing 787.
This will be the carrier's first foray into creating an airline-wide sustainability plan and its launch has been a priority for new chief executive, Samer Majali.
At present, there is no SAF available in Royal Jordanian's current network, although there are potential providers in Toronto and Chicago, which it serves, said Obeidat. "We expect that, in two years' time, we will see a different outlook [on SAF] as more production comes on stream."
The carrier is also keen to promote a home-grown industry. "As part of our environmental plan, we aim to engage with the government to look into producing SAF in Jordan," said Obeidat. The country has made advances in solar and wind projects, which offer the prospect of local renewable energy sources for SAF production.
While the UAE has limited feedstocks for SAF in either municipal waste or renewable biomass (although it is studying both pathways), it has opportunities to develop solar power, it has nuclear energy coming online, and it is exploring other projects.
For instance, in January, TotalEnergies, Abu Dhabi's clean energy firm Masdar, and Siemens Energy, signed a collaboration to develop a green hydrogen demonstrator plant in the UAE to convert CO2 into SAF, with design work starting this year.
Other partners in the project are Etihad, Lufthansa, the Abu Dhabi Department of Energy, Khalifa University of Science and Technology, and Marubeni Corporation.
"The demonstrator plant will help to establish the commercial viability of green hydrogen as an essential decarbonised fuel of the future and will support Abu Dhabi's development as a green hydrogen hub," said Mohamed Jameel Al Ramahi, chief executive of Masdar.
As it backs projects in Abu Dhabi to develop SAF locally, Etihad is supporting the use of low-carbon aviation fuel (LCAF) as part of the decarbonisation journey for aviation.
LCAF is regular jet fuel but the production processes to make it have been adapted, for example, with the use of renewable energy or by carbon capture, so that the overall carbon footprint of the fuel usage is lowered by 10% or more.
The UAE and its fuel supplier, Adnoc, are hoping its LCAF will become accredited by the International Civil Aviation Organization (ICAO) for its carbon offsetting scheme CORSIA. "This would be an interim solution until we have scale when it comes to SAF," said Al-Qubaisi.
For now, airlines like Etihad and Emirates focus on special flights designed to highlight the challenges with using SAF. In October, as part of its Greenliner programme, an Etihad Boeing 787 flight from London to Abu Dhabi used a blend of 38% SAF, optimised flight routings, condensation trail avoidance, and other measures, to cut CO2 emissions by 72% for this service.
At the 2021 Dubai Airshow, Emirates signed an agreement with GE Aviation to conduct a test flight of an Emirates Boeing 777-300ER, powered by GE90 engines using 100% SAF by the end of 2022.
And Qatar Airways said: "In the coming years, there will be more industry-leading announcements, not only on SAF but also on aviation-technology partnerships and new carbon offsetting. At Qatar Airways, we recognise the importance of environmental sustainability in aviation, and we will continue reaffirming our leadership and commitment to work in collaboration with governments and aviation industry stakeholders towards our ambitious environmental goals."
The over-arching target, expressed by the International Air Transport Association (IATA) last year, is for net zero carbon emissions by 2050. "In our roadmap [towards this] it is our intention that, by 2035, 20% of our operations are powered by SAF," said Al-Qubaisi. "SAF is definitely the future for Etihad along with LCAF."
Today there are few molecules of SAF finding their way into the engines of Arab carrier airliners. But the commitment to change that is intensifying.
Al-Qubaisi is part of the environmental steering group that meets bi-weekly with Etihad's chief executive, Tony Douglas, to discuss progress on sustainability. Her counterparts at other airlines express surprise and some envy at that degree of engagement.
"We are fortunate to have leadership that fully believes in sustainability," she said.
Stay up to date
Subscribe to the free Times Aerospace newsletter and receive the latest content every week. We'll never share your email address.