Etihad trailblazes the road to neutrality
Etihad Airways is serious about its commitments to sustainability through reducing carbon emissions and eliminating waste.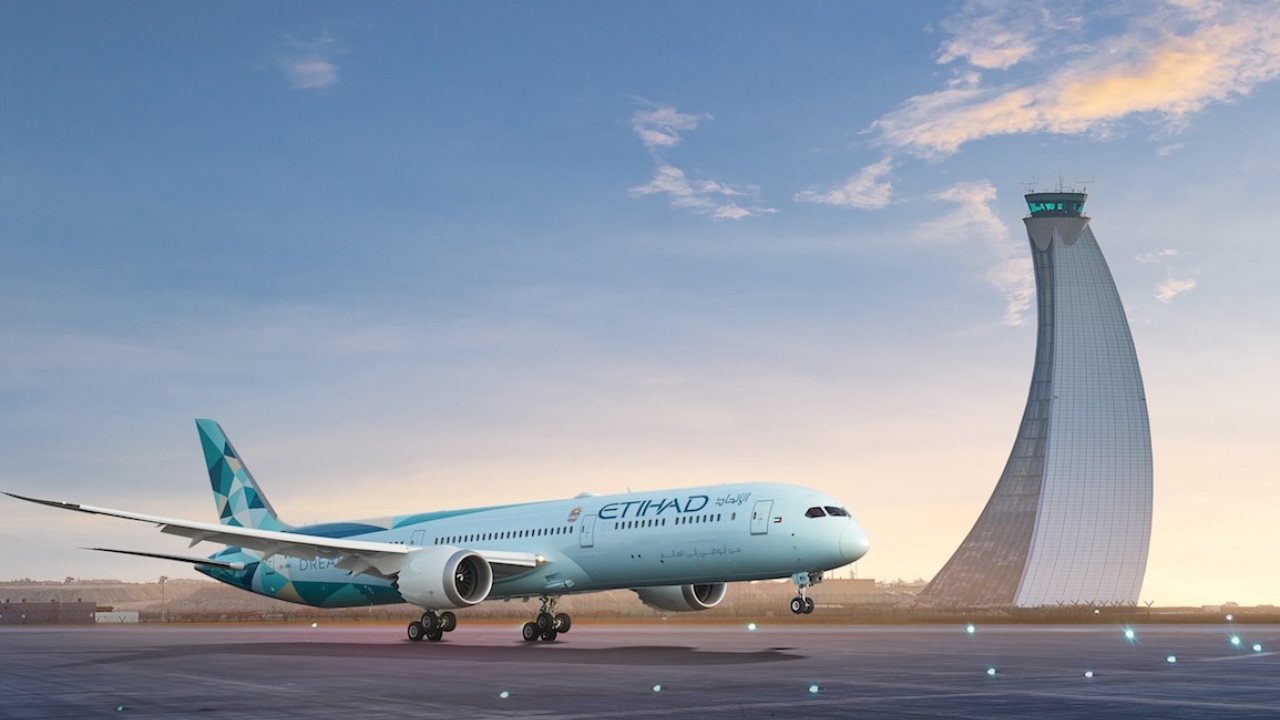 Etihad Airways has a goal to be carbon neutral by 2050 and Terry Daly, the carrier's executive director Guest Experience, Brand and Marketing, says it's "definitely on track" to achieving this "by, or even before 2050."
"Sustainability has always been a top priority for Etihad," he said, "and even through the past two years of challenges, we have made great leaps forward."
In 2019, the airline made a commitment to reach 50% of 2019 emissions by 2035 and to achieve net-zero emissions by 2050.
"We have a roadmap of how we will achieve this, with initiatives and partnerships that will provide operational efficiencies along the way," said Daly.
Etihad's most recent eco-flight on October 23, 2021 achieved a 72% reduction in carbon emissions, he noted. "We did this through a close partnership with the industry to optimise every single element of that flight."
These included operating the Boeing 787 Greenliner, the airline's most sustainable aircraft type, incentivising passengers to bring less luggage, working with Eurocontrol to optimise the flight path, and flying a continuous ascent and descent.
"What's more, we used the maximum amount of SAFs we could acquire – 38%."
Inside the cabin, the airline is reducing single use plastic. It recently unveiled its new economy class soft furnishings and tableware, something Daly is "proud" to be heading up.
"The new products have been designed with sustainability and improved guest experience as primary objectives, and they will be on board later this year," he said.
"Our new dining experience features reusable tableware made from recycled high-quality plastic and eliminates the use of single-use plastic.
"We are effectively moving away from disposable single-use plastic equipment on the main tray and replacing this with reusable tableware, including the lids of bowls and casseroles."
Daly said the new products are part of a closed-loop recycling system: at the end of their lifecycle, they are collected, washed, ground up and reused to make new replacement products, eliminating waste that might end up in landfill.
Etihad is also introducing quality stainless-steel cutlery into the economy cabin. "The cutlery is smartly packed in quality premium paper napkins without any plastic packaging," said Daly.
"The second/mid-flight service on longer flights will no longer be served in a disposable paper bag," he said. Instead, it will be served on the new dining equipment on a new Café Platter, enhancing the service and product while reducing the amount of disposables and waste.
Etihad is also tackling the problem of food waste with an initiative that helps people in need.
"With proper food menu planning, we have reduced food waste and are constantly looking at how we can do better," said Daly. "We've also been able to donate unused meals to people in need, through the support of the Emirati Red Crescent."
The airline is not overlooking finer details inside the cabin, including cushion covers.
"The new cushion cover is made of 200 thread count cotton to improve the rest and sleep experience on board in Economy," said Daly. "This reusable high-quality cushion cover replaces the current disposable non-woven material" which is plastic-based. He added: "The new cushion cover and pillows are produced locally in the UAE, supporting our drive to reduce carbon emissions and support 'Made in the UAE' products where possible."
Daly said Etihad was "trailblazing" when it came to sustainability. "We constantly look at weight reduction of each product on board to support reduction of carbon emissions. Where possible, we source products and food items locally and streamline the number of products we carry on board to be more efficient."
Stay up to date
Subscribe to the free Times Aerospace newsletter and receive the latest content every week. We'll never share your email address.