The outlook is bright for forecasting...
South Africa has launched a new $5.79 million project on behalf of the International Civil Aviation Organization (ICAO) dedicated to monitoring space weather globally, and specifically for the entire African region.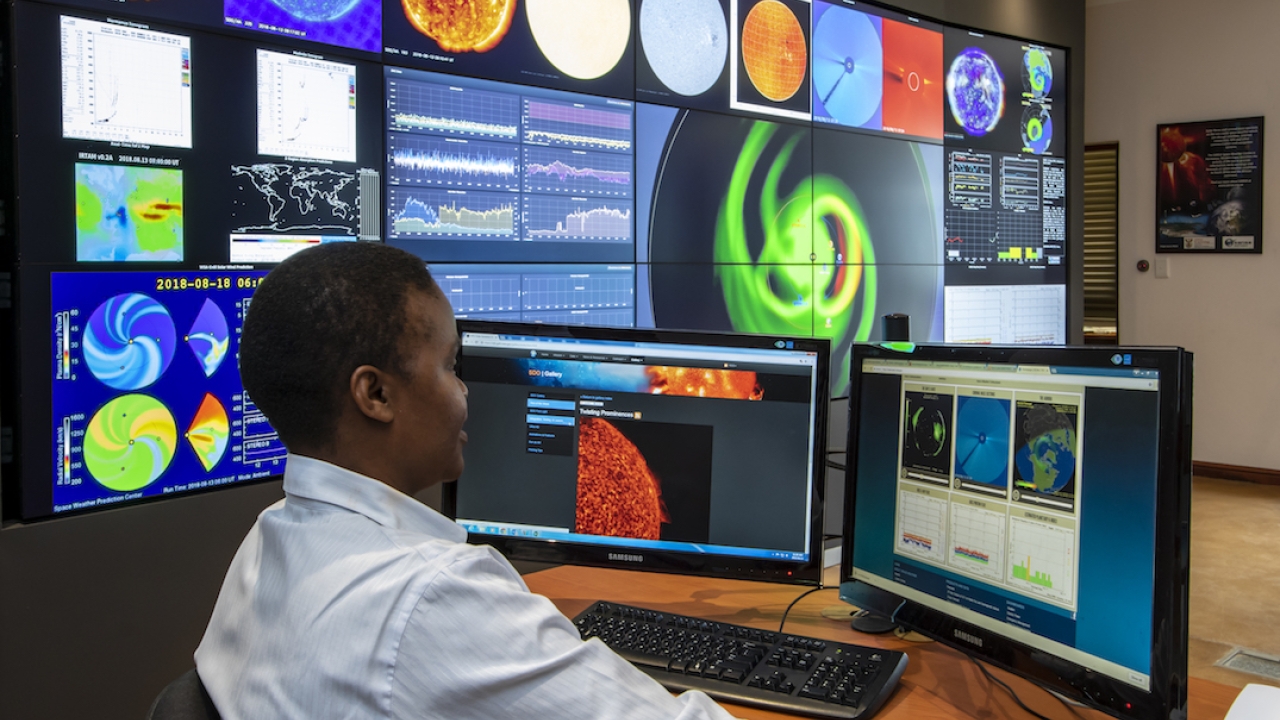 South Africa, through the South African National Space Agency (SANSA), was selected as an ICAO-designated regional space weather centre in 2018.
'Space weather' refers to the effect of the Sun on the Earth and is caused by solar flares, coronal mass ejections (CMEs), high-speed solar wind, and solar energetic particles.
When these components interact with the Earth's magnetic field, they can cause disruptions to aviation communications.
SANSA has been monitoring space weather since 2011, when it launched a space weather centre at Hermanus, outside Cape Town.
Now a new R90 million ($5.79m) project has been started for the ICAO that will see new state-of-the-art structures dedicated to 24/7 monitoring of space weather for civil aviation globally, and specifically for the entire African region.
This latest ICAO designation means that a fully operational capability for the African region will be in place by late this year, along with advanced research capabilities in the space weather field.
Space weather impacts on the aviation sector have been identified to be in the areas of high frequency (HF) communications, satellite navigation and surveillance, satellite communications, and radiation exposure.
"The development of suitable products in each of these areas are at an advanced stage and will lead to an information service required for the mitigation of these impacts, which, in turn, will assist with the reduction in the economic impact to the sector," said Dr Lee-Anne McKinnell, SANSA managing director.
These upgrades include a space weather monitoring room displaying real-time data 24/7, and a 100-seater auditorium, as well as offices and accommodation for students.
Communications and navigation disruptions, as well as increased radiation exposure due to space weather, have been identified as a serious risk to aviation and this is why the ICAO has given notice that it will require space weather to become a mandatory component for flight plans.
A further core capability of SANSA is that it is recognised as an expert in magnetic technology applications to clients in the defence and aerospace industry.
SANSA provides:
• Real-time forecasting and monitoring of space weather;
• Space weather services such as high-frequency propagation forecasts;
• Communication and service coordination, particularly during periods of extreme space weather;
• Promotion of understanding of space weather and its effects; and
• Training solutions in HF radio systems, geophysical exploration and satellite, spacecraft and airline operations.
SANSA is also the national authority on magnetic technology applications for the defence, aviation and aerospace industry.
These applications contribute significantly to the work of private aviation companies, national airports, the South African Navy, and the South African Air Force.
With more than 80 years of experience in magnetic operations, SANSA's Hermanus facility offers state-of-the-art equipment and services. It operates a magnetically clean facility that enables the perfect calibration of landing compasses, which are used to calibrate aircraft compasses and need regular calibration and maintenance.
SANSA hosts regular training courses on how to execute a compass swing procedure, including background on space weather, geomagnetism, and Fourier analysis (the mathematics behind the procedure).
Calibrating aircraft compass needs to be done in a magnetically clean environment and SANSA assists its clients in surveying an appropriate magnetically clean site on their own premises.
The organisation also offers the calibration of magnetometers or electronic compasses used for navigation and orientation in uncrewed aerial vehicles (UAVs) and satellites.
SANSA has designed and built a magnetic test bench to test an aircraft standby compass before it is installed into an aircraft, thus ensuring that it is equipped with a working compass before executing an expensive compass swing procedure.
A high-resolution local geomagnetic field is modelled across southern Africa using SANSA observatory and repeat survey data. The output of this model is used for navigational purposes by SANSA clients.
Stay up to date
Subscribe to the free Times Aerospace newsletter and receive the latest content every week. We'll never share your email address.