How the next-gen of aviatrix can become high flyers
Female pilots remain a rarity, especially in Africa, but the African section of the 99s is on a constant mission to change that.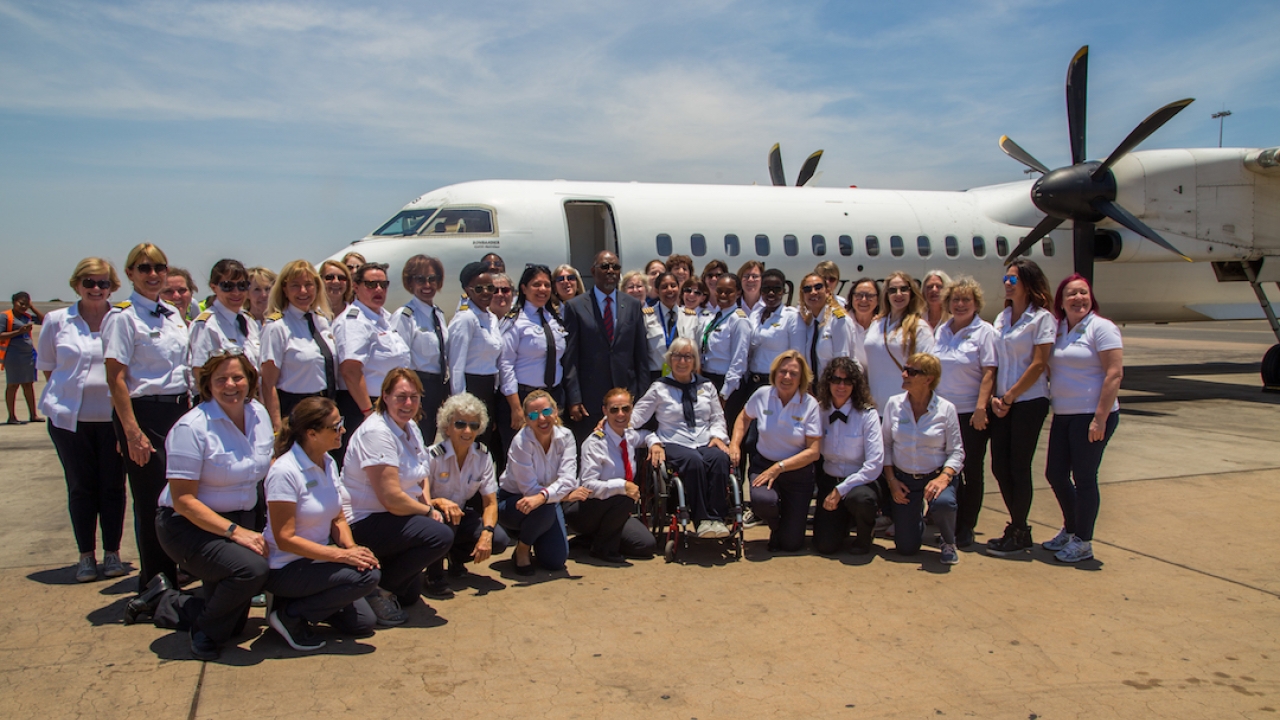 Worldwide, 6% of pilots are women, with less than 1% represented in Africa. However, the African section of the 99s International Organisation of Women Pilots is working hard to improve this figure.
The organisation was established in 1929 by 99 female pilots, founded by Amelia Earhart. It currently has more than 6,000 members, divided into chapters and sections depending on their geographical locations, from 44 countries.
At the helm in Africa is governor Ivana Alvares-Marshall.
"The African section works with schools in Africa through grassroot programmes to help enthuse girls to look into gaining a career in aviation," she explained.
"The organisation teaches educational sessions to young people, concentrating on girls. However, boys also will benefit.
"We aim to bolster science, technology, engineering, and mathematics (STEM) subjects in Africa through the 'girls wings for Africa' (GWFA) project. Working with underprivileged children, visiting local schools in villages, and starting STEM camps will inspire a new generation achieve their goals."
The African section partnered with the Airbus Foundation in 2020 to launch Airbus little engineer (ALE) – an interactive digital programme in Malawi, promoting STEM in aviation. The aim is to educate 10-to-16-year-olds through a series of interactive online 3D modelling workshop.
Alvares-Marshall said: "Financial difficulties and the exorbitant costs of becoming a pilot are what hinder females joining. It is through STEM initiatives and scholarships that we can help raise future generations to join the aviation sector.
"Any aviatrix holding a current pilot licence or student pilot licence may join the African Section 99s. We are looking for partners who would be willing to add programmes to our existing ones for variety, or would like to sponsor some of the resources for our STEM programmes.
"Females in Africa need to build networks inside and outside of their organisations, work with gender diversity programmes, promote and support other women, be a mentor and role model."
For Alvares-Marshall, her interest in aviation was sparked when she as 10 years old.
"The dream of becoming a pilot started when I did a round-the-world-trip and was emigrating to New Zealand with my parents," she explained.
"Years ago, airlines would allow passengers to visit the cockpit on long-haul flights. On one of those journeys I asked if I could visit and, to my surprise, they allowed me to. There I was, a little girl sitting on the jump seat, mesmerised by all the switches, lights, and the beautiful night sky. I was hooked immediately and made it my ambition."
Today, back home in Malawi, she works for a corporate bank flying a King Air B200, which involves some bush flying.
However, while she is flying high now, Alvares-Marshall did experience discrimination on occasion.
"I experienced misogynistic behaviour, sexism, harassment, gender discrimination, pay difference all in the workplace, as well as racism in just ordinary day-to-day living," she explained.
"These are things that I and other women in aviation have experienced. There is a small minority of men who may cause problems for women but the majority of the time most want to see you succeed and applaud your success. It was the men who welcomed me into aviation and continue to support my career."
Now she enjoys working with communities in Malawi sharing her passion for aviation.
"I was honoured to receive the award of inspiration 2021 for the works we have been doing from the 99s," she said.
In 2019 she organised the first international women pilot's conference to be held on the African continent hosted in Malawi. The next will be held in Tanzania in 2024."
What is her advice to any African youngster dreaming of becoming an aviatrix? "The key is to be passionate in what you do. Be bold and go for it," she concluded.
Stay up to date
Subscribe to the free Times Aerospace newsletter and receive the latest content every week. We'll never share your email address.