Team brings helicopters 'back from the dead'
Returning a fleet of long-parked Bell helicopters to service presented Jet Aviation's Fujairah shop with unique challenges.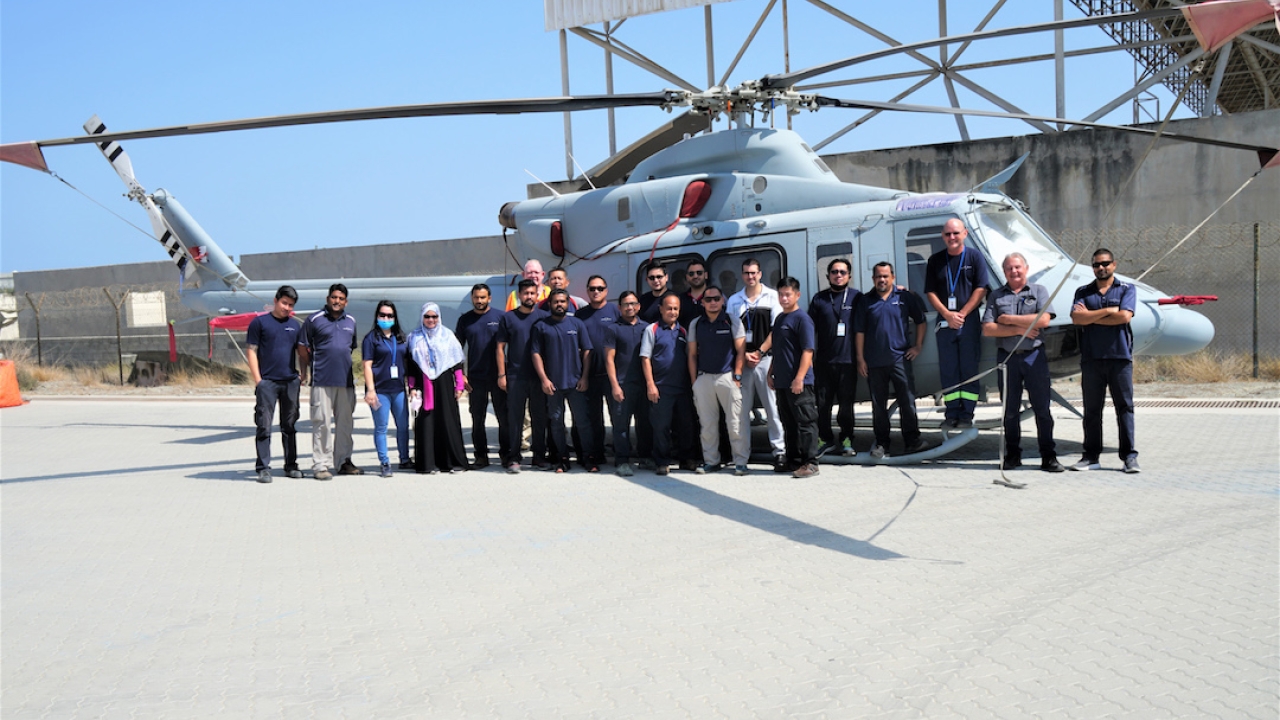 What does it take to restore long-parked helicopters to airworthiness? Jet Aviation's Mike Conomos says it calls for experience, expertise, passion and flexibility – and he should know.
As the general manager of the company's MRO base at Fujairah International Airport, he's just seen his multinational team achieve a "stunning" transformation of three Bell 412s for an undisclosed customer. They're currently working on four more destined for a customer in Africa.
The helicopters were in a sorry state when they arrived by truck in early 2021. All had been parked for an "extended period" – essentially left where they stood when the previous operator's contract ended. Four had been in shipping containers in the desert since 2016.
The challenge for Conomos and his team was to salvage and restore the aircraft to airworthiness and sell them. "It was a big project," he said, adding: "The team was excited to take it on."
Conomos said this type of situation "doesn't come along very often."
Normally the directions in original equipment manufacturer (OEM) maintenance manuals are followed so aircraft can be reactivated with minimal cost. "In this case, the helicopters were parked suddenly, and the normal inhibiting procedures required for long-term storage weren't carried out," explained Conomos. "Hence the additional work required to carry out a light overhaul of the engines and drivetrain components."
Cross-border logistics proved a major challenge, compounded by Covid-19. "What used to take a month is basically now taking two months," said Conomos.
Once in Fujairah, the aircraft were fully disassembled, including avionics, which revealed "a bit of corrosion in the engines, transmissions and fuselages" that required off-site overhaul before reassembly and painting. It took, on average, 3,000 work-hours to prepare each of the first three 412s for their new roles in surveillance and public security.
"Our customers appreciate both the scope of our capabilities and our commitment to the highest standards," said Conomos. "The team drew on all their experience, expertise, passion and flexibility with this project, and I couldn't be prouder of them."
Jet Aviation took over the Fujairah helicopter MRO facility as part of its 2018 acquisition of Hawker Pacific. Its team of more than 20 maintenance professionals represents nearly as many nationalities.
Stay up to date
Subscribe to the free Times Aerospace newsletter and receive the latest content every week. We'll never share your email address.