Plug in to Magnetic's attractive idea
If you can't take your aircraft and components to the MRO shop for maintenance, why not bring the shop to your aircraft? Magnetic MRO thinks it has the answer.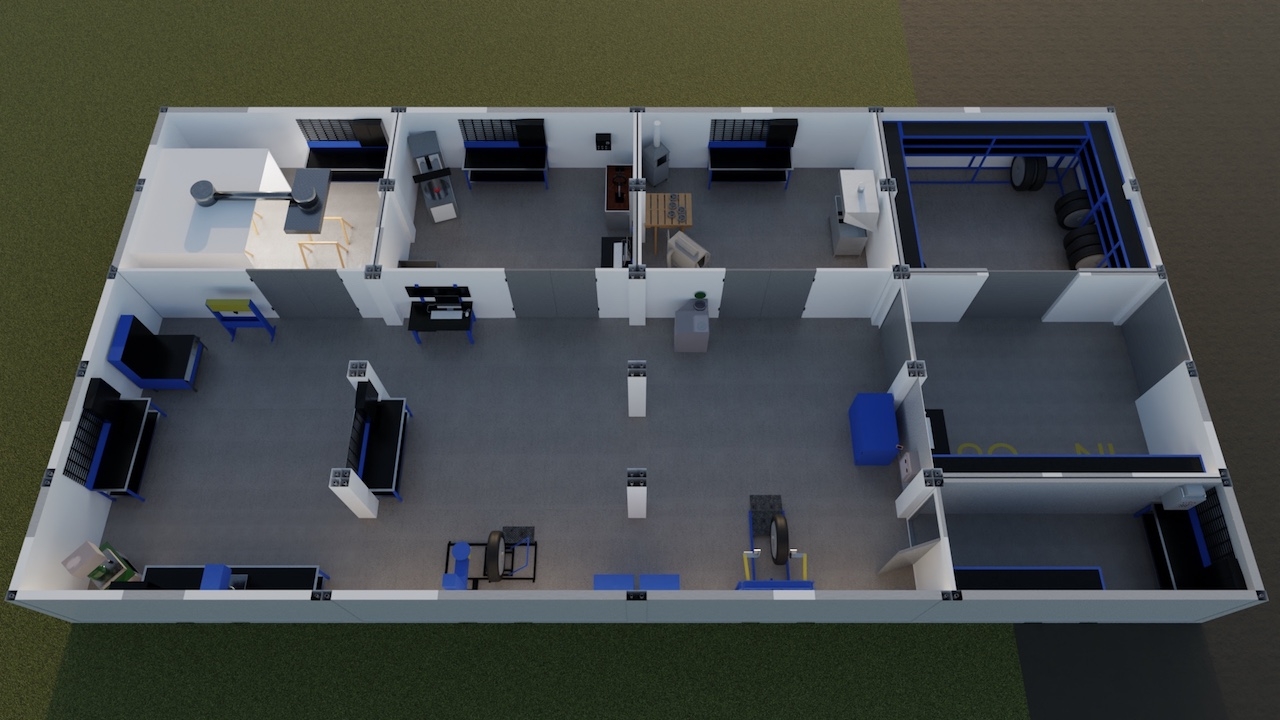 An innovative solution for hassle-free set-up of wheel, brake and battery workshops has been launched in Africa by Magnetic MRO.
The Estonia-based MRO specialist, part of the Magnetic Group, believes its modular plug-in workshop is the way forward for African operators, and is working with a number of interested parties to pilot the idea.
The workshop is assembled from modules, each based on a standard TEU container, fabricated and equipped to the customer's specification, shipped to site, installed by experts and commissioned, all in a fraction of the time it would take to construct a similar facility by traditional methods.
Margus Graf, workshop manager at Magnetic MRO, described the plug-in workshop as "unique". He said the concept evolved from Magnetic's direct experience of the African MRO market, much of it through its subsidiary, Direct Maintenance, which operates stations in east Africa.
That experience, plus the current difficult operating conditions around the world, convinced the MRO group that the time was ripe for its tailored solution.
"It's difficult for [airline] clients who are focused on their core business to refocus on building and developing a workshop," said Graf. "With our solution, they don't have to because we take care of constructing and equipping the workshop."
As well as offering long-term savings, the plug-in workshop could generate a possible revenue stream, he said. "It's a first step to setting up in-house maintenance facilities – something a lot of African airlines are seriously looking into now."
The Magnetic Group sees huge potential for growth in the African MRO market. Original equipment manufacturer (OEM) forecasts suggest more than 1,000 new aircraft will enter the region's fleet by 2040, alongside increased leases of mid-life assets as regional operators renew their fleets.
"We know the fragmented nature of the market and the huge distances involved on the continent, which present African customers with much greater logistical problems than most airlines," said Graf. Shipping parts in and out "can be a nightmare" for smaller airlines with limited resources.
Magnetic has developed its plug-in workshop as a standard base-line solution designed to handle up to 1,000 wheels, 300 brakes and 300 batteries annually. "Of course, every customer is different," said Graf. "So, while we have created a standard solution, every project starts with mapping the customer's needs so we can tailor the design of their shop to their specific requirements and capabilities.
"Based on our standard solution, we estimate the lead time to be six months, not including transportation to the customer's location. Setting up on site takes one to two weeks, depending of the size of the shop."
Before any construction work begins, the Magnetic team conducts a site inspection and assesses environmental factors. It works with the customer to develop a workshop layout appropriate for the tooling selected, with access, storage and office areas included.
Construction of the modules takes into account the unique conditions of the location. To counter harsh weather conditions, module frames are coated with anticorrosive primer and paint. Walls are constructed of pre-painted zinc-coated steel sheet; 0.5mm trapezoidal zinc-coated steel sheet protects the bases.
The module walls, floor and roof are made of 100mm mineral wool or 80mm polyurethane sandwich panels. Climate-control systems are fitted as standard.
Each plug-in workshop is assembled at Magnetic MRO's base station. Tooling is installed and inspected before the modules are disassembled for shipping to the location, which the customer will have prepared ready for installation.
At site, Magnetic MRO's team assembles and inspects the facility and connects it to the power grid and compressed air lines. The group's instructors will provide initial training on the use of the tooling before handing the facility over to the customer's team.
Stay up to date
Subscribe to the free Times Aerospace newsletter and receive the latest content every week. We'll never share your email address.