Mind the gap!
Storm clouds are forming over MRO manpower issues. Even running at capacity, Middle East training establishments will be stretched to keep up with demand, raising fears of poaching and bidding wars for qualified engineers.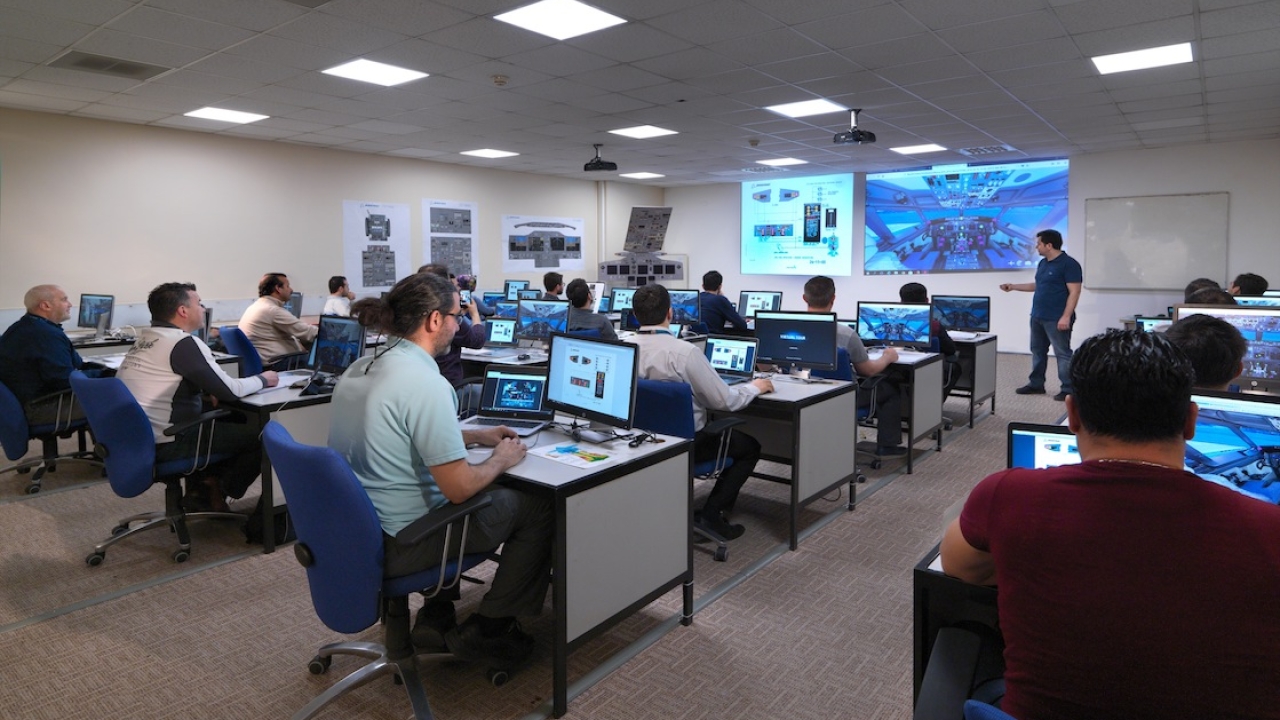 When the MRO engineer shortage breaks into mainstream media with headlines such as 'Desperately seeking mechanics' – in other words, when what everyone in the industry has known for years is considered current affairs – you have to hope someone is taking it seriously.
In the Middle East, several academies are doing exactly that. But the numbers are daunting.
CAE's Aviation Talent Forecast, released at the Paris airshow, predicts the need for 22,000 new commercial aircraft maintenance technicians in the Middle East in the next 10 years. The report splits demand almost equally between replacements for personnel leaving the industry and those needed to sustain growth.
Boeing's 20-year forecast puts the regional demand for new engineers and technicians at 50,000.
Supply chains suffer in times of manpower shortages, potentially leading to 'no-poach' deals between top-tier OEMs and their suppliers, as was alleged in a case in the US involving Pratt & Whitney (P&W) which was settled in late April when the court ruled that the engine prime and its suppliers had not violated labour laws.
Overlooked in the case was the impact of poaching on markets already facing a growing gap between demand and supply. In the Middle East, the resulting inflationary salary spiral is well-known and serves as a useful recruitment tool for MROs and airlines whose pace of growth outstrips the ability of their domestic markets to add to the talent pool.
Jordan, Turkey and Egypt are exceptions. There the needs of the principal domestic MROs are covered by their own nationals, trained at home.
However, tired of losing their engineering graduates to the 'big three' Gulf carriers, there have reportedly in past been top-level conversations about formal arrangements between those with and those without their own academies to train candidates specifically for the MRO competition.
Newer players place additional demands on an already-stretched market. Flydubai, for example, is on an expansion drive. The low-cost carrier added 1,300 employees in 2022, the most for a single year since its inception in 2008. A spokesperson said the airline is on track to add another 1,100 this year, representing an increase of 24% in staffing; at mid-year, it had 550 hires still to make, including up to 100 engineers.
The Dubai-based airline does not train engineers at its own training centre or work with other establishments. It relies instead on "the desire of top talent to relocate to Dubai".
Sustainability is a key consideration of Turkish Technic and is reflected in its "education culture". General manager Mikail Akbulut says the company's approach is to develop training activities "in direct proportion" to its MRO capabilities and as a contribution to global civil aviation. With extensive and well-equipped facilities at Ataturk, Sabiha Gokcen and Esenboga airports, "we are able to meet the current and future demand for training", he added.
Turkish Technic courses encompass technical, type and basic training management, conducted under EASA Part 147 and SHY 147 approvals, for its own needs as well as for other domestic and foreign third parties. As an approved examination centre, it organises module exams for its own technicians as well as others who work in civil aviation.
In Jordan, leading independent MRO Joramco places great emphasis on maintaining its pipeline of engineering personnel through its active and well-supported training academy in Amman.
"Joramco Academy is proud to be among the few training institutions in the Middle East awarded an EASA accreditation," said Fraser Currie, Joramco chief executive. "This approval allows the academy to offer a wide range of aircraft maintenance courses and qualifications which are internationally recognised."
Obtaining EASA approval last year has opened the door for Joramco Academy to expand internationally, notably in Ghana, which "further demonstrates our commitment to providing quality education and training in Jordan and beyond", he said.
Jordanian nationals make up the majority of the academy's intake at its main site at Queen Alia International Airport (QAIA). It encourages young nationals to take up aerospace engineering through an innovative MRO scholarship programme for a limited number of candidates that covers the full cost of training and guarantees a career at Joramco after graduation.
Egyptair Training Academy, with more than 35 years of experience in MRO training, describes itself as "regional leader" in the field. It trains engineers and technicians for a variety of roles in the MRO environment, from line and base maintenance up to heavy maintenance.
In Dubai, alongside independent training establishments such as Jetstream, Emirates Engineering Training College provides basic and type training to its own personnel, third party and external customers under EASA and UAE GCAA approvals. It is also approved to conduct exams.
But demand is such that Emirates Engineering also dips into the international recruitment market on a grand scale. It recently announced plans to recruit for 475 technical and MRO roles in Australia, Brazil, Canada, Saouth Africa and the UK.
Stay up to date
Subscribe to the free Times Aerospace newsletter and receive the latest content every week. We'll never share your email address.