Inspector gadgets…
Inspection is a key part of the MRO community's contribution to aviation safety. Chuck Grieve reviews developments in inspection tools and methods where communication is king.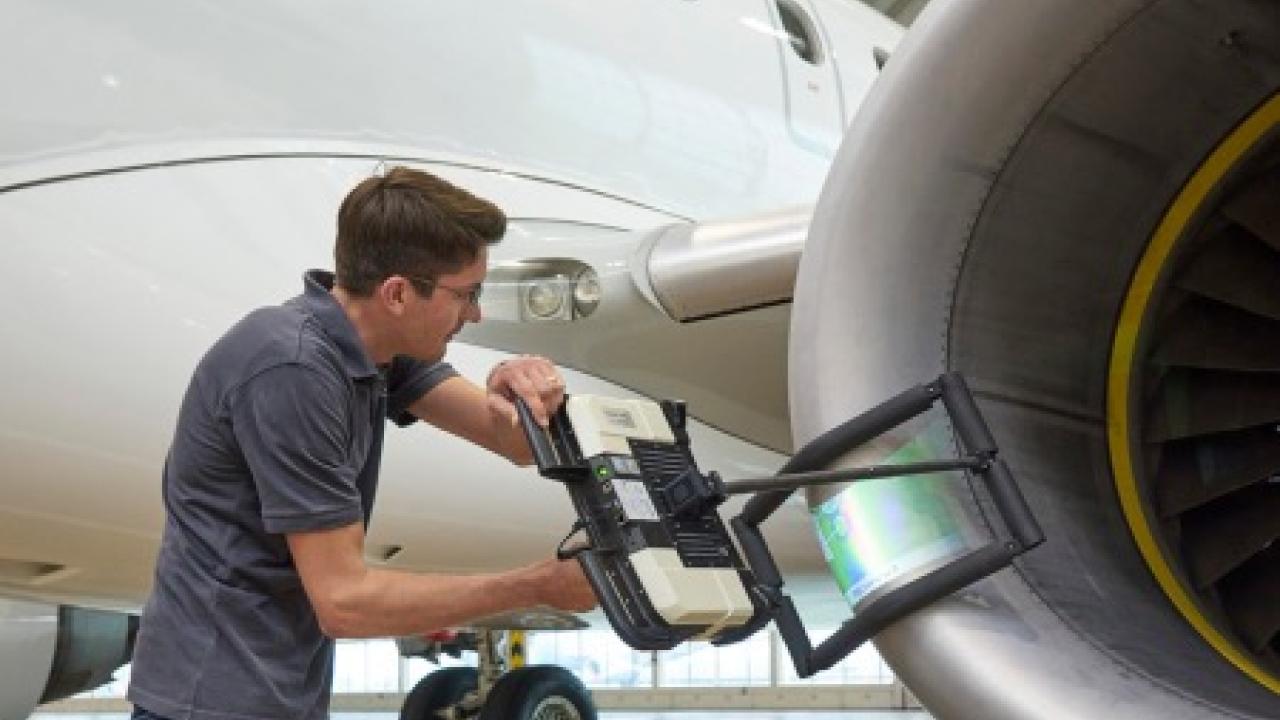 Fast and accurate: The hand-held dentCHECK tool provides an accurate map of surface defects and deformations. Picture: 8tree.
Safety is the watchword for aviation authorities; compliance is non-negotiable but regulators are showing themselves to be open-minded about how MRO operators achieve it.
The Federal Aviation Administration (FAA) reportedly has no bars on which tools MROs can use, provided they can demonstrate compliance. The American regulator goes a step further by encouraging repair stations to share lessons learned on the technologies they're using.
The FAA, itself, has embraced what it calls video communication technology (VCT) to validate and perform its safety-critical activities, and is cataloguing best practices.
Others are more cautious. The International Air Transport Association (IATA), for example, apparently sees VCT as an enhancement, rather than replacement, for monitoring repairs – it can't replace smell or touch.
Etihad Engineering thinks along the same lines. It has clients based around the world and, before the pandemic, welcomed them to its hangars in Abu Dhabi to observe work on their aircraft. In recent months, to maintain this level of customer service, the MRO embraced off-the-shelf technology, including GoPro cameras and iPad tablets, to communicate seamlessly with customers in their own locations.
Frederic Dupont, vice-president of technical sales and customer service, said the pandemic advanced some of what Etihad Engineering was already doing in communications. "We had to adapt... [beyond] the typical Teams and Zoom meetings, to going through inspections with videos and sharing files live with our customers.
"Some of the way we do business and how we support our customers definitely will change."
Communication is built into tools such as 8tree's dentCHECK, a hand-held 3D optical surface inspection tool, designed for the aerospace industry, that maps surface defects such as dents, bumps, lightning strikes, blend-outs and other deformations. It is approved by all major airframers and counts a major Middle East-based carrier among long-term users.
A new feature called panoLite creates a stitched panorama view of large area damage. It is designed to ease the burden on mechanics dealing with multi-dent scenarios, such as hail damage, by seamlessly measuring dents on areas up to 2m wide. The company said users report significant improvements in efficiency.
Chief executive, Arun Chhabra, said the tools are "specifically designed for aviation industry workflows" with an intuitive user experience that makes precision 3D results as easy as taking a photo. Additionally, the tools provide "instant actionable answers, and not mountains of complex 3D data".
Lufthansa Technik (LHT) responded to pandemic travel restrictions by developing virtual table inspection and virtual borescope inspection. Both take advantage of the latest 5G technology in LHT's own private wireless network, which gives high-resolution, low-latency live-streaming and communication.
With virtual table inspection, customers can take part in the workshop examination of individual engine modules from their desks, coordinating actions and approving workscope changes, as they would in person.
LHT said the use of the tool is "growing strongly" across its global engine network, which includes its base at Dubai South.
LHT said an "interplay of technologies" makes it possible for customers to follow the borescope inspection of their engines live from home, discussing the findings and asking questions as necessary. The company plans to add interactive digital documentation to this service.
Airbus subsidiary, Testia, says its SmartUE1 tool – a "Swiss army knife" of non-destructive testing (NDT) – has been well accepted by MROs and top airlines in the Middle East, including Gulf Air and Joramco.
This light, wireless device offers up to eight inspection modules in a single kit. To its basic ultrasonic and eddy current testing capabilities, users can add modules to detect delaminations, disbondings, fatigue cracks, lack of cladding, as well as measuring thickness, coatings and conductivity.
Testia has also extended the capabilities of its thickness tool to measuring remaining thickness in large blended-out areas of aluminium alloy sheet and plate, identifying features such as rivets and edges. Reporting features were enhanced.
The resulting tool prompted Gavin McGibney, senior NDT engineer with LHT, to comment: "The thickness tool is a great piece of kit, ready to use with set-up already loaded. The man-hour savings are incredible."
Stay up to date
Subscribe to the free Times Aerospace newsletter and receive the latest content every week. We'll never share your email address.