El-Khafif looks to engineer something special
Start-up airlines in Africa can expect keen interest from EgyptAir's MRO arm, as the organisation's new head, Walid El-Khafif explains.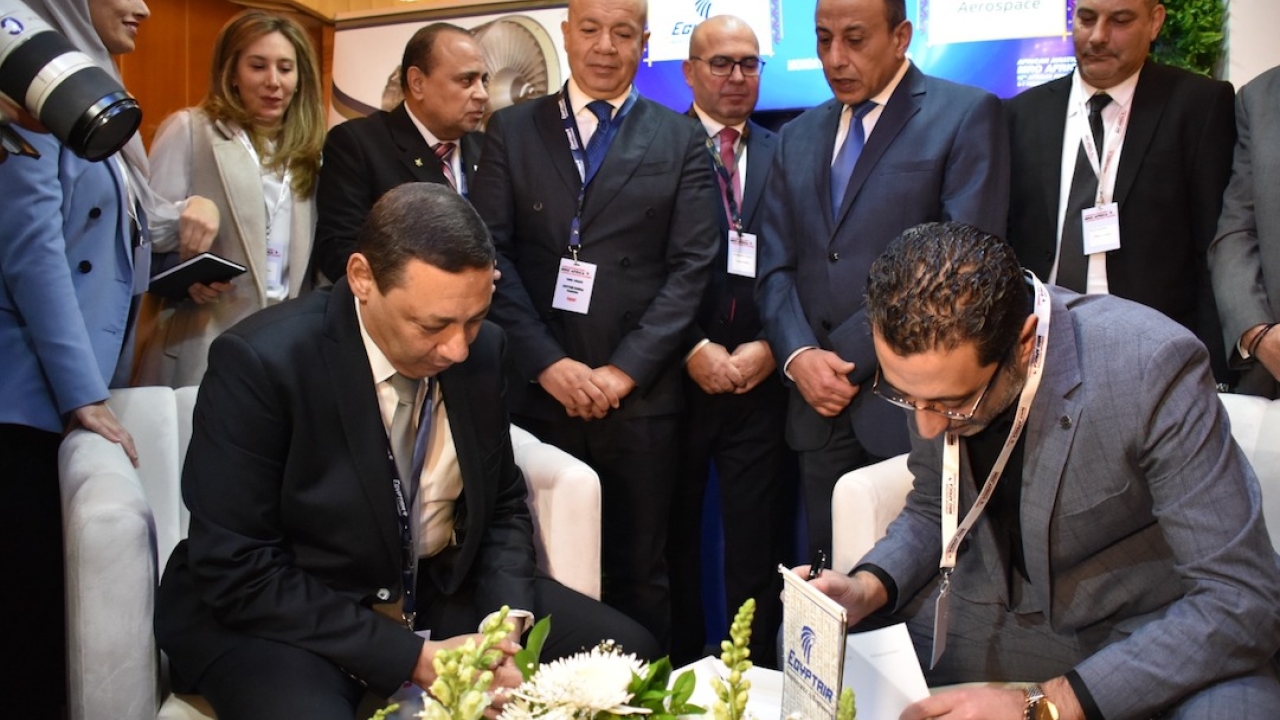 Africa is the "MRO market of the future" so it stands to reason that when one of the continent's leading maintenance and engineering operations makes plans for expansion, it would look close to home.
Engineer Walid El-Khafif, the new chairman and chief executive of EgyptAir M&E, says there is a "great opportunity to serve our African neighbours" in line with the Egyptian Government's ambition to further economic integration in the African market.
There's a long history of cooperation between airlines in the countries of the Middle East and Africa, particularly from the Arab region, explained El-Khafif.
"We are located in a region rich with aviation industry supporters and we witness the birth of new airlines frequently. Under our new strategy to expand, we are working on developing plans to pay attention to start-up airlines."
Start-ups, he added, face a "difficult equation" balancing cost and quality. His company, he said, has the solution – international standards at competitive rates, a portfolio of major airline customers, plus close geographic proximity.
El-Khafif succeeded Yehia Zakaria, who was promoted to lead the EgyptAir holding company, at the tail end of the pandemic in October last year.
"Securing the supply chain was, and still is, the main priority," he said. "Following the pandemic and the stagnation it caused, it was clear that ramping up again would put pressure on MRO services and the spares supply chain, given the huge losses in the aviation industry."
El Khafif now sees a steady recovery in operations. "There is strong demand for MRO services, especially for narrow-body fleets," he said.
The hangars in Cairo are filling up again; recently spotted coming in included a FlyNas A320, the second of three aircraft scheduled for services at EgyptAir's maintenance facility, and a Tunisair A330, also in the facility undergoing a C-check.
El-Khafif said the company's post-Covid strategy included expanding EgyptAir M&E's African network of line maintenance stations and attracting African customers for base maintenance at its Cairo headquarters.
The company moved in that direction last March, when it opened its full-service MRO facility at Kotoka International Airport (KIA) in Accra. The new hangar supports the EgyptAir fleet operating into the Ghanaian capital, in addition to providing line maintenance for Qatar Airways aircraft, the station's first third-party customer.
El-Khafif is proud that the MRO division already had a wide scope of capabilities, handling almost all modern fleet types up to heavy checks and line maintenance. In fact, prior to the pandemic, there were plans to expand the line maintenance business at 12 African airport destinations – but the company has had to scale back on those for the time being.
However, in addition to Sudan capital, Khartoum, there are plans to possibly re-open the line maintenance station at Asmara in Eritrea during the first half of this year.
A visit through the engine shop in Cairo saw CMF56-7B, V2500, and Trent700 engines going through various stages of checks. "In addition, we have very strong capability for different C ratings covering thousands of part numbers, and specialised services, such as non-destructive testing (NDT), borescope and calibration all complement our service portfolio," El Khafif noted.
The company is pushing its paint stripping and repainting product to a new level of quality as part of the new heavy maintenance complex they have developed in Cairo, upgrading many of the C rating capabilities as well.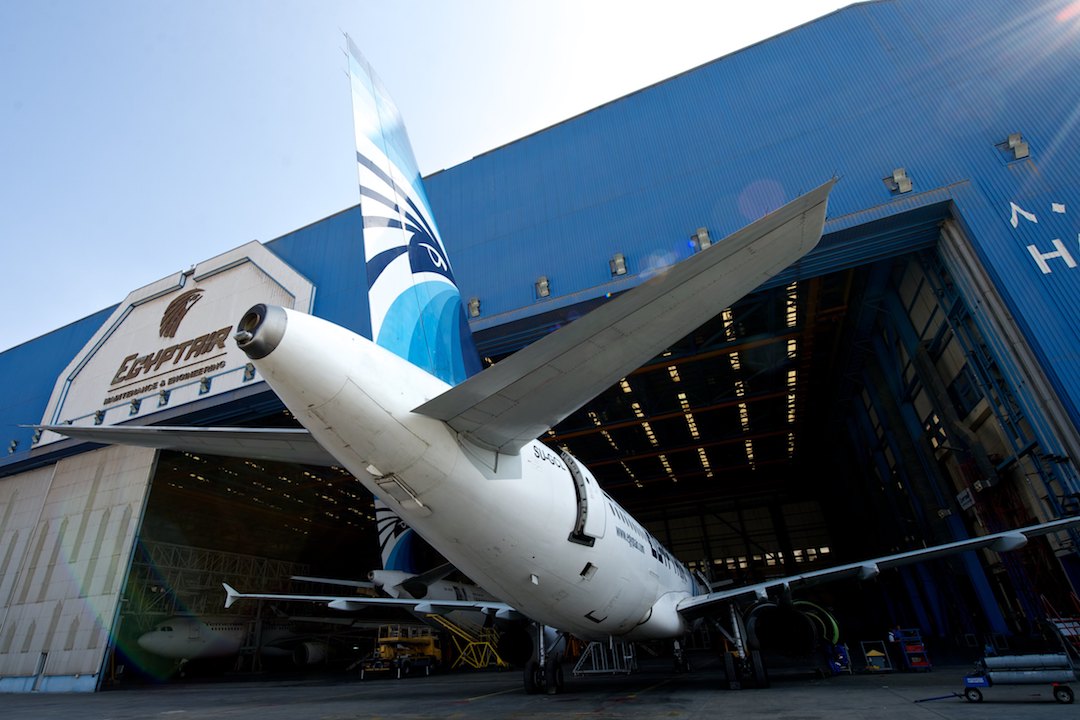 Elsewhere, El Khafif is keen to expand via cooperation and partnerships, especially to strengthen aviation services in Africa.
The company recently signed a partnership with Petra Aerospace of Jordan that will extend the capabilities of the Egyptian MRO's engine services for repair and overhaul of CFM56-3 engines. He said the extension of engine services with Petra would also include engine teardowns at the Cairo facility.
This will no doubt benefit the region, which requires improved access to used serviceable materials, pooling and parts exchanges in local markets.
Other recent signings include a memorandum of understanding (MoU) with US company United Aviation Solutions to cooperate on aircraft, engines, and component repair and overhaul, along with marketing the capabilities of EgyptAir's maintenance division's workshops in the US.
El Khafif also confirmed the company was exploring opportunities for further cooperation with Serbian MRO, JAT Tehnika, to seek added value and synergies.
He said several African airlines were currently customers, pointing out that EgyptAir M&E was providing them with technical services and solutions, such as base maintenance checks, engines repairs and overhaul, components repair, components pool solutions and consultancy service for CAMO, and other fields related to technical support.
El Khafif is aware that challenges in the MRO industry persist on several fronts. Some airlines have reported problems, for example, with parts availability for the A220, and this has led to several of these aircraft being parked in storage.
"The key issue we have with the A220 fleet actually relates to the availability of engines," he explained. "We are working closely with the engine OEMs to find solutions to this problem and we are hoping to find a resolution soon."
There have been numerous reports of trouble with Pratt &Whitney's GTF engines that power A220s by different operators, like Air Tanzania, which cited flight cancellations and delays to operations due to technical issues with the powerplants.
Looking inwards, studies are taking place to evaluate upgrading the cabins of the four A330s in the EgyptAir fleet and, considering there is a wait of around two years for any possible new equipment in that size category, the upgrades look likely.
In February, the airline also took delivery of its first A321neo and, in March, launched dedicated freighter operations with a converted Boeing 737-800SF.
Other future plans may include performing passenger-to-freighter conversions in house based on market demand but, predominately, for EgyptAir and other operators too.
Speaking at the recent MRO Africa event in Cairo, of which EgyptAir M&E was a sponsor, El-Khafif re-affirmed the company's commitment to Africa, pointing out that the company already served more than 20 of the continent's airlines.
The Accra outstation, he said, was the start of a long-term plan to expand inside the continent to serve the goals of development and promotion of the African MRO industry.
"This keenness to be the MRO partner of as many African airlines as we can is based on our belief that our role in supporting the industry should be matching with our long history and leading profile in the market.
"Thus, we have an additional strategy to work on moving our knowledge to the emerging counterparts inside the continent through partnerships that include intensive training... to create entities capable of covering the technical services for the growing fleets of the continent," he concluded.
Stay up to date
Subscribe to the free Times Aerospace newsletter and receive the latest content every week. We'll never share your email address.