Could Nigeria become an MRO giant?
According to industry experts, Nigeria is strategically positioned to serve as an aircraft maintenance repair and overhaul (MRO) hub for the entire west African region.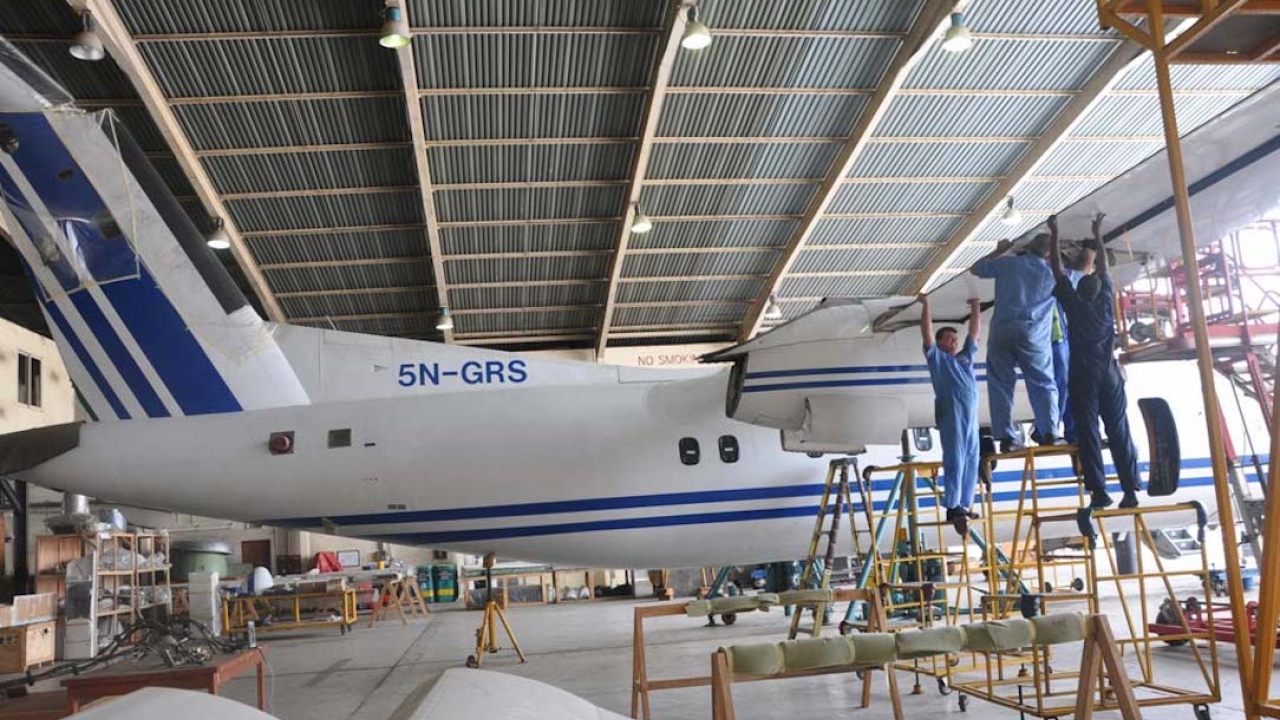 The Nigerian Government, as far back as 2016, made a case for the establishment of a comprehensive MRO facility through a public private partnership (PPP) arrangement.
Even though this proposal is yet to translate into reality, there have been pockets of efforts to address aircraft maintenance needs in Nigeria.
The need is obvious. Nigerian Civil Aviation Authority (NCAA) currently records 23 active domestic airlines and 913 licensed engineers in its records.
Intensive maintenance supervision has in recent years, become increasingly crucial, especially for scheduled passenger airlines in the sub region, some of which operate aircraft that are more than 15 years old.
According to Oladeji Folayan, a certified airline auditor, a scheduled passenger airline with more than five aircraft in its fleet is expected to own an aircraft maintenance facility. However, some airlines in the west and central African sub region do not have approved maintenance organisation (AMO) status.
Scheduled commercial airlines in Nigeria conduct their major maintenance checks overseas, spending huge sums of money that could have been saved in foreign exchange, and losing job opportunities to foreign service providers.
It is estimated that if a well-equipped MRO centre was established in the country, it could produce savings of $12 million annually.
Overseas aircraft maintenance, purchase of spares, aircraft leasing and simulator training, combine to add demand pressure to the value of the Nigeria naira, thereby affecting the entire economy negatively.
However, there are some pockets of good news. For example, 59-year-old Aero Contractors, based at based at Murtala Muhammed International Airport, has NCAA's AMO certificate and provides B737 classic C checks, offering both line and heavy maintenance services.
Apart from B737 classic, the company has carried out maintenance checks on bombardier Q300, Q400 and other aircraft types for companies in Nigeria, Ghana and the DRC, using its technical and engineering manpower.
Another certified private AMO in Nigeria is 7 Star Global Hangar, which provides aircraft repair and maintenance services, covering A to D checks inspections and support.
In December last year, it successfully conducted C-check maintenance for MD83 aircraft operated by Nigeria's Dana Air.
Victor Attah International Airport in Uyo, Nigeria, has a state government-owned MRO hangar, built for maintenance of two B747 aircraft, A320-300 series and all CRJs.
The government has a partnership deal with Airbus to train specialised technical personnel for the facility.
Because of the huge volume of capital required to set up a comprehensive MRO facility, which involves a long gestation period before expecting a return on investment, many MROs take advantage of grants or partnerships as opportunities for start-ups.
Amos Akpan, lead consultant of the Etimfri aviation group, believes the government should provide support and enable the growth of the available facilities in Nigeria into world-class facilities. He called on the government to move from proposals to workable ideas, using what is available as launchpads. He also called for more investment in training infrastructure for maintenance personnel at aviation training institutions in Nigeria.
Sani Ahmadu, director of business development, corporate affairs, at 7 Star Global Hangar, believes that, with collaboration, the industry will witness a cost-saving culture, capable of sustaining airlines in the country.
Meanwhile, Achuzie Ezenagu, chief executive officer of Toucan Aviation Support Services, also made a case for cooperation between government and industry stakeholders as a response to the cost-intensive nature of MRO investment.
Apart from saving foreign exchange, creating an MRO hub for Nigeria would, believe the experts, provide employment, encourage skills acquisition and technology in the entire region, enable the regulatory authorities to monitor more closely the airworthiness of aircraft, and also cut costs for airline operators.
Stay up to date
Subscribe to the free Times Aerospace newsletter and receive the latest content every week. We'll never share your email address.