Iran's helicopter options
In the last two decades, Iranian aviation industries have tried to develop and design new helicopters or upgrade previous models.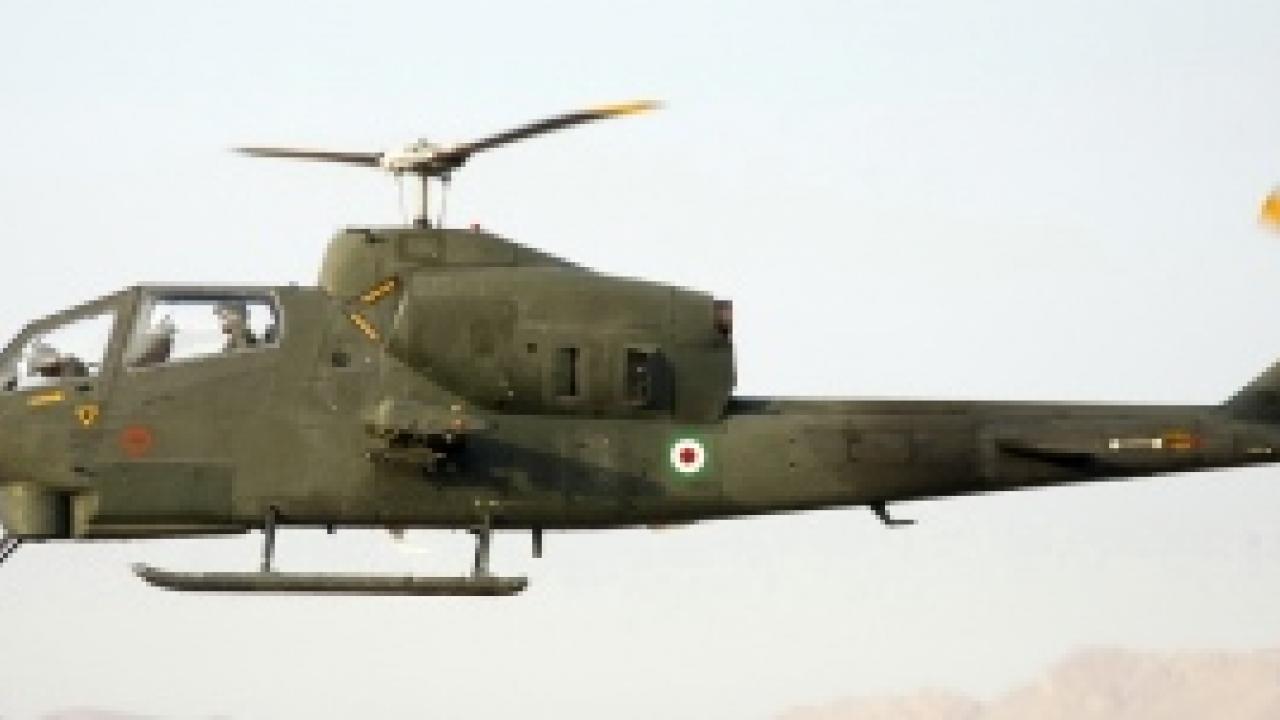 The SHABAVIZ 206-1
Iran acquired more than 100 Agusta-Bell Model 206 types (206As and 206Bs, license produced Bell 206 and 206Bs) during the mid-1970s.
A small fraction of this fleet was still flying by 1990, attrition coming from service during the Iran-Iraq War, difficulties in acquiring replacement parts and lack of maintenance experience.
The Shabaviz 206-1 is a reverse-engineered Augusta-Bell AB-206. Its programme is one of many conducted by Panha and HESA, aimed at developing self-sufficiency in industry, primarily military industry, as well as sustaining the existing Iranian fleet.
SHABAVIZ 2-75
The Shabaviz 2-75 is a reverse-engineered Bell 214C produced in Iran. Panha and HESA also conduct this programme.
In October 2006, Bell-Textron filed a civil suit in the District of Columbia for selling, among others, the Shabaviz 2-75 and 206-1 helicopters, which it claimed "[traded] on Bell's reputation".
PANHA 209-1 (TOUFAN 2)
In December 1971, Bell signed a contract with the Imperial Iranian Government for 202 improved AH-1J Cobra gunships.
The improved Cobra, known as the International AH-1J, that resulted from this contract featured an uprated P&WC T400-WV-402 engine and stronger drive train to support 1,675 horsepower. Recoil damping gear was fitted to the 20mm gun turret, and the gunner was given a stabilised sight and even a stabilised chair.
Some 62 of the International AH-1Js delivered to the Shah's forces were tube-launched, optically tracked, wire-guided (TOW)-capable, while the rest were not.
Iranian AH-1Js saw service during the Iran-Iraq War but, because of a lack of spares, the fleet was reported grounded by 1990. The Iranian Government initiated a programme to bring these aircraft back online.
The Shabaviz 209-1 is an upgrade programme of the AH-1J Cobra attack helicopters conducted by Panha and HESA. In addition to service life extension, the upgrades have also made the helicopter's systems compatible with the Toufan anti-tank guided missiles (ATGM), a derivative of the US BGM-71 TOW missile.
It is not clear how many AH-1Js remained to be upgraded, but aircraft were displayed during exercises in 2006 and 2007.
The Iranian version's most notable visual feature is the new bulletproof canopy design. However, a deeper observational dissection of the revamped helicopter yields all-new forward and rear cockpit instrument panels for the crew of two, a new avionics suite, revised cockpit armouring, and a nose-mounted forward-looking infrared (FLIR) camera.
A radar warning receiver (RWR) has been installed to help manage protection of the vulnerable rear quarters of the aircraft. GPS has been integrated for improved battlefield navigation.
The Toufan retains the Sea Cobra's three-barrel M197 20mm Gatling-style cannon in its powered chin turret assembly, as well as the landing skid undercarriage. It also keeps its short armament wing stubs intact for the fitting of various weaponry, such as rocket pods and ATGMs.
Wing stub tips are thought to support the Misagh-2 short-range surface-to-air missile, this being an Iranian copy of a Chinese copy of the American AIM-9 Sidewinder.
SHAHED 278
The Shahed is a locally designed Iranian light helicopter with a combination of components of several helicopter-types, visibly similar to the Bell 206.
Reported to have made its maiden flight between 1997 and 1998, and accumulated 200 flight hours by March 2001, the Shahed 278 was publically displayed for the first time in 2002.
The Islamic Revolutionary Guards Corps (IRGC) has designed and manufactured the combat version.
The body and propeller blades have been made of non-metal composite materials, which contribute to light weight, avoids corrosion, and, consequently, enables it to operate in diverse environments.
It has a flight endurance of more than four hours and enjoys a dual flight management system. In newer models, a multi-function display (MFD) can be installed, which improves repair and maintenance time.
Its main missions are patrolling and identification, air control and commander carrying, military and commercial pilot training, city traffic control, air ambulance, environment protection patrolling, and utilities lines supervision.
The different versions of this helicopter are used for firing anti-armour missiles.
SHAHED 285
The Shahed 285 was unveiled on May 24, 2009. The IRGC says the state-of-the-art helicopter is capable of taking part in seaborne and airborne combat operations.
The Shahed 285 can carry cannons, machine guns, guided missiles, anti-armour missiles and air-to-air and air-to-sea missiles.
The "100% domestic-made all-weather aircraft" has a slick aerodynamic design and is capable of taking off in harsh conditions. Its rotors and cabin are made from advanced composite materials.
The newly developed aircraft is easy to maintain and can be stored in combat zones for immediate access.
Compared to the American OH-58 Kiowa, which retains the airframe of the Bell 206, the Shahed 285 is a single-seater with a narrower fuselage, but retains the tail and power plant/rotor structures, and is intended for military use.
The helicopter performs military missions, including reconnaissance and combat patrol, and ground forces support.
The helicopter has a range of 800km and an endurance of about five hours. It is camouflaged in light blue for marine environments.
So far, it has used two types of weapons – anti-ship missiles known as Kosar, weighing 120kg with a range of about 25km installed on each side of the helicopter; and SADID 1 rockets, mounted four on each side, which, according to sources, have a range of 10km.
SABA 248
The last helicopter to be unveiled is the Saba 248, which was reportedly designed and built by Panha in partnership with the Defense Ministry's Aviation Industries Organization.
It was revealed during a ceremony, attended by top military officials, on March 7 this year.
The Saba 248 is a skid-equipped twin-engine, four-bladed utility helicopter that is similar in appearance to western platforms such as the AgustaWestland AW119 and Bell 427.
Although no performance specifications for the aircraft have yet been released, the AW119 and Bell 427 have cruise speeds of 267km/h and 273km/h respectively; ranges of 1,013km and 722km; maximum take-off weights of 2,720kg and 3,175kg; and can carry eight and seven passengers.
Judging from appearances, the Saba 248 will be in roughly the same class of performance.
Billed as both a civil and military platform, the Saba 248 is likely to be used by the Iranian armed forces for troop and cargo transportation, battlefield liaison, casualty evacuation, search and rescue, and observation and reconnaissance.
The national media reports did not say if it could be armed, and neither did they say how many helicopters might be delivered or when.
As well as being used by Iran, the Saba 248 is to be offered to the international export market with a particular focus on other Muslim nations, according to Iranian defence chief, Brigadier General Hossein Dehqan.
"Saba 248 is a medium-weight helicopter, capable of carrying eight occupants. The military hardware is able to participate in cargo and passenger transport missions as well as rescue, photographing and reconnaissance operations," Dehqan added.

Stay up to date
Subscribe to the free Times Aerospace newsletter and receive the latest content every week. We'll never share your email address.