Mercy missions are a new test for Dippenaar
Former South African international cricketer, Boeta Dippenaar, is the new chief executive officer of South African helicopter emergency medical services (HEMS) operator, Rocket.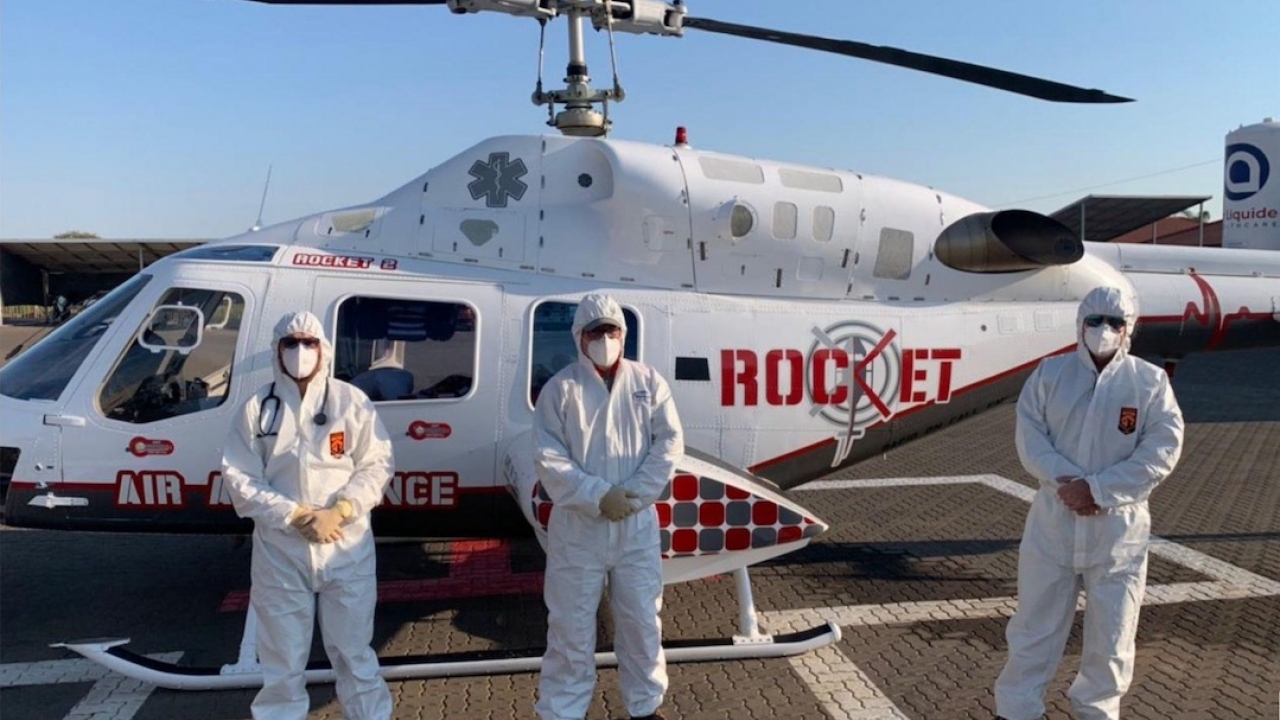 Rocket (rapid on call emergency transport) was the brainchild of André Coetzee, the executive chairman of the Henley Air Group of companies.
Coetzee, a 15,000-hour pilot, a designated flight examiner, an aeronautical engineer and a PHD in aviation management, wanted to establish a "first-world intensive care medical service, operating in a third-world country".
Henley Air already had more than five years' experience, having chalked up some 3,460 air ambulance missions and more than 5,000 flying hours, when it launched Rocket as a stand-alone HEMS provider in July 2020.
During its first year of service Rocket transported 300 patients, operating from bases in Johannesburg and Kimberley, from where its five Bell 222 UT helicopters (which have a range of 320 nautical miles) can cover roughly one-third of the country.
The company also has three Bell 230s waiting to be converted to air ambulance configuration.
Rocket's new chief executive, Dippenaar, was previously chief pilot with Henley Air. He aims to focus firmly on human interaction, "which is so important in our line of work".
Dippenaar happily cites an example of one of the company's paramedics, who saw how worried a patient's mother was, kept her updated throughout the flight, and then video-called her on landing so that she could see her daughter.
Henley Air, headquartered at Rand Airport at Germiston, Johannesburg, has a fleet that includes the Aerospatiale AS365N Dauphin, the AW119 Koala Mk II, the Bell 407, the 206 JetRanger and 206L LongRanger, the Robinson R22 Beta II and R44 Raven II, as well as the Bell 222.
The 222 is, perhaps, best known as the improbably equipped star of the fictional television series Airwolf.
The Model 222UT used by Rocket lacks the armament, supersonic speed, and stratospheric altitude performance of the fictional Airwolf helicopter, but does have a generously proportioned cabin and impressive long-range capability. This is partly because the basic 222's retractable landing gear is replaced by skids, allowing for the installation of larger auxiliary fuel tanks.
The Rocket Bell 222UTs are instrument flight rules (IFR)-equipped, though most flights are operated using visual flight rules (VFR). Night flights are always conducted with two-pilot crews. Pilots stay IFR current in the company's Bell 222UT FNTP II simulator.
Rocket was the first commercial operator in South Africa to add a night vision goggle (NVG) capability, which allowed the company to increase its night flying by 70%, and which made operations safer in remote areas during dark moon phases.
Henley Air also has the only South African Civil Aviation Authority (SACAA)-certified Bell 222 simulator (the only one of its kind in the world), allowing it to train its crews for the most demanding missions, including scenarios that would be difficult or dangerous to practise during in-aircraft training.
Coetzee scoured the globe to find the right examples of the 222UT, and has amassed a sizeable inventory of spare parts. As a result, Rocket has been able to maintain an impressive 98% serviceability rate
Each Rocket Bell 222UT is fully equipped for the HEMS role, with full intensive care equipment, including a ventilator, a defibrillator, in-flight infusion and haemorrhage pouches, syringe drivers and infusion pumps, a multi-parameter electrocardiogram and patient monitoring equipment.
The aircraft has a scoop stretcher, traction splint, head immobilisation device and spider harness, while the two bases each have a portable neonatal kit and an incubator that can be loaded aboard the aircraft when required.
Rocket provides new competition for South Africa's other HEMS/air ambulance operators (Black Eagle Aviation, HALO, Netcare 911, and Red Cross AMS), and has partnered with some of the biggest hospital chains in South Africa.
Stay up to date
Subscribe to the free Times Aerospace newsletter and receive the latest content every week. We'll never share your email address.