Dubai's vertical take-off with AAM
Dubai has taken another step in developing its aerospace ecosystem by creating the world's first advanced air mobility integration centre.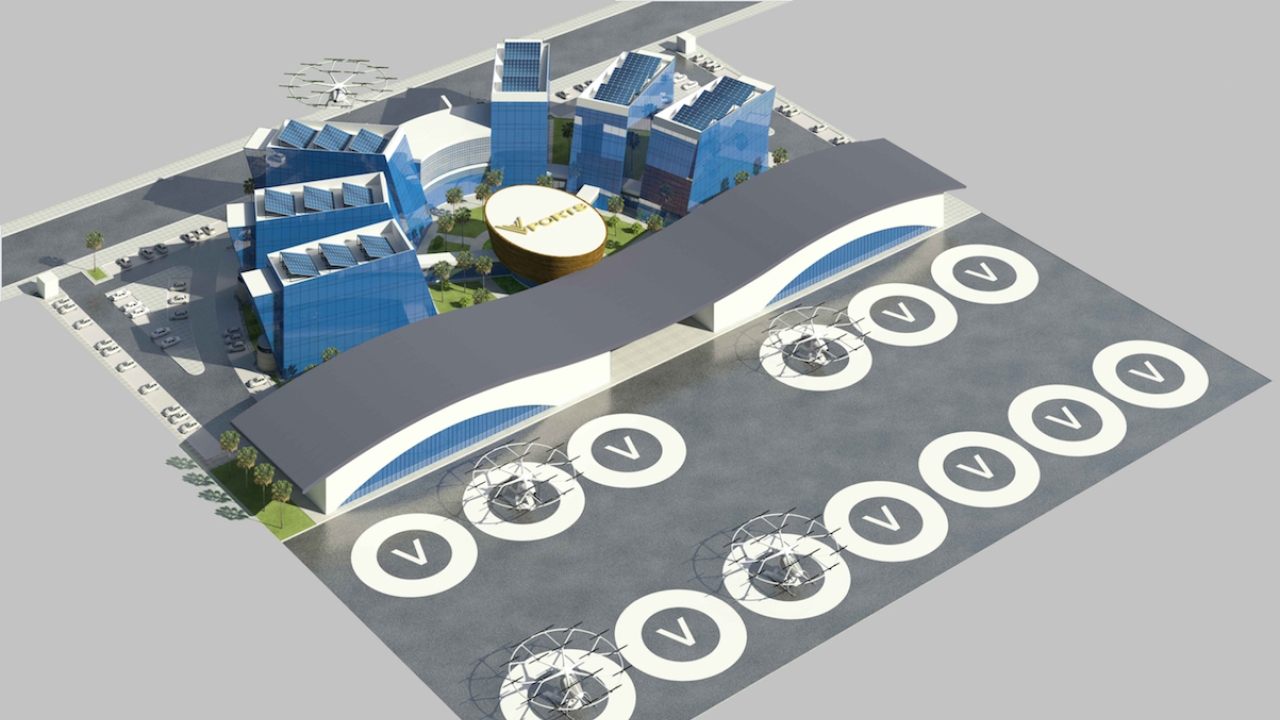 If the forecasts are correct, the next major leap in aviation will be the development of advanced air mobility (AAM).
This will see small, electrically powered vertical take-off and landing (eVTOL) aircraft carrying passengers and urgent freight on short hops, avoiding congestion on surface roads.
Dubai aims to get in on the ground floor of this new business by creating a centre that will develop new technologies, then test them in a dedicated air corridor.
To do this, the UAE aviation regulator, the GCAA, together with the Mohammed bin Rashid Aerospace Hub (MBRAH) at Dubai South, has teamed up with VPorts, a Canada-based specialist in the design, construction and operation of AAM facilities.
VPorts has signed an initial 25-year lease with MBRAH to establish the state-of-the-art AAM centre on a 37,000sqm site within Dubai South, the aviation city that includes Al Maktoum International Airport.
The project, which represents an initial investment of $40 million over three years, is expected to generate $7 billion in direct revenues in Dubai and Abu Dhabi over the next 25 years and create 1,500 high-quality jobs.
Construction of the AAM integrator centre should start in 2024
The project includes dedicated flight-testing airspace and assigned blocked airspace. "This is a key element," said VPorts' founder and CEO, Dr Fethi Chebil. "If you want to do testing in the US or Europe, it's a real headache.
"We will be the link between operators and the GCAA. If you have approval [of your eVTOL vehicle] in your home country to fly, it will be easier for the GCAA to accept it.
"Our first business case is for cargo and regional flights; urban comes later."
Chebil believes that regulators will initially nudge operators towards cargo operations, away from densely populated areas.
Initial plans are for five vertiports in the UAE: Dubai South, Abu Dhabi, Sharjah, Jebel Ali, and Ras Al Khaimah.
Chebil foresees three types of vertiport.
One will be for hops in and out, with two stands – one for landing/taking-off and one for recharging, perhaps located close to an hotel or airport. Another will have 10-12 stands and act as a hub, with eVTOL craft staying overnight. The third will be an MRO-type base, for maintenance, testing and perhaps even assembly of eVTOL aircraft.
"Our mandate at MBRAH is to attract top global players in the aviation sector to establish their presence in the emirate and operate as part of our overall ecosystem," MBRAH CEO, Tahnoon Saif said.
As part of the agreement, VPorts will partner with private investors to deliver advanced infrastructure, development, and operations. US-based NEXA Capital Partners will lead the initial investment round, assembling a consortium of investors already active in the AAM sector.
"GCAA's strategic plan is to build a sustainable and innovative cluster for the AAM ecosystem, to thrive and grow this new entrant mode of air transportation globally from a hub right here in Dubai," said GCAA director-general, Saif Mohammed Al Suwaidi.
"We are reshaping the regulatory landscape to leverage the presence of the principal project partners in Dubai to enable innovation and to foster AAM-related technology and know-how capacity building in the UAE and across the world."
VPorts will deploy its vertiport operation control centre (VOCC) hub at Dubai South. It will have the capacity to manage air traffic integration and set up communication protocols between eVTOLs, vertiports and air navigation service providers (ANSP).
The VOCC will also have the capacity to manage non-flight-related operations, including cargo, personnel and airside management, commercial activities, security screening, cybersecurity, ground handling and aircraft charging.
By 2030, the network will extend to all major industrial areas across the UAE, providing a sustainable transportation solution via eVTOL aircraft.
Saudi Arabia is a target for VPort's expansion, particularly the huge new city being built at Neom on the Red Sea. India, North and East Africa are also on VPorts' target list.
Stay up to date
Subscribe to the free Times Aerospace newsletter and receive the latest content every week. We'll never share your email address.