Air Tractor ploughs an exciting new furrow
Capital investment in the latest agricultural aircraft has received a welcome boost in South Africa thanks to the agricultural sector enjoying boom years on the back of strong market prices, good rainfall, and strong product demand.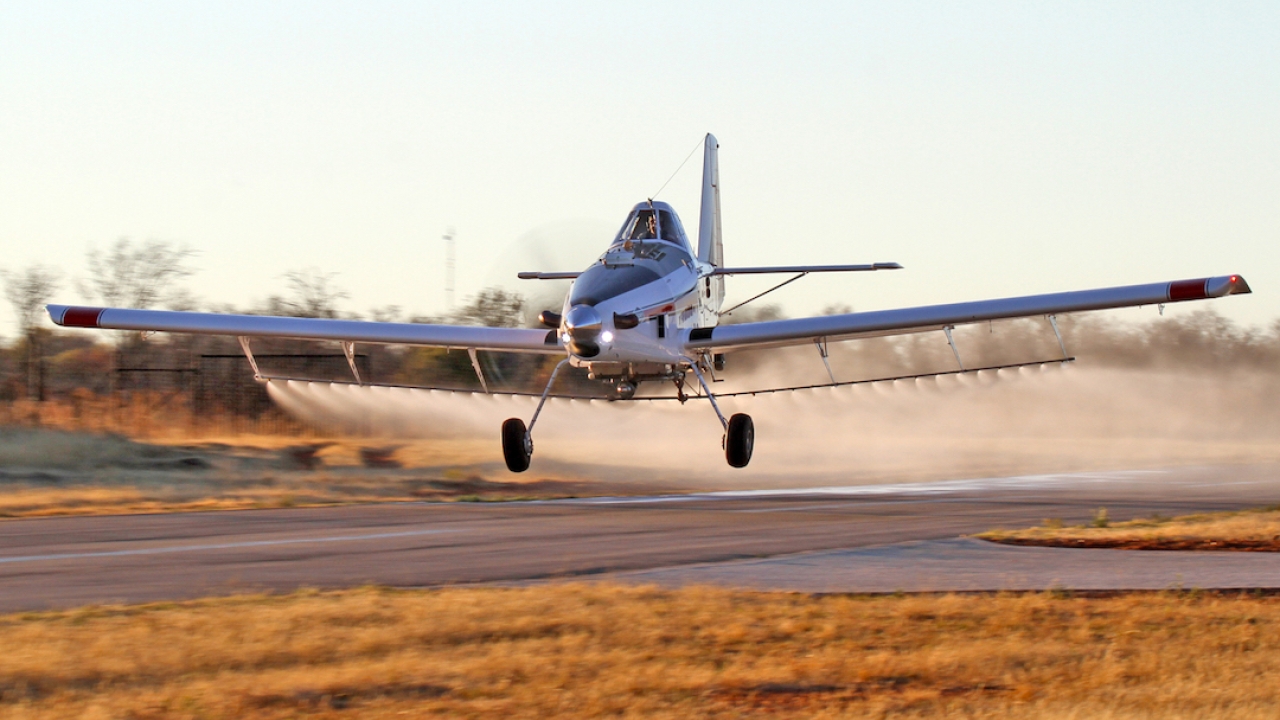 A key beneficiary of the wave of investment in new top-of-the range agricultural aircraft has been AG Aviation Africa, the agents for Air Tractor.
To further build its position in this specialised market, AG Aviation and Pratt & Whitney Canada organised a conference of Air Tractor operators.
AG Aviation Africa managing director, Matt Kritzinger, and Graham Wells, chief operating officer, welcomed delegates, who were treated to a sunset water bombing and spraying display by two newly delivered Air Tractor 502XPs.
Underlining the need for investment in agricultural aircraft as aerial applicators, Omri van Zyl, the CEO of Agri Enterprises, pointed out that Africa possesses roughly 67% of all the arable land in the world, yet contributes just 1% of global agricultural production. "Africa has great potential – but no one can eat potential," he said.
Thanks to new capital investment and skills development, South Africa is fulfilling much of its potential and has become the largest citrus supplier in the world. Van Zyl said that this proves that agriculture, with the right investment, is able to produce excellent returns.
Day 2 featured a very well attended workshop, hosted by Pratt & Whitney Canada (PWC), the makers of the ubiquitous PT-6A engines that power modern crop-sprayer aircraft. All Air Tractors are powered by the PT-6, ranging from the AT-402B, delivering 680shp to the AT-802A's 1295shp.
PWC's regional sales manager for sub-Sahara Africa, Kaval Shah, was joined by Roberto Galant, field service manager for east and southern Africa, and Herman Starting, the field service manager for southern and western Africa. Their insights and experience fuelled a vigorous dialogue with the field operators.
Lively discussion and many novel ideas were suggested by the users in the field on how PWC could enhance its products and services to the agricultural aviation sector.
Kritzinger and Wells then laid out their vision to standardise the operation of Air Tractors throughout Africa, whether it be for crop maximisation, vector control (as with the current locust problem in north Africa) or wild-fire control.
Training and development is a key requirement for the growth of agricultural aviation. AG Aviation announced that it is establishing a world-class training academy in Stellenbosch, which will further assist operators to standardise across their industry for maximum efficiency at an operational level.
A full Air Tractor procedural simulator was scheduled to be delivered to support training.
The impact of the move into the fourth industrial revolution was explored. Software developer, Edward Whitton, has taken on the challenge of creating a comprehensive mobile app, named AG4, to manage all aspects of Air Tractor operations. Whitton successfully created a similar application for the management of Toyota services in Saudi Arabia.
The app will pre-empt which parts and services will be needed in the future, based on the operator's specific conditions and operation frequency. It will have the ability to inform the factory what parts will be needed and when, greatly reducing downtime due to lack of parts availability.
AG4 will also create maintenance scheduling and assist in the management process of their entire Air Tractor fleet.
Scott Smith currently heads the aviation department of Lloyds of London, concentrating on South Africa, Africa, Mexico, eastern European and central Asian business. Smith highlighted the challenges the insurance brokers face to get underwriters to understand that AG aircraft should be treated uniquely, whether they are performing crop spraying, vector control, or fighting fires.
Dr Anthon Botha, a physicist, strategist and future thinker, reviewed the future of crop spraying and other aerial technologies supported by the Air Tractor platform.
"The digital world of the fourth industrial revolution will be brought to us by embracing data, building digital twins to create a ubiquitous companion for support, ensuring that cyber and physical aspects get held close together as humans and machines co-work in intelligent environments," said Botha.
"This digitalisation drive-by AG Aviation Africa will further build the AG community, introducing their culture of market support and extend existing trust. The future has arrived and jointly everyone should enter it with an excitement that will shape all our tomorrows," he concluded.
Stay up to date
Subscribe to the free Times Aerospace newsletter and receive the latest content every week. We'll never share your email address.