Viking still hot in the firing line
The Viking CL-415 has played a vital role in combatting recent north African wildfires. We look at why it continues to perform so well and at a new, possible, successor aircraft.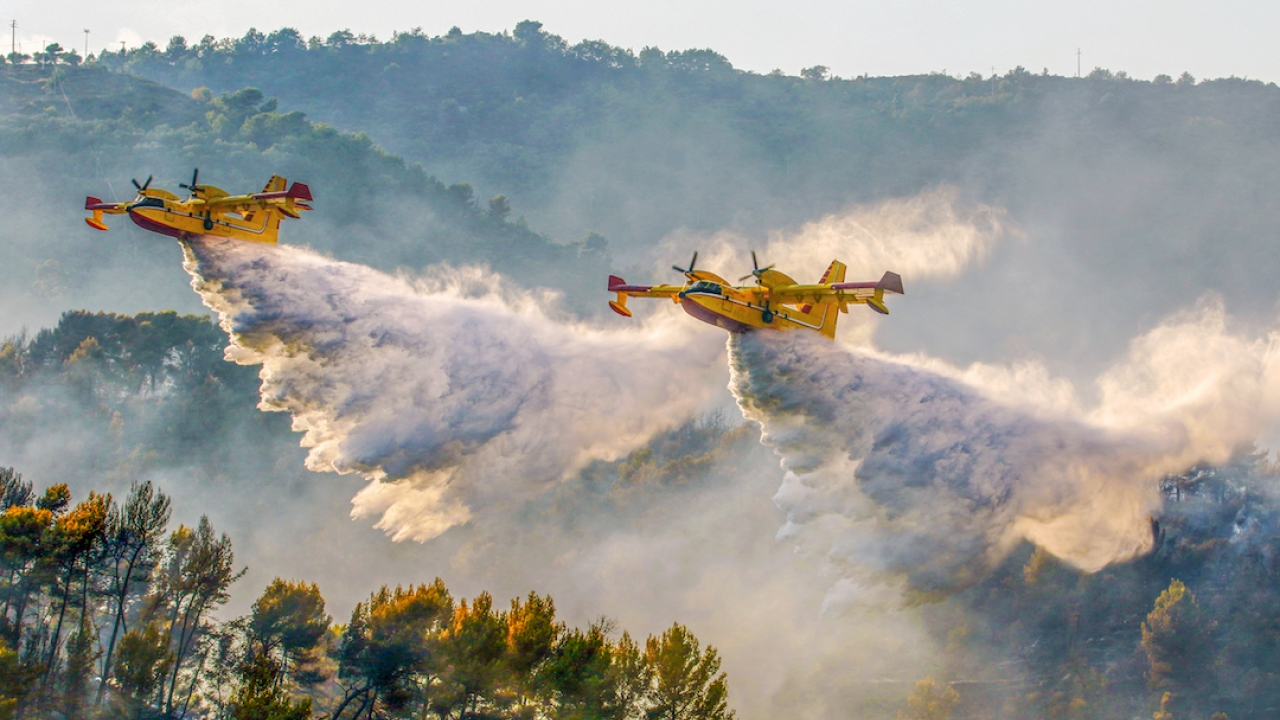 The recent wave of fires that spread over Morocco, Tunisia, Algeria, Libya, and up through Turkey to Europe, which were fuelled by a combination of high temperatures, strong winds and dry weather, once again showcased the operational efficiency of the CL-415.
Wildfires destroyed hundreds of hectares of forest, killing several people and, in some cases, forcing populations to evacuate.
Over the past 50 years, Canadair (now Viking Air) has proven to be a key player in fighting forest fires globally.
Longview Aviation Capital (LAC) acquired the type certificates for the Canadair amphibious aircraft programme from Bombardier in 2016, which includes type certificates for the CL-215 and CL-415, and after-market services.
Viking's participation in the Marrakesh Air Show for the first time in 2018, with flight demonstrations of its CL-415, was part of its development strategy. According to Christian Bergeron, director sales at LAC, the company wanted to enhance the visibility of this aircraft in the African and MENA markets.
"Many countries are strengthening their capacity to fight against wildfires. We are seeing a growing interest among our current and prospective customers," said Bergeron.
There are many mutual aid programmes between countries in the fight against fires. In Europe, Canadair aircraft are often deployed to help neighbouring countries. Algeria received help from France, whereas Croatia and Spain sent aircraft to Turkey.
The CL-415 is specifically designed for tight manoeuvring at low altitudes and airspeeds over difficult mountainous terrain. However, the aircraft can do much more than combat fires, including maritime surveillance, and search-and-rescue missions.
Since 2019, Viking has produced the enhanced aerial firefighter (CL-415 EAF). Deliveries have started and are scheduled to carry on until 2024.
Bergeron believes the CL-415 is the only aircraft currently on the market that has been specifically designed for firefighting.
The CL-415 EAF is a converted CL-215 (piston engine) that notably incorporates a new engine, a new navigation system, and a new avionics suite. It also has a water tank capacity of more than five tonnes.
Now a new CL-515 is under development. It is a technically advanced multi-mission aerial firefighting aircraft – the next generation of the Canadair CL-415.
With enhanced firefighting capabilities, and the flexibility to support a wide range of critical mission operations, the CL-515 is poised to be an important strategic asset.
The first responder multi-role amphibious aircraft will offer up to 15% better aerial firefighting productivity, including increased tank capacity and the ability to refill in 14 seconds.
As truly amphibious aircraft, the Canadair CL-415 EAF and the CL-515 can refill with water while flying. The aircraft do not need to go back to the airport to reload and can make more frequent waterbombing missions, particularly in remote or difficult-to-access areas.
The CL-515 is the only aerial firefighter and multi-mission amphibious aircraft built and supported by an original equipment manufacturer (OEM), with complete full-factory warranty, established product support network, new avionics, 15% lower maintenance cost, and factory-endorsed full-motion level D flight simulator.
It is believed it will become the most technically advanced multi-mission aerial firefighting aircraft available on the market.
"We are now in the pre-launch phase and very satisfied with the demand," said Bergeron. "Today, we have seven customers engaged on this aircraft. The next milestone is to have a firm order for 20 aircraft to start production for a delivery by 2025."
Stay up to date
Subscribe to the free Times Aerospace newsletter and receive the latest content every week. We'll never share your email address.