UK Typhoons forge stronger links in the Middle East
The UK's growing engagement in the Middle East is progressively spreading outside the GCC, though its Gulf allies remain both vital and valued.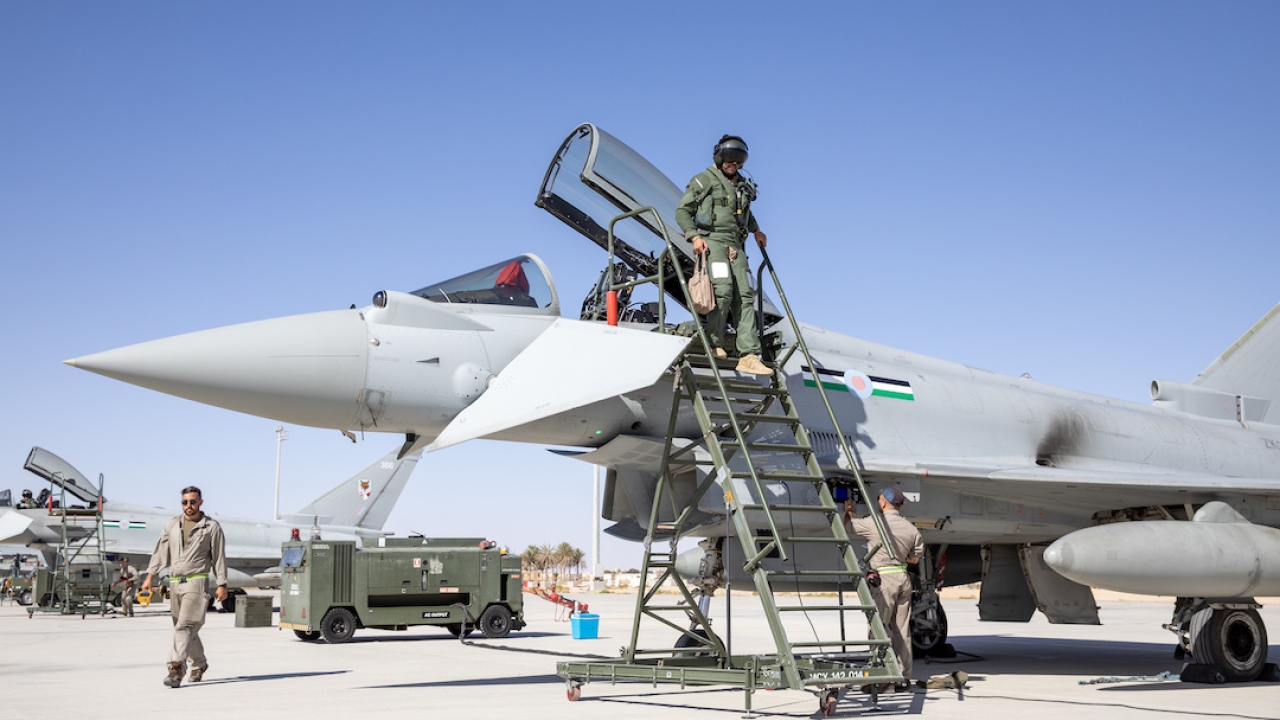 This was apparent in the high profile Saudi participation in the UK-hosted multi-national Cobra Warrior exercise in March 2023, which saw Royal Saudi Air Force Typhoons operating from RAF Coningsby.
This followed the signature of a new defence co-operation plan between the UK and Saudi Arabia by Saudi Defence Minister Prince Khalid Bin Salman, (the younger brother of Saudi Crown Prince Mohammed Bin Salman) and his British counterpart, UK Secretary of State for Defence, Ben Wallace.
Saudi plans to procure 48-72 further Eurofighter Typhoons remain held up, however, although the integration of Leonardo's ECRS.Mk 2 radar and a new large area display (once thought to be a 'sticking point') are now well underway. Though there were reports that a German ban on exports to the Kingdom had been overturned, it is understood that this remains a concern when it comes to further Typhoon orders.
It is a happier story when it comes to defence co-operation with Qatar. Following the successful deployment of the joint UK-Qatar Typhoon squadron (No.12 Squadron) to Qatar under Exercise Thariyat (including defence of the football world cup as Operation Shadowfoot), the UK Royal Air Force and Qatar Emiri Air Force (QEAF) have signed an agreement to extend their joint Typhoon operations for the next two years.
Following this deployment, in February 2023, No.12 Squadron completed the two-week 'Magic Carpet' exercise at Thumrait in southern Oman, operating alongside Omani Typhoons and F-16s. UK relations with Oman remain close, and some expect a further Typhoon order from the Sultanate, while plans for more UK training in Oman are already bearing fruit.
Outside the GCC, British military forces participated in the 'Olive Grove' series of joint military exercises alongside the King Faisal II/16 Brigade, a unit of the Jordanian Armed Forces. These were held in and around the Abu Salem Urban Training Village, east of Amman, during February and early March.
In April, it was the turn of the RAF Typhoon Force, whose No.6 Squadron, 'the Flying Can-Openers', deployed to Muwaffaq Salti Air Base in Jordan on Exercise Agile Oryx.
Normally based at RAF Lossiemouth in Scotland, No. 6 Squadron has long-standing ties with Jordan, and of operating in the Middle East. No. 6 Squadron is unique in having two Royal standards, having been awarded a second standard by King Abdullah I of Jordan in October 1950.
Subsequently, King Hussein was the Honorary Air. Commodore of 6 Squadron, and in 1995 the Jordanian No 6 Squadron and the British No 6 squadron became sister squadrons, exchanging flags of friendship.
His Royal Highness Prince Faisal, Hussain's son and a Royal Jordanian Air Force pilot (and later RJAF commander), was instrumental in joining the two squadrons because he knew that co-operation would benefit both air forces.
Prince Faisal was the son of a British mother (Princess Muna Al Hussein) who was born Toni Avril Gardiner.
After gaining his RJAF wings in 1985, Faisal underwent officer training and Basic Flying Training at RAF Cranwell in 1986 before moving to RAF Valley where he completed Advanced Flying Training on the Hawk and received his RAF wings in 1987. Later that year, Faisal completed RAF fast jet training at the Tactical Weapons Unit, at RAF Chivenor in Devon.
Brigadier-general Mohammad Hiyasat, the commander of the Royal Jordanian Air Force said: "The strength of the RAF and Royal Jordanian Air Force is the sense of shared history and co-operation we engender which informs the ethos that we have. We must continue on a path of shared experience and maintain our strong ties."
Agile Oryx saw the units involved developing dynamic force employment, conducting dissimilar fighter integration and developing their combined operating procedures.
The Jordanian units participating were No.s 1 and 6 Squadron, Royal Jordanian Air Force equipped with the Lockheed Martin F-16.
Later in April, RAF Typhoons quietly participated in the Israeli 75th Independence Day flypast, alongside Luftwaffe and Italian Typhoons and USAF F-16Cs, as well as a host of IDF/AF types.
Stay up to date
Subscribe to the free Times Aerospace newsletter and receive the latest content every week. We'll never share your email address.