Turkish drones emerge as Middle East game-changer
Unmanned aerial vehicles (UAVs) have become a key element of many armed forces across the world, as they are being more extensively deployed in war zones and counter-terrorism operations.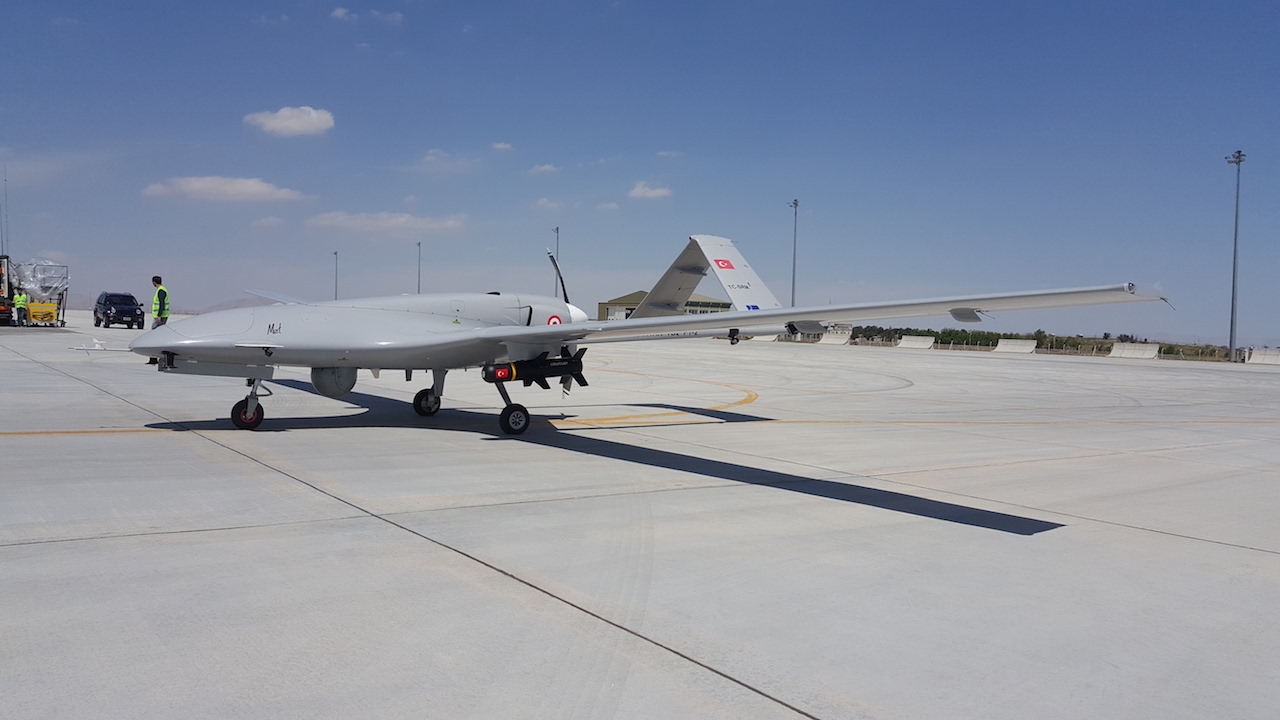 Arabian Aerospace correspondent, David Oliver looks at the growing Turkish influence in the MENA region:
To date, the United States and Israel have dominated the development, production and operations of tactical UAVs. However, Turkey has become more successful in penetrating the international market of armed drones.
In 2020, the UK Defence Secretary, Ben Wallace, stressed the "game-changing" role of Turkish UAVs in modern warfare in the Middle East and North Africa.
Turkish Baykar Makina TB2 and Turkish Aerospace Industries (TAI) Anka-S UAVs have been extensively deployed during recent conflicts in Syria, Libya, and Nagorno-Karabakh, and exported to more than a dozen countries.
The 12m wingspan medium-altitude long-endurance (MALE) TB2, powered by a Rotax four-cylinder engine, has a ceiling of 27,000ft, an endurance of 24 hours, and can carry a maximum payload of 150kg.
The TB2 first came to prominence during the civil war in Libya, when large numbers were delivered to the UN-backed Government of National Accord (GNA). Libya's opposing Russian and UAE-backed Libyan National Army (LNA) claimed to have shot down at least 25 LNA TB2s since 2019.
In March 2018, Baykar Makina signed an agreement with Qatar for six Bayraktar TB2 armed UAVs, three ground control stations (GCS), and a simulator. This was followed by Morocco's Royal Armed Forces (FAR) signing a $70 million contract for 13 TB2s in 2020, which included four GCS and a reconfigurable simulation system. They were used for the first time against Polisaro forces in the Western Sahara in April 2021.
Oman and Turkey were also said to have reached a preliminary understanding for the procurement of Bayraktar TB2s, but no details were released.
In December 2021, it was also reported that the Iraqi Government had earmarked $100 million for the acquisition of an undisclosed number of TB2s, GCSs and support equipment, but this has yet to be officially confirmed.
However, the success of Turkish UAV combat operations has come at a price. Canada banned the export of L3 Wescam imaging and targeting systems fitted to TB2s following Turkish Air Force incursions into Syria against Kurdish forces in 2019 and during the 2020 Nagorno-Karabakh conflict.
Following the Canadian suspension, new production TB2s are being fitted with the domestically produced Aselsan CATS forward-looking infrared (FLIR) system.
In March 2020, Tunisia awarded a contract worth $240 million to TAI for the supply of six TAI Anka-S MALE tactical UAVs, three GCSs and an unspecified level of technology transfer.
This was followed by an announcement that Saudi Arabia's Intra Defense Technologies would begin producing the Karayel MALE UAV in 2021 under licence from the Turkish company Vestel Savunma. With a wingspan of 13m, the Karayel has an endurance of eight hours carrying a 120kg payload or with only a 50kg electro-optical/infrared (EO/IR) sensor suite, it can operate for 20 hours at an altitude of 18,000ft.
All the Turkish tactical UAVs are designed to be armed with Turkish Roketsan lightweight smart micro munition (MAM-L) air-to-ground precision-guided weapons.
Turkish armed UAVs have proved to be reliable and easy to maintain and, with the Turkish lira falling to a record low against the US dollar, they will be a cost-effective option to US and Israeli products.
Stay up to date
Subscribe to the free Times Aerospace newsletter and receive the latest content every week. We'll never share your email address.