Rafale just the ticket for Egypt
An estimated $4.5 billion order for a further batch of 30 Dassault Rafale multi-role fighters means the ongoing modernisation and expansion of the Egyptian Air Force is continuing apace. Jon Lake reports.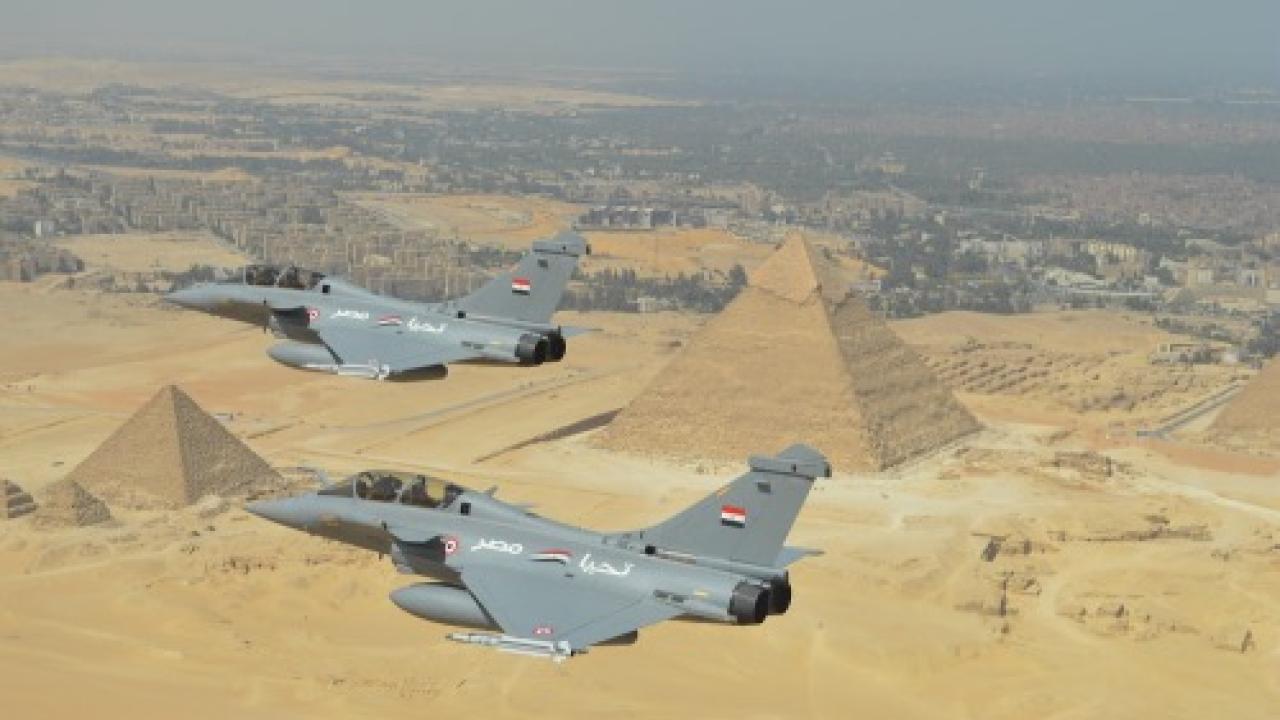 Picture: Via Dassault
The 30 new Rafales will augment 24 of the type that were ordered in February 2015 and are already in service with the Egyptian Air Force (EAF).
When they arrive, a fleet of 54 Rafales will make the EAF the second largest operator of the type in the world, after France itself.
They will also make Egypt's new-generation fighter force one of the most powerful in the region.
The EAF will soon include a front-line element consisting of 11 tactical fighter wings with 13 Squadrons of F-16s, two squadrons of Su-35s, two of MiG-29Ms, two of Rafales, two of Alpha Jets and two of Mirages. There are also seven helicopter wings or brigades, two intelligence, surveillance, and reconnaissance (ISR) units, and two transport wings/brigades.
Egypt's existing Rafales (which are to F3-R standards) have already been seen operating in both the air-to-air role, armed with various types of Mica missile, and in the air-to-ground role, carrying the AASM Hammer stand-off precision-guided missile (PGM).
The Rafale entered service with the French Navy in 2004, and with the French Air and Space Force in 2006, but export orders proved elusive until February 2015, when Egypt signed for 24 aircraft, and a DCNS multi-mission frigate in a deal valued at €5.3 billion ($5.9 billion).
Egypt also took options for a further 12 aircraft.
The Egyptian order allowed the French Government to cut delivery of the Rafale to its air force and navy from 2016, while maintaining or exceeding the minimum economic annual output of 11 aircraft.
An option for 12 additional Rafales was reportedly not exercised due to fears about Cairo's ability to repay state-backed guaranteed loans, and negotiations for more Rafales and warships initially failed to bear fruit.
The failure to exercise its option for 12 further aircraft may also have reflected an Egyptian aspiration to acquire the stealthy Lockheed Martin F-35A. However, the US rejected Egypt's request to acquire 20 F-35As in 2019, after which Cairo seems to have returned to pursuing a follow-on Rafale buy.
Whatever the reason, the flow of Egyptian defence orders has picked up again more recently. Thales has supplied four Ground Master 400 (GM400) 3D digital air defence radars, for example.
On April 15 this year, it was announced that the EAF, the largest C295 fleet operator worldwide, had signed a five-year performance-based integrated support and services contract with Airbus for its 24 aircraft, aiming to maximize fleet availability, and to ensure mission readiness, all while saving maintenance costs."
Then, on May 3, Egypt announced that it had signed a contract with Dassault Aviation to purchase 30 more Rafales. Dassault confirmed the order the following day.
The contract is worth an estimated $4.5 billion (€3.75bn) and will be financed through a 10-year loan, 85% guaranteed by the French state, with BNP Paribas SA, Credit Agricole, Societe Generale and CIC.
Dassault Aviation chairman and CEO, Eric Trappier, heralded the announcement saying: "This new order is proof of the unfailing bond that unites Egypt, the first foreign user of the Rafale, as it was for the Mirage 2000, with Dassault Aviation."
The new batch of Egyptian Rafales will be to F3-R standard, with active electronically scanned array (AESA) radar and the ability to integrate advanced sensors and weapons, including Thales' Talios new-generation laser designator pod, and the laser homing version of Safran's modular AASM air-to-ground weapon, as well as MBDA's Meteor long-range air-to-air missile.
New deal: The EAF has signed a five-year performance-based integrated support and services contract with Airbus for its 24 C295 aircraft. Picture: Airbus.
Dassault Aviation is expected to integrate a data link that will allow the Rafale to communicate with US and NATO allies, and with Egypt's non-western fighter types.
Negotiations for Egypt to arm its Rafales with the MBDA SCALP cruise missile began when the first 24 aircraft were ordered, but stalled as a result of the US international traffic in arms regulations (ITAR), as the missile contains US-manufactured components.
This log jam was finally broken in February 2021 when the EAF was finally able to arm its Rafales with the long-range stand-off missile.
The SCALP difficulties apparently delayed Egypt's follow-on order for the Rafale.
The deal followed a controversial state visit to Paris in early December 2020 by Egyptian President, Abdel Fattah el-Sisi. French President Emmanuel Macron decorated el-Sisi with France's highest honour, the Grand Cross of the Legion of Honour, during the visit.
This provoked outrage among human rights activists, but Macron defended his actions and said that he would not make the sale of French weapons to Egypt conditional on human rights. This was, he averred, because he did not want to weaken Cairo's ability to counter terrorism in the region.
France and Egypt are forging a closer relationship, sharing many common interests in the Middle East, including a growing antipathy towards Turkey under Islamist President Recep Tayyip Erdogan.
The additional Rafales to Egypt follows a contract, signed with Greece, for the sale of 18 Rafales. This includes six new-build aircraft to be delivered in the spring of 2022 and 12 second-hand units, which will be taken from the French Air Force inventory.
The first six ex Armée de l'Air aircraft were due to be delivered from July 2021 at a rate of one a month, with the last six second-hand aircraft delivered in early 2023.
The Indian Air Force is also in the process of taking delivery of 36 Rafales, while Qatar has received 23 of the 36 it has on order.
The French Minister of the Armed Forces, Florence Parly, welcomed the new Rafale to Egypt, as France's strategic partner. "This export success is crucial for our sovereignty and the maintenance of 7,000 industrial jobs in France for three years," she said.
The delivery of the new Rafales should allow the retirement of Egypt's remaining Mirage 5s, and probably the Mirage 2000s as well.

There have already been suggestions that Egypt could eventually purchase the new Rafale F4, increasing the (overall) Rafale fleet to 72 or even 100 aircraft "depending on Egypt's financial capacity".
The new F4 version will feature enhanced radar capabilities, and new weapon systems, including heavier versions of the AASM Hammer precision-guided munitions and updated variants of the MICA air-to-air missile.
The acquisition of the Rafales is just one element in a wider modernisation, which has also seen the procurement of 46 MiG-29M2s and 24 Su-35s.
French newspaper, La Tribune, has also reported that Airbus is supplying a reconnaissance satellite and two A330MRTT tankers to Egypt, reportedly taking the value of the overall deal to €5.4 billion.
The expanded programme will reportedly include one or two FalconEye observation satellites, similar to that operated by the UAE armed forces.
Egypt will also finally acquire two Airbus A330 multi-role tanker transport (MRTT) aircraft. Though the EAF does practice 'buddy refuelling' with both the Rafale and the MiG-29M2, it does not have a dedicated air-to-air refuelling tanker, and has been interested in acquiring the A330 MRTT since 2014.
The aircraft can carry 111 tonnes of fuel and can transfer up to 3.6 tonnes per minute. It can remain on station for four hours, 1,000 nautical miles from base, and offload 50 tonnes of fuel during the mission, or it can support the deployment of four fast jets, carrying 12 tonnes of equipment and all the required groundcrew, over a distance of 2,800 nautical miles.
There have been suggestions that Egypt could order as many as four A330 MRTTs.
There is also considerable potential for further naval business, including fast missile boats, corvettes, light frigates and submarines.
Stay up to date
Subscribe to the free Times Aerospace newsletter and receive the latest content every week. We'll never share your email address.