Now there's Thunder in the Nigerian sky
The JF-17N Thunder fighter aircraft has now entered service with the Nigerian Air Force. Jon Lake looks at what this could mean for the future.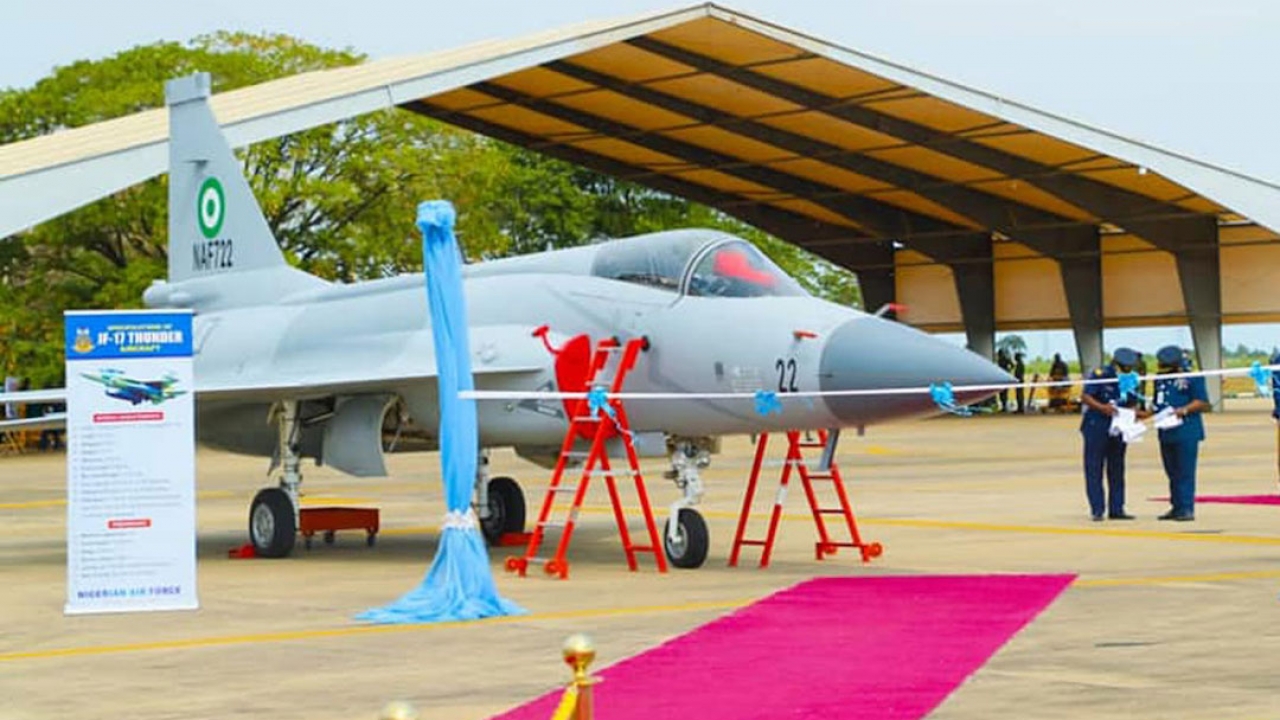 The JF-17 Thunder, an export version of the JF-17A Block 2, is now the fastest aircraft in the Nigerian Air Force (NAF) inventory.
Three arrived at the NAF's Makurdi Air Base (also known as Kwenev) on board a Pakistan Air Force Il-76 transport aircraft in March.
They were officially handed over to the NAF on May 21 during a ceremony marking the 57th anniversary of the service.
In July, Pakistani media reported that Nigeria's military and political leadership had "unanimously conveyed complete satisfaction with the performance of newly inducted JF-17 fighter aircraft" during a visit by General Nadeem Raza, Pakistan's chairman joint chiefs of staff committee (CJCSC), who met with President Muhammadu Buhari.
Nigerian interest in the JF-17 was first reported in 2014 and the then NAF chief of air staff, Air Marshal Adesola Nunayon Amosu, visited Pakistan to begin preliminary negotiations. This followed NAF expressions of interest in the Textron AirLand Scorpion – on the face of it a more useful and relevant aircraft for Nigeria's ongoing campaign against Boko Haram insurgents.
In December 2014, during a major defence exhibition in Karachi, it was reported that Nigeria would procure 25-40 JF-17Ns from the Pakistan Aeronautical Complex.
Nigeria placed an order for an initial batch of three JF-17s in 2016, becoming the type's second export customer.
In 2018, Pakistan's economic coordination committee finally approved a deal to sell the three JF-17s to Nigeria at a cost of $184.3 million. An option for eight additional aircraft was included in the contract, as well as a training package, under which an initial cadre of pilots and maintainers underwent training in Pakistan. They graduated in January this year.
Makurdi Air Base has been modernised to accommodate the JF-17N fighters, and a new facility has also been commissioned to accommodate the Pakistani pilots and technicians supporting the aircraft during the first year of operations in Nigeria.
The introduction of the new fighter marks the latest step in a joint Pakistan Air Force/NAF modernisation programme, which also includes the delivery of 14 MFI-17 Super Mushshak basic trainers (the first four donated by Pakistan free of charge), and the upgrade of Nigeria's existing fleet of F-7NI fighters.
Some sources suggest that Pakistan will also supply Karakorum K-8 intermediate jet trainers (upgraded by the Pakistan Aeronautical Complex and equipped to fire unguided rockets).
Air Marshal Syed Noman Ali, the Pakistan Air Force's vice chief of the air staff, has pledged Pakistan's continuing support for Nigeria's efforts to meet its air power requirements.
The Nigerian acquisition of the JF-17 is just one element of a wider fleet modernisation programme that also includes the procurement of eight Mil Mi-35M attack helicopters from Russia, and 12 Embraer/SNC A-29 Super Tucano close air support aircraft from the US.
Further US aircraft sales, including a proposed sale of 12 Bell AH-1 Cobra attack helicopters, is being delayed by the US Senate foreign relations committee because of concerns about Nigeria's human rights record.
Though the JF-17 is, in some ways, unsuited to the kind of counter-insurgency (COIN) operations carried out by the NAF against the Islamist Boko Haram insurgents, it is equipped with an advanced electro-optical targeting pod that will allow pinpoint attacks to be made using precision-guided munitions around the clock.
This could prove to be a useful capability to augment the newly delivered A-29 Super Tucanos, which are a more obvious 'fit' for the COIN role, and which are expected to bear the brunt of operations against Boko Haram.
Stay up to date
Subscribe to the free Times Aerospace newsletter and receive the latest content every week. We'll never share your email address.