Mwari ramping up for more African sales
South Africa-based Paramount Aerospace Industries has sold an unspecified number of Mwari turboprop intelligence, surveillance, and reconnaissance (ISR) and light attack aircraft to a range of unidentified and unnamed customers.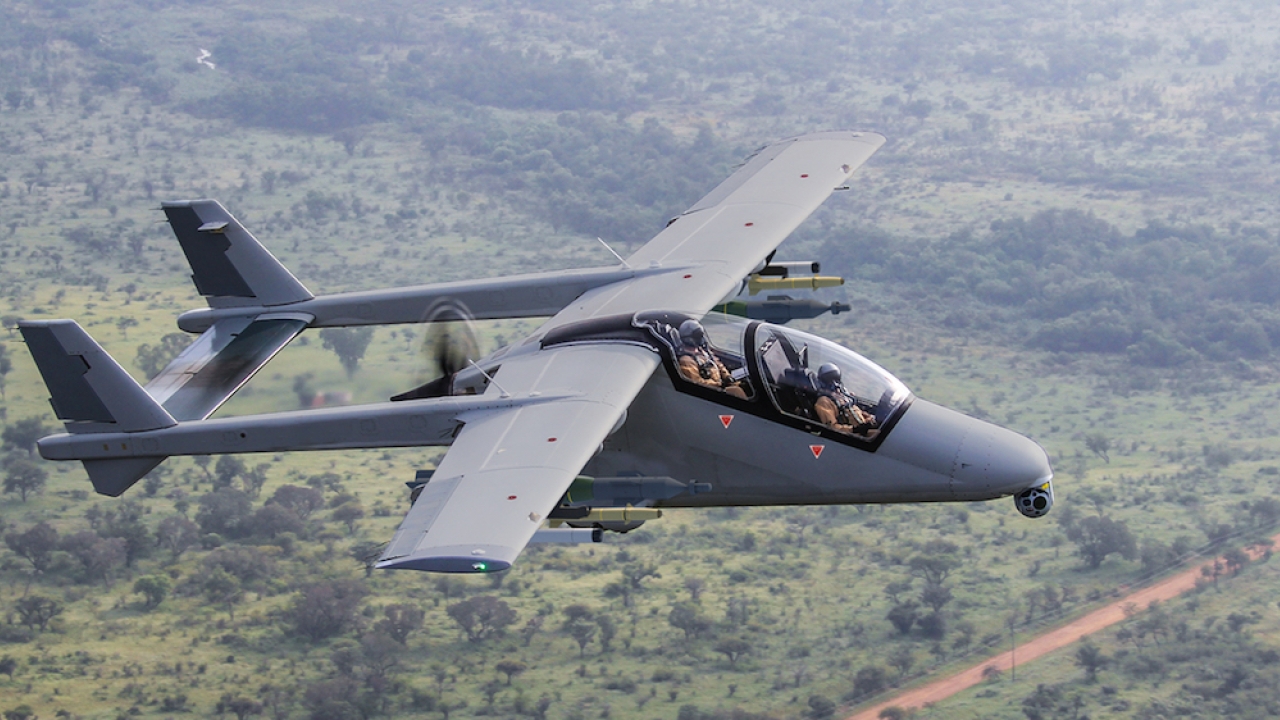 The company delivered the first production customer aircraft to an "overseas air force" on September 23, last year.
Paramount said that nine customisable Mwaris were on order at the time of last year's Africa Aerospace and Defence (AAD) 2022 defence exhibition, for two separate air forces – at least one of them an African air arm.
At least one unarmed, ISR-configured Mwari is known to have been delivered to Mozambique's military for use in the troubled Cabo Delgado region, and the company is known to be in the process of preparing to integrate weapons on to the light surveillance aircraft, and in developing an optionally crewed capability.
Meanwhile, although South Africa has overcome the problems that saw its Gripen fleet effectively grounded, with the award of a three-year R532 million ($28.76m) service and maintenance support contract to Saab, similar problems are now affecting other frontline fleets.
A report by Armscor (Armaments Corporation of South Africa) to a parliamentary committee on February 15 revealed that there are maintenance backlogs on the Gripen, Hawk, Oryx and Falcon aircraft.
It also showed that just seven of the South African Air Force's Oryx transport helicopters and four of 11 Rooivalk attack helicopters are serviceable, and that the remainder are largely grounded, as are four of five C-130 Hercules transports, though the Gripen fighters are now operational again.
The other services are no better off, with the navy having no serviceable submarines, and just one of four frigates available for operations.
Elsewhere, Turkish drones are continuing to find a ready market in Africa, with the class-leading Bayraktar TB2 now in service in Burkina Faso, Djibouti, Ethiopia, Libya, Mali, Morocco, Niger, Nigeria, Rwanda, Somalia, and Togo.
Recently, Turkish Aerospace Industries (TUSAŞ) has started to make headway with its ANKA-S, which has been sold to Algeria and Chad, following the 2020 sale to Tunisia that marked the type's first export contract.
Algeria has also become the launch customer for the larger, twin-engined Aksungur UAV, having ordered six at the end of last year. Algeria has been steadily building up its UAV capabilities, and has acquired medium-altitude long-endurance (MALE) drones from various countries, including Rainbow CH-3, CH-4B, CH-5, and Wing Loong II aircraft from China, and the El Djazair 54 and 55 – local versions of the UAE's Adcom Systems Yahbon Flash 20 and United 40 UAVs.
Algeria has also deployed its UAVs operationally, and is progressively building up operational doctrine.
In recent years, Algeria has enjoyed a strong relationship with Leonardo Helicopters, which has supplied helicopters to the air force, the navy, the police air wing, and the Gendarmerie Nationale.
There were plans to build large numbers of AgustaWestland AW109s, AW139s and AW101s in a new factory at Aïn Arnat, in the Sétif Province, which was scheduled to become operational in 2021. This was a joint venture between the Algerian Ministry of National Defence (with a 51% share) and Leonardo Helicopters, which signed an industrial and trade partnership agreement in August 2016.
More recently, the Algerian Air Force and Leonardo expressed their intention to finalise a deal for seven AW139 helicopters at the 13th session of the Algerian-Italian bilateral committee held on November 30, 2022 at Palazzo Guidoni, the headquarters of the General Secretariat of Defence and the National Armaments Directorate in Rome.
The partners "strongly hoped to formalise" a contract for the AW139s by the first half of 2023.
Algeria is also interested in the Leonardo AW249 NEES (Nuovo Elicottero da Esplorazione e Scorta), a new scout, escort and attack helicopter that made its maiden flight on August 12, 2022.
Still focusing on Algeria, a first Beriev Be-200ES Altair water bomber aircraft for the Algerian Air Force was rolled out at the Beriev manufacturing plant at Taganrog, Russia, in early January 2023.
The aircraft was fully painted in Algerian markings and registered as 7T-VPV. It will be used for training aircrew. A second Be-200ES was expected to roll-out as African Aerospace was going to press.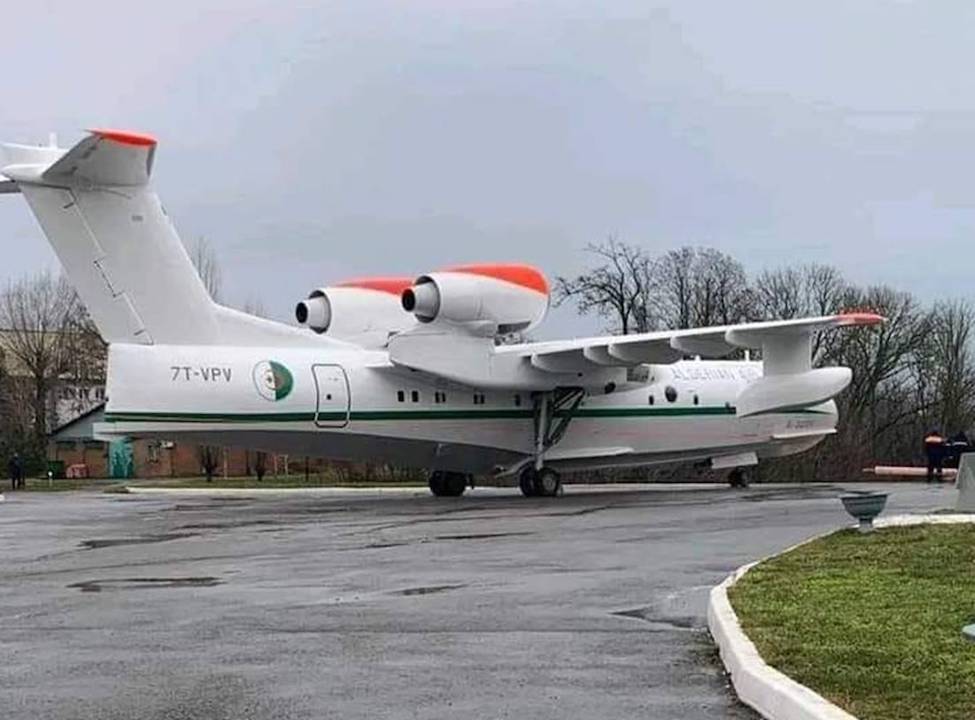 Algeria ordered four Be-200ES multirole amphibious aircraft from the Taganrog Aviation Scientific and Technical Complex with an option for four more in August 2021, following a series of fires that affected several regions of the country.
The need for some components from Switzerland, including engine vibration control units, cable assemblies, and front and rear support accelerometers, could complicate deliveries, as these may be subject to sanctions and their export to Russia may be prohibited.
The Altair can carry 12,000 litres of water, or up to 72 passengers, and is now in service in Russia and Azerbaijan, while leased aircraft have been used for firefighting in Greece, Portugal and Turkey.
In neighbouring Tunisia, the modernisation of the Tunisian Air Force continues apace, with the hand-over of the first of eight Beechcraft T-6C Texan II training aircraft on November 8, 2022, by Textron Aviation Defense.
The aircraft will remain at Wichita for the time being, where training of the initial cadre of instructor pilots began on October 31, 2022.
The aircraft will be augmented by a suite of training devices, including a ground-based training system, an operational flight trainer and a computer-based training lab, to be supplied by TRU Simulation + Training, an affiliate of Textron Aviation.
Eventually, the new trainers will be based at Sfax/Thyna Airbase, where they will equip 13 Squadron.
The US State Department approved a possible foreign military sale (FMS) of 12 T-6Cs to Tunisia on October 10, 2019, subsequently agreeing a deal for four AT-6 Wolverine light-attack versions of the aircraft in February 2020.
The T-6Cs and AT-6Es will replace the Tunisian Air Force's fleet of SIAI-Marchetti SF 260 Warriors (delivered in 1974) and Aero L-39 Albatros jet trainers, which have been in service since 1995.
The US Department of Defense awarded ATI Engineering Services a $10 million contract to fit an ISR mission system to two Cessna Grand Caravans for Tunisia. This contract seems to have been expanded to cover the conversion of four aircraft.
ATI Engineering Services equipped the aircraft with ISR mission equipment, including an electro-optical/infrared sensor, tactical radio, operator console, video data link and night-vision-compatible lighting.
Textron Aviation subsequently secured a contract from ATI Engineering Services in March 2022 for the delivery of four Cessna 208B Grand Caravan EX utility aircraft to the Tunisian Air Force.
Meanwhile, Niger took delivery of the third and final C-130H in its $30 million Niger Air Force Hercules programme on December 12, 2022.
The aircraft (a former USAF WC-130H) was delivered to Base Aérienne 101 (BA101) Niamey/Diori Hamani, where it was officially inducted in a ceremony on January 4, 2023. The first aircraft had been delivered on January 4, 2021, and the second on December 7.
The programme also included a training component, spare parts, support equipment and infrastructure at two bases – with refurbished hangars being provided at Niamey and at Base Aérienne 201 (BA201) Agadez, with a new spare parts storage facility at Niamey.
The US has now trained 16 pilots from Niger (including the first female pilot in the air force who completed her training in April 2020), as well as 19 maintenance personnel, five baggage handlers and a flight engineer.
Stay up to date
Subscribe to the free Times Aerospace newsletter and receive the latest content every week. We'll never share your email address.