Lightweights add a heavy punch to north African air arms
Libya has reportedly ordered an undisclosed number of Hürkus-C turboprops from Turkish Aerospace (TAI), with Major General Muhammad Gojil, the Libyan Air Force chief of staff, signing a formal agreement.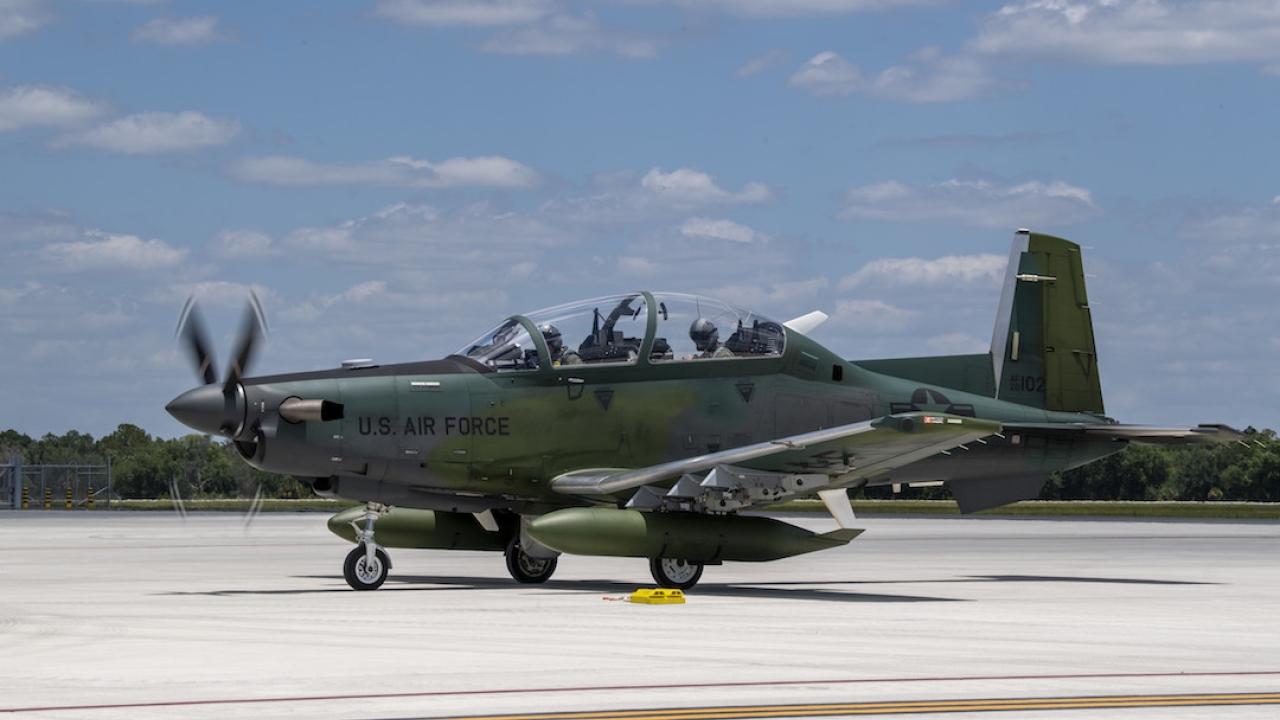 However, the sale has not yet been formally acknowledged by TAI.
The company has confirmed orders, though, from the Niger Air Force and, more recently, from the Chad Air Force, as well as reporting strong interest from the Azerbaijan Air Force.
The Hürkus-C is an armed close air support variant of the Hürkus-B turboprop trainer. It is fitted with a forward-looking infrared (FLIR) sensor and can carry 1,500kg of weapons, including 12.7mm machine gun or 20mm cannon pods, Cirit laser-guided rockets and L-UMTAS anti-tank guided missiles.
The Hürkus HYEU air-to-ground integration aircraft is a variant used for forward air controller (FAC) training by the Turkish Air Force's 135 Filo at Konya.
In neighbouring Tunisia, despite the diplomatic stand-off between Joe Biden's US administration and President Kais Saied, an order for eight T-6C Texan II trainers from Textron Aviation Defence is moving ahead, and the US Department of Defense has now agreed a $90 million deal towards the production of eight aircraft. These are expected to be followed by four AT-6E Wolverine close air support variants.
Tunisia has signed letters of offer and acceptance to acquire the airborne extensible relay over-horizon network (AERONet) mobile ad-hoc networking communication suite that was developed by the US Air Force as part of its continuing light attack experiment programme. AERONet is being supplied to US international partners who operate light attack aircraft by Persistent Systems LLC.
Following the signature of a contract on the first day of this year's Farnborough International Airshow, the Royal Moroccan Air Force (RMAF) will take delivery of an unspecified number of H135s, which will replace about 10 surviving Agusta-Bell 206Bs in the rotary wing pilot training role.
They will serve with the L'Ecole de Pilotage Hélicoptère at 1 Air Base at Rabat/Salé.
The H135 is already in Moroccan service, with four EC135s serving with the Gendarmerie Royale's Escadron Aerién at Rabat/Souissi.
The contract also covers an extensive support package, including the delivery of flight training devices and the training of instructor pilots and maintenance personnel.
Airbus Helicopters will provide support in cooperation with its Moroccan strategic partner, Heliconia.
The training programme will enable the RMAF to take full advantage of the H135's multi-role capabilities and will include flying on might vision goggles (NVGs) and winching – a core skillset for the search-and-rescue role.
More than 130 IFR-certified H135s are operated by military agencies in the training role, and the type has now been selected by 12 military customers, including the armed forces of Australia, Brazil, Gabon, Germany, Ireland, Japan, Morocco, Nigeria, Spain, Thailand and the United Kingdom.
Stay up to date
Subscribe to the free Times Aerospace newsletter and receive the latest content every week. We'll never share your email address.