Israel saddles up Pegasus and King Stallion
A look at the latest defence activity taking place in the MENA region.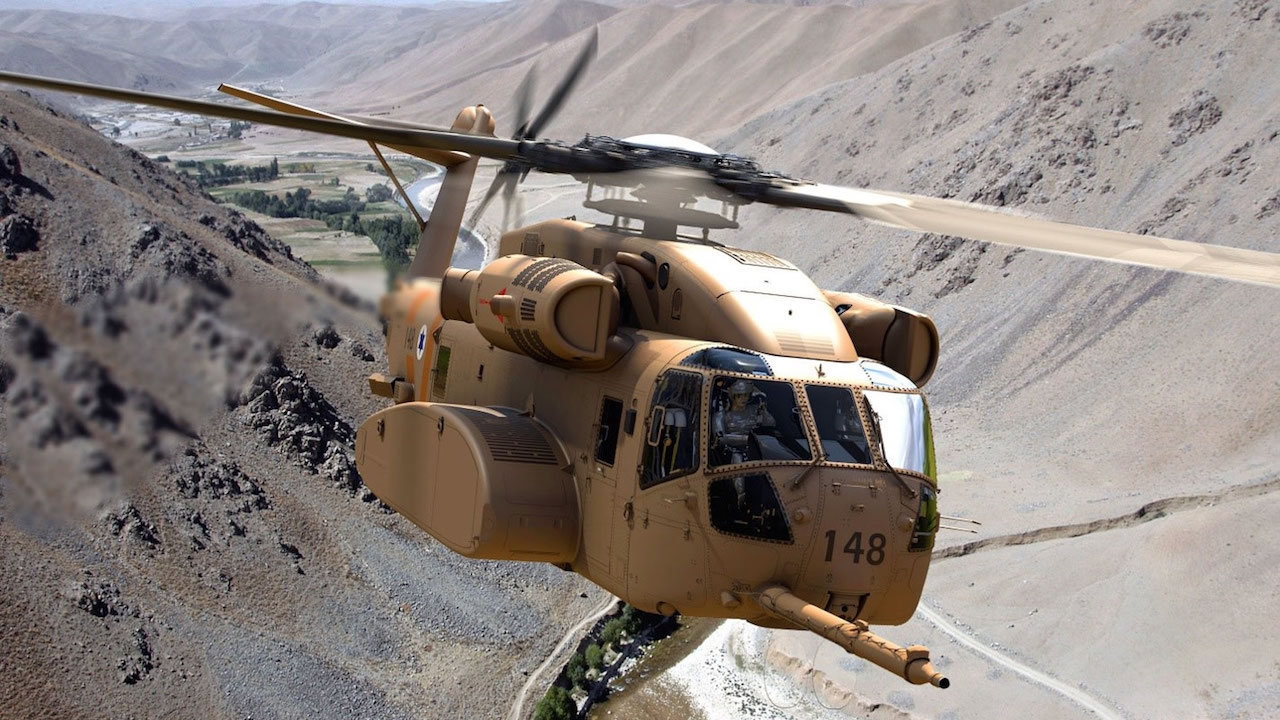 The Israeli MoD has signed a letter of offer and acceptance for the first two of eight Boeing KC-46A Pegasus tankers, scheduled to be delivered in 2024.
The KC-46s will replace the Israel Air Force's existing Boeing 707 Re'em tankers, which are now around 50 years old, and which have become increasingly difficult to support in recent years.
In February 2022, Israeli Air Force chief of staff, Brigadier General Eyal Grinboim, visited Naval Air Station Patuxent River for a programme update on, and flight in, the CH-53K heavy-lift helicopter.
Israel is the first international customer for the Sikorsky CH-53K King Stallion helicopter, though there is some confusion as to exactly how many have been ordered to date.
It has been reported that Lockheed Martin subsidiary, Sikorsky, is set to build four low-rate initial production lot 6 King Stallions for Israel. It is not known whether these aircraft are additional to the 12 CH-53K helicopters contracted for in late December 2021.
Other reports suggested that Sikorsky is preparing to build seven CH-53K helicopters for Israel.
The Israeli MoD announced that it had chosen the CH-53K as its next heavy-lift helicopter in February 2021, selecting it over Boeing's CH-47 Chinook. The new helicopter will replace the country's ageing CH-53D Sea Stallions, known locally as the Yasur.
The US State Department originally approved the $3.4 billion sale of 18 aircraft in July 2021.
The CH-53K programme is on track for the US Marine Corps to achieve initial operational capability this year, and first deliveries to Israel are planned for 2025.
Still on rotorcraft, following the appearance of pictures of four CH-47F Chinook heavy-lift helicopters in Royal Saudi Land Forces (RSLF) livery, Boeing has confirmed that four aircraft for Saudi Arabia have been delivered to the US Army.
The company added that delivery of the eight contracted new Chinook helicopters is expected to continue throughout 2022 and that, as a foreign military sale (FMS), the customer is the US Army.
Saudi Arabia signed a $3.51 billion contract for 48 Chinooks in 2016. As well as the CH-47F helicopters, the deal included engines, navigation systems, missile warning systems, machine guns, an extended-range fuel system, as well as armour, spares, and other related components. Logistics, training and support also formed part of the package.
The new Chinooks will join nine UH-60M helicopters delivered to the Royal Saudi Land Forces (RSLF) airborne special security forces, which were formally introduced at King Khalid Military City in northern Saudi Arabia in December 2021.
On March 24, the US Department of Defense (DoD) announced that it had awarded a $193 million contract to Sikorsky to deliver 25 'modified' UH-60M helicopters for the Saudi Arabian National Guard (SANG), though there have been suggestions that this contract covers upgrade work only, and not the supply of new helicopters. Work is set to be complete by October 31 2024.
These helicopters were not part of the $3.8 billion US Army multi-year contract announced in July 2017 that included 40 UH-60M and 75 HH-60M medical evacuation Black Hawks for the SANG. Those helicopters are due to be delivered by June 30 this year.
Nor do the new Black Hawks form part of the letter of intent that Lockheed Martin signed with local firm, Taqnia, in May 2017 for the supply of up to 150 S-70i helicopters for Saudi government agencies.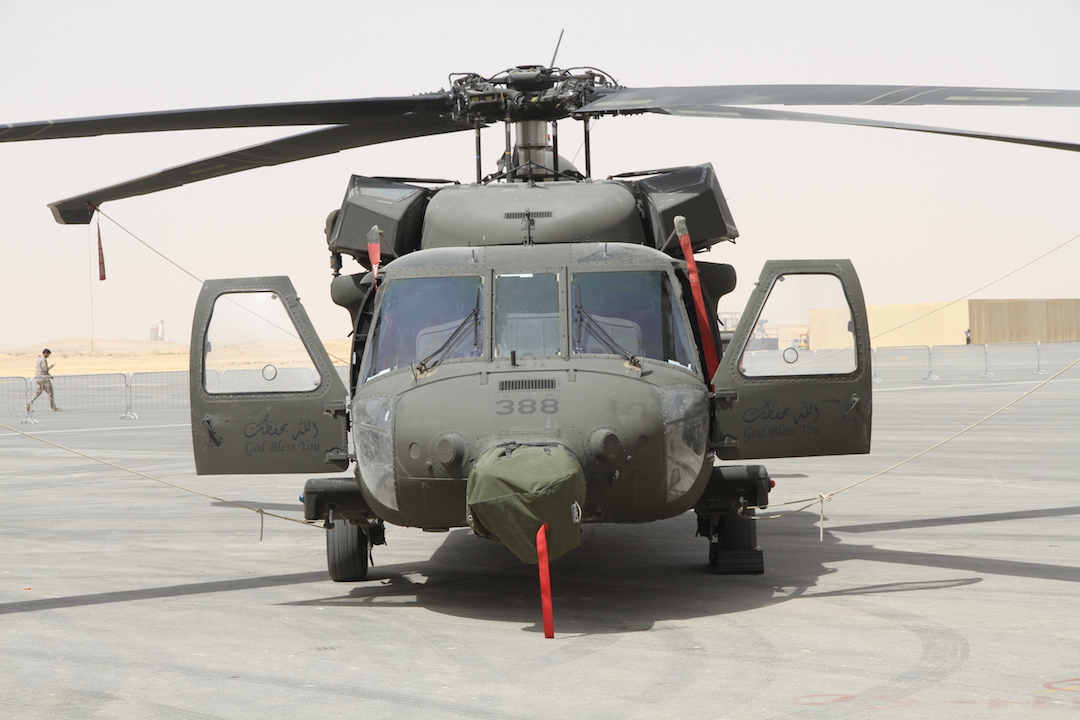 In another new move, Saudi Arabia and the United States have agreed a $397.9 million contract to modernise and upgrade the five E-3A aircraft operated by the Royal Saudi Air Force (RSAF).
The RSAF's E-3As are currently operated by 18 Squadron and, when required, are loaned to 17 Squadron, which functions as a training unit for the RSAF's larger intelligence, surveillance, and reconnaissance (ISR) and tanker aircraft.
The RSAF purchased five E-3A Sentry airborne warning and control system (AWACS) aircraft, together with eight KE-3A tankers, in 1983 and these were originally delivered between June 1986 and September 1987.
One of the tankers and a former Boeing E-6A/YE-8B trials aircraft were delivered to Raytheon Intelligence, Information and Services in Texas in 2004, where they were converted into RE-3 signals intelligence (SIGINT)-gathering aircraft in two different configurations.
The first became the RE-3A tactical airborne surveillance system (TASS), while the second turned into the RE-3B improved tactical airborne surveillance system (ITASS) aircraft. Another tanker may subsequently have been converted to RE-3A TASS configuration.
Following progressive upgrades during its service, the first RE-3A TASS SIGINT platform now closely resembles the current Baseline 11 standard RC-135V/W Rivet Joint, as flown by the US Air Force and British Royal Air Force.
Boeing carried out a radar system improvement programme (RSIP) upgrade on the RSAF's E-3 AWACS fleet in 2017 to enhance radar capabilities and improve availability. This included new software and hardware, a new radar computer and a radar control maintenance panel.
Boeing's work on phase 2 of the AWACS modernisation programme is intended to keep the RSAF E-3 fleet interoperable with the US Air Force's 31 E-3s, and will ensure that the Saudi aircraft remain functionally viable until the type's expected end-of-life date in 2040.
The upgrade work is due for completion by February 21 2026 and will involve 100% FMS funding. The work will be undertaken in Oklahoma City and at Al Kharj in Saudi Arabia.
Earlier this year, Iraqi Defense Minister, Jumaa Inad, announced that he had signed a deal with Pakistan for an unspecified number of fighter aircraft – understood to be JF-17 Block 3s.
Local media in Pakistan had earlier reported that negotiations had been conducted between Islamabad and Baghdad for the sale of 12 JF-17s for an estimated price of $664 million.
The JF-17 Block 3 is fitted with an active electronically scanned array (AESA) radar and carries PL-15 beyond-visual-range (BVR) missiles. It promises to significantly enhance the Iraq's air defence capabilities.
Iraq's current fleet of F-16s were not delivered with the AIM-120 advanced medium-range air-to-air missile (AMRAAM) beyond-visual-range air-to-air missile (BVRAAM), and rely on shorter range (and obsolete) AIM-7 Sparrows for BVR use.
Inad visited Pakistan to discuss a JF-17 Block 3 purchase in May 2021, and negotiations for were reportedly concluded when Major General (Pilot) Muhammad Majeed Mahdi Mahmood, deputy commander of the Iraqi Air Force, led a delegation to Pakistan in September 2021.
Meanwhile, Turkey's defence industry executive committee has given the go-ahead for the mass production of the country's Hurjet indigenous basic trainer and light-assault aircraft.
It is thought that Turkish Aerospace Industries (TAI) will roll out its first prototype by the end of this year, with a inaugural flight planned for March 2023 to coincide with the 108th anniversary of the battle of Canakkale – an important event in the Turkish struggle for independence.
Current plans reportedly involve the construction of two flying prototypes with two more airframes being produced for fatigue and ground static testing, though TAI has not confirmed how many aircraft would be produced under the first serial production run. Photos and videos released seem to show at least two fuselages currently under construction.
The TAI Hurjet is a single-engined, tandem-seat, supersonic advanced trainer and light combat aircraft, with modern avionics and high performance.
The Turkish Air Force plans to use the Hurjet, also known as the National Jet Trainer, to replace the Northrop T-38 Talon in the trainer role and to supplement the F-16s for close air support.
TAI is also pursuing export opportunities in what is an increasingly crowded marketplace.
Despite beginning serial production of the Hurjet, Turkey will narrowly miss its indigenous production targets in 2023. The country's 2019-2023 strategic plan set out that 75% of its defence requirements would be met through indigenous production, but recent forecasts suggest that only 71% of procurements will be fulfilled from indigenous production in 2023.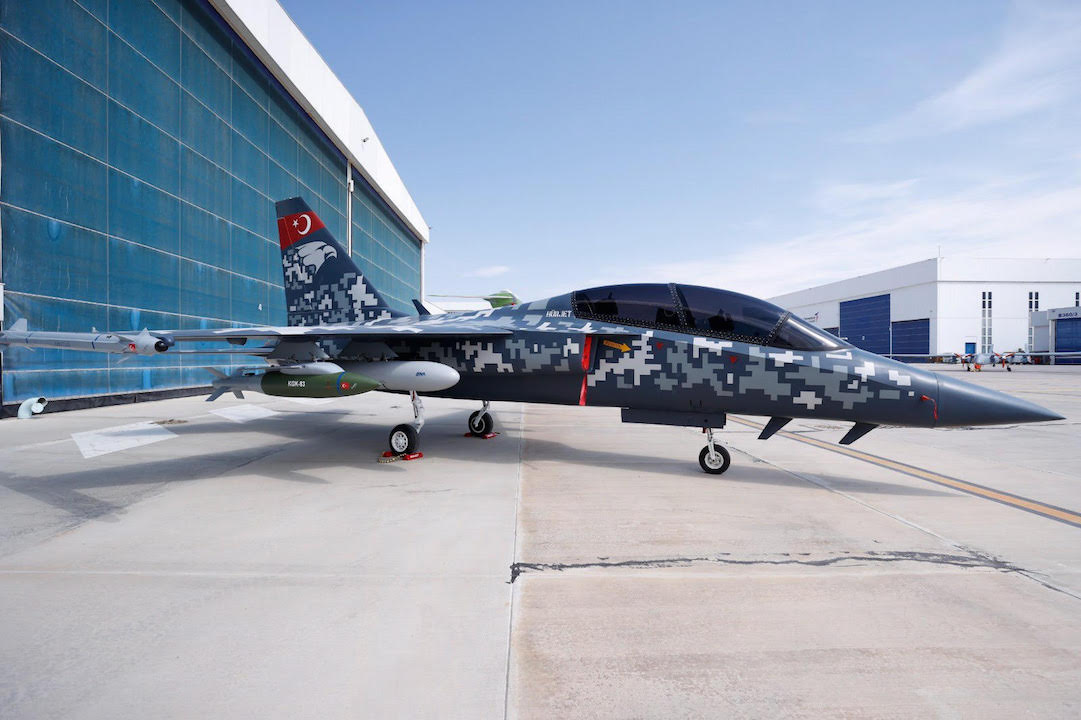 With 96 new fighters on order, the Qatar Emiri Air Force (QEAF) is making major efforts to train large numbers of new pilots.
Some will undergo training on the BAE Systems Hawk with 11 Squadron QEAF at RAF Leeming in the UK, but others will be trained on the Leonardo M346 Master in Italy.
It is expected that further trainer aircraft will be procured to augment the nine Hawks and six Masters purchased so far.
The first QEAF Leonardo M346 Master advanced trainers made a surprise appearance in Qatar at the end of January. Three aircraft were shown during a graduation ceremony for student pilots at Al Udeid Air Base, one forming a parade 'backdrop' and two performing a fly-past.
Some reports suggest that the original plan was to send four M346s to Qatar for the ceremony, but only three were actually deployed at the event. Originally flown to Kuwait from the International Flight Training School (IFTS) in Italy, the aircraft returned to Lecce following the ceremony.
The aircraft wore partial Qatari markings, with a Qatari flag on the tailfin, and a Qatari ribbon around the bottom part of the IFTS tail badge. It is not clear whether these markings will be retained when the aircraft return to Italy.
The Italian Ministry of Defence and Qatar signed an agreement to enable QEAF pilots to be trained at the IFTS at Lecce in Italy in November 2020. Phase 2, 3 and 4 training is currently conducted at Lecce, where the first two phases are flown in the Aermacchi T-339A and FT-339C (MB339A and MB339CD). The Phase 4 syllabus is flown in the Leonardo T-346A Master.
Phase 4 advanced pilot training is due to be moved to a new IFTS facility at Decimomannu, Sardinia, which is slated to be finished later this year.
In Kuwait, while deliveries of the Eurofighter Typhoon are ongoing and reportedly on schedule, none of the 22 Boeing F/A-18E and six F/A-18F Super Hornets ordered by the Kuwait Air Force (KAF) in 2018 have arrived in country.
The new aircraft will replace an elderly fighter fleet, which currently comprises 31 F/A-18C Hornets and eight dual-seat F/A-18D Hornets. These have been in service since early 1992.
When the full complement of Typhoons and F-18 Super Hornets are fully operational, they will provide a substantial improvement in Kuwait's air power capabilities.
Former KAF commander, Abdullah Al Foudary, pointed out that the Super Hornet represented a natural and logical choice, thanks to its commonality with the existing Hornet, while the Typhoon promised interoperability advantages with three other members of the Gulf Cooperation Council (GCC).
The first pair of Typhoons arrived at Ali Al-Salem Air Base on December 14 last year, and two more followed in March 2022. The type made its public debut in the National Day and Liberation Day fly-pasts on February 25 and 26 respectively. These dates commemorate the nation's independence from the United Kingdom in 1961 and the liberation from the Iraqi occupation in 1991.
Kuwait will eventually take delivery of 22 single-seat Typhoons and six two-seaters.
Kuwait's 28 F/A-18E/F Super Hornets were originally slated for delivery by January 2021, and though all have been delivered to the US Navy, they have not been handed over to the customer, or delivered.
Problems with labour productivity, staff sickness and supply chain issues have caused some hold-ups, along with delayed infrastructure work at Ahmed Al Jaber Air Base.
It was originally expected that more than half of the Typhoons and all of the Super Hornets would be in Kuwaiti hands by the end of 2022, but it now seems that deliveries will stretch well into 2023 and possibly beyond.
Stay up to date
Subscribe to the free Times Aerospace newsletter and receive the latest content every week. We'll never share your email address.