Flying for the king
The recent purchase of four Airbus Helicopters H125 aircraft has reinvigorated the Lesotho Defence Force Air Wing's capabilities.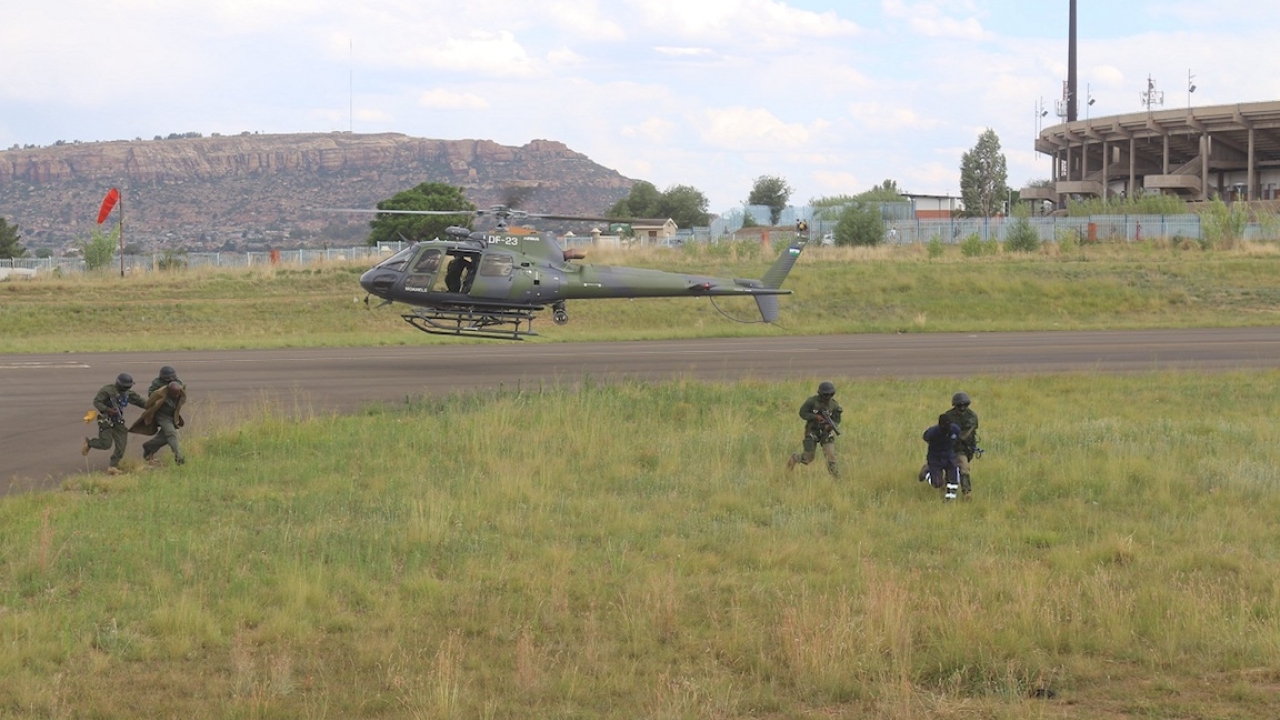 Enclaved and surrounded by South Africa, the Kingdom of Lesotho has a small military, the Lesotho Defence Force (LDF), which is primarily tasked with border control and countering a variety of internal security issues, such as cattle rustling.
The LDF is also intended to defend the country against external aggressions and to take part in operations abroad, whether under the aegis of the Southern African Development Community (SADC), or the United Nations.
At present, a company-sized infantry force is deployed in Mozambique under the SADC Mission in Mozambique (SAMIM).
Lesotho's military aircraft are operated by the LDF Air Wing, which was established in 1978 as the Lesotho Police Mobile Unit (PMU) Air Wing. Its first aircraft were two Short Skyvan 3M transports and a Cessna 152, all of which were commissioned in 1979.
These were later joined by two Bo105 helicopters and a Soloy-Bell 47G, two Libyan-donated Mi-2s, a Dornier Do 27, and a Do 28.
In 1986, the PMU became the Royal Lesotho Defence Force (RDLF), a fully military corps, which took over the former air wing and its aircraft.
Additional deliveries followed, including a short-lived BK117, which was received in 1985 and sold a year later, two Agusta Bell 412s, and a Bell 412 in 1986, a Cessna 182Q in 1988, and two Casa C212-300s, which replaced the Skyvan 3Ms in 1989.
One of the former crashed in November of that year and was replaced, in 1991, by another example of the same type. Also in 1991, a Bo105 was acquired.
In 1993, the RDLF was reorganised into the current LDF. That same year, one of the Agusta Bell 412s crashed. A new Bell 412 was subsequently acquired and commissioned in 1994. However, it too crashed in 1998 and was replaced by a Bell 412SP.
In 2000, one of the C212-300s was written-off, leading to the purchase of a C212-400 as replacement, which was delivered in 2001, together with two new Bo105s. One of the latter was written-off two years later.
In 2004, a Bell 206 and a Gippsland GA8 Airvan single-engine transport were added to the fleet, the latter replacing the long-serving Cessna 182Q. The Bell 412 was lost in 2006 and a Bell 412EP was bought and pressed into service in 2007 to make-up for the loss.
By the end of the 2000s, the air wing's fleet was comprised of two C212s, one GA8, one Bo105, one Agusta Bell 412, one Bell 412SP, one Bell 412EP, and one Bell 206. In 2013, a single EC135T2+ was acquired to replace the last Bo105. However, it crashed in April 2017, with the loss of all on board, after hitting power lines.
The LDF decided to replace it with an H125, delivered in October 2017. A further three examples of the type have since been procured, two of which were commissioned in 2018, while the third was received in November 2019. This particular aircraft was bought to replace one of the other H125s, which had crashed in December 2018.
Meanwhile, the Bell 206 was sold on the South African civilian market.
The LDF Air Wing is currently headquartered at Mejaletalana Air Base in the capital city of Maseru. Its commander is Brigadier Daemae Michael Matamane. who was appointed in 2018. Its primary role is to provide air support to the ground component of the LDF, conduct search-and-rescue operations, surveillance, reconnaissance, personnel and cargo transport.
LDF aircraft can also be occasionally chartered for commercial flights. This is notably the case with helicopters and allows some income to be generated for the force.
A limited offensive capability is provided by the Bell 412s and Agusta Bell 412, which can be armed with rocket launchers and machine-guns.
Since the beginning of the SADC military intervention in Mozambique, and the deployment of LDF troops there, which began in August 2021, the air wing has supported SAMIM with one of its C212s being used in the light transport and liaison role.
The LDF Air Wing has no pilot training capability of its own and most of its aircrews are sent to South Africa for training. The South African Air Force has trained numerous pilots from Lesotho, while others have received training at commercial flying schools.
It is thought unlikely that any future aircraft purchase should take place in the short term, although in a more distant future a replacement for the C212s may be sought.
Stay up to date
Subscribe to the free Times Aerospace newsletter and receive the latest content every week. We'll never share your email address.