Calidus B-250 programme is re-ignited after review
Al Ain-based Calidus, which launched the armed B-250 turboprop at the Dubai Airshow in 2017, appears finally to making some headway with the development of the aircraft.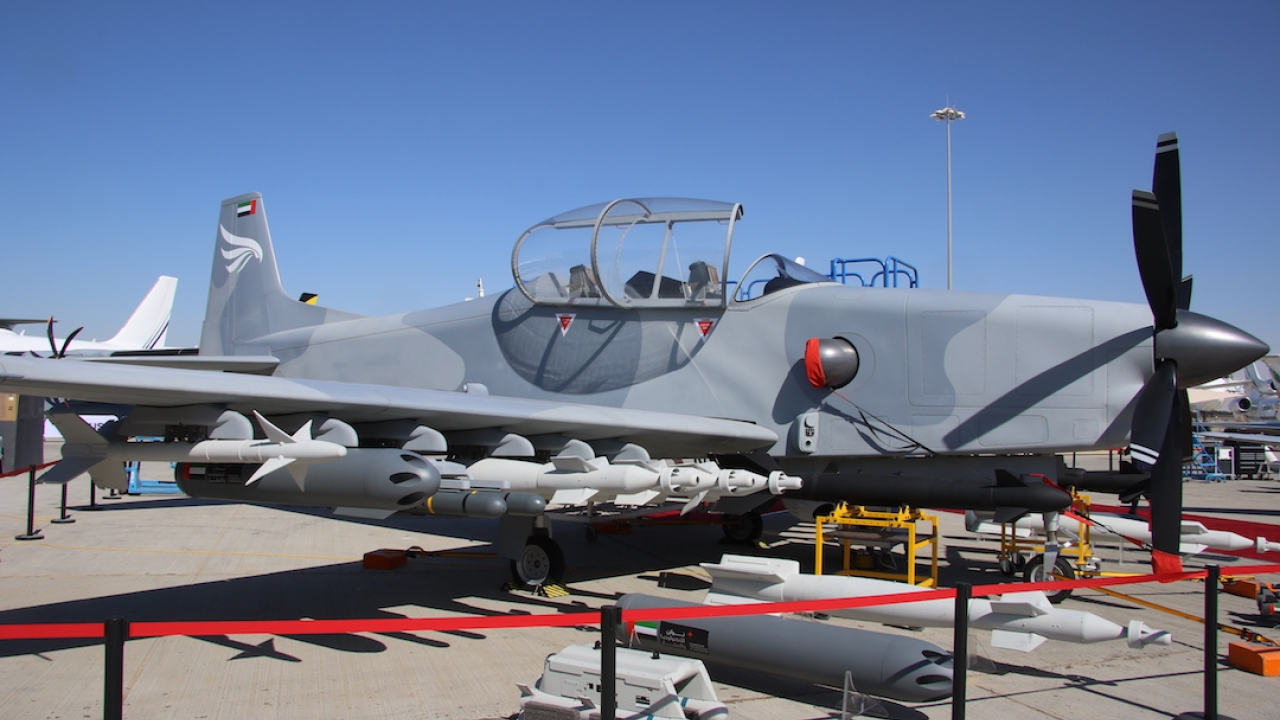 Shortly after the prototype made its public appearance four years ago, several design issues surfaced that led to a complete review of the B-250 turboprop project.
While Calidus will not acknowledge the issues, the programme now looks to be back on track.
The company has a flight-test team, made up of ex-Brazilian Air Force personnel, comprising two pilots and two engineers, who will now prepare the aircraft for certification.
They have recently been involved in the integration and subsequent launch of the Edge P31 Thunder guided bombs, with the P32 next, while I understand that the on-board gun is another priority.
It's not surprising that Calidus has hired a Brazilian flight-test team, given the connection the company has with the South American state. Calidus acquired Brazilian company, Novaero, in 2015. Its chief designer, Joseph Kovacs, was responsible for the Super Tucano and, ultimately, designed the carbon-fibre B250.
Powered by a 1600shp Pratt & Whitney PT6A-68 engine, with a four-blade Hartzell propeller, the aircraft is faster and more manoeuvrable than the Super Tucano. Undoubtedly, its biggest advantage is that it is made from carbon fibre, because it weighs around 1,000kg less than the Super Tucano. Weight savings that can be converted into more avionics, more fuel and more armaments.
Now, according to one source, there are two more B-250s being built on the Al Ain production line that should fly this year.
The United Arab Air Force and Air Defense (UAEAF&AD) announced at the 2019 Dubai Airshow that it would purchase 24 Calidus B-250s at a cost of AED 2.274 billion ($620 million) for the trainer/light attack role, with its spokesperson at the time saying: "It's a UAE platform for the UAE."
According to Mustapha Skhiri, head of aerospace cluster at Al Ain, the deal is for 12 B250s with the other 12 being on option, that will fulfil the light attack role.
Deliveries to the UAEAF&AD are expected to take place inside the next three years.
Skhiri, said: "Being pressurised to fly up to 30,000ft, the B250 will be out of the range of enemy air defences and man portable air defences (MANPADS), which the force's AT 802 Archangel border patrol aircraft cannot do."
While the cockpit houses two Martin Baker Mk 16 ejection seats, the Rockwell Collins Pro Line Fusion avionics system, which is predominantly used for civilian applications and which was initially selected for the two prototypes, has been replaced by a solution from Canada's CMC Electronics. Skhiri did not recall the system name and CMC has not responded to Arabian Aerospace's enquiries.
Sitting alongside the B-250 at November's Dubai Airshow was a full-size mock-up of the bigger and more heavily-armed B350 that Calidus has been working on behind closed doors for three years.
Skhiri said: "Its predominantly for combat intelligence, surveillance and reconnaissance (ISR) missions and has six hardpoints under each wing.
"This is still a concept at the moment, but we have included a retractable MX-25 under the forward fuselage with a Leonardo Osprey 30 [airborne electronically scanned array (AESA) radar primed for ISR missions], further back, just to give an idea of what we hope it can do." He wouldn't be drawn on exactly when the aircraft would fly, although 2025 would be a fairly good guess.
He continued: "The B-350 will be powered by a Pratt & Whitney Canada PW127C – the same engine as the ATR 72."
On display around the mock-up was a plethora of weapons, predominantly from the UAE's Edge company, which is also weaponising the B-250. They included Al Tariq Mk 81/82 bombs, smaller Halcon Desert Sting 16 bombs ,as well as 500lb GBU-12 bombs and rocket pods.
Two mock-up AIM-9 Sidewinder air-to-air missiles were positioned on the outer pylons for air defence.
Alan Warnes reports.
Stay up to date
Subscribe to the free Times Aerospace newsletter and receive the latest content every week. We'll never share your email address.