Burkina Faso shows off its uncrewed strength
A high-profile induction ceremony in Ouagadougou saw the Burkina Faso air force, l'Armée de l'Air Burkinabé, officially presented with a range of aircraft types new to its fleet, though most have actually been in service for some years.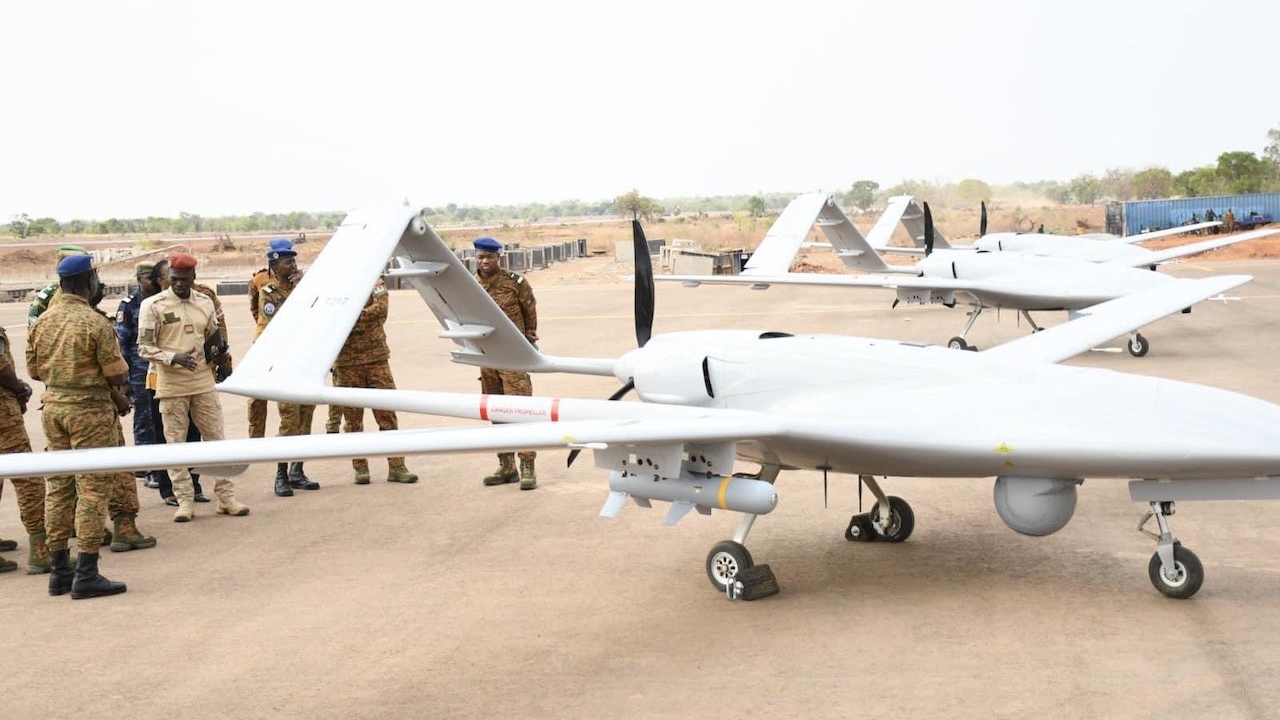 Three Turkish-built Baykar Bayraktar TB2 unmanned aerial vehicles (UAVs), some of them armed with precision guided munitions, together with single examples of Mi-17, Mi-24 and Mi-26 helicopters, were on show at Air Base 511 at the March event that was attended by Burkinabe defence minister Kassoum Coulibaly and chief of general staff David Kabre.
Burkina Faso is understood to have taken delivery of its first Bayraktar TB2 UAVs between April and May 2022, and five aircraft have been used in attacks against terrorist and insurgent targets, including groups of terrorists travelling on motor cycles.
Since 2016, it has faced a growing threat from rival Islamist terror groups affiliated with the Islamic State group and with al-Qaeda, resulting in 10,000 casualties, and the displacement of some two million people.
The West African state joins a number of African nations which acquired the TB2 following its successful deployment during the Nagorno-Karabakh conflict in 2020.
The aircraft then was already in service with Libya's GNA, where large numbers have been used since 2019.
Morocco received its first TB2 in September 2021, and four were delivered to the Ethiopian Air Force in November 2021, subsequently operating from Bishoftu Airbase, near Addis Ababa, against Tigrayan forces.
The first publicly announced TB2 order by an African nation came from Niger and was disclosed by Turkish president Recep Tayyip Erdogan in November 2021. The delivery of a first batch of six aircraft to Niger was announced in May 2022.
Other confirmed customers for the Bayraktar TB2 in Africa include Djibouti, which has now received at least three aircraft, two of which were displayed during its Independence Day military parade on 27 June 2022, while Togo started flying at least three TB2s from Niamtougou air base in 2022. Nigeria and Mali commissioned the type in late 2022, and Rwanda and Tunisia have been listed as TB2 operators.
The TB2 is also reported to have been seen operating in Somalia, although the aircraft spotted may have been Turkish, given that Turkey has a military base in-country and has been providing support, training and equipment to the Somali military.
Stay up to date
Subscribe to the free Times Aerospace newsletter and receive the latest content every week. We'll never share your email address.