Bold Eagle
Fighters of the United Arab Emirates Air Force and Defense recently ventured into Europe for the second time in six months to attend joint manoeuvres in Turkey. Alan Warnes reports.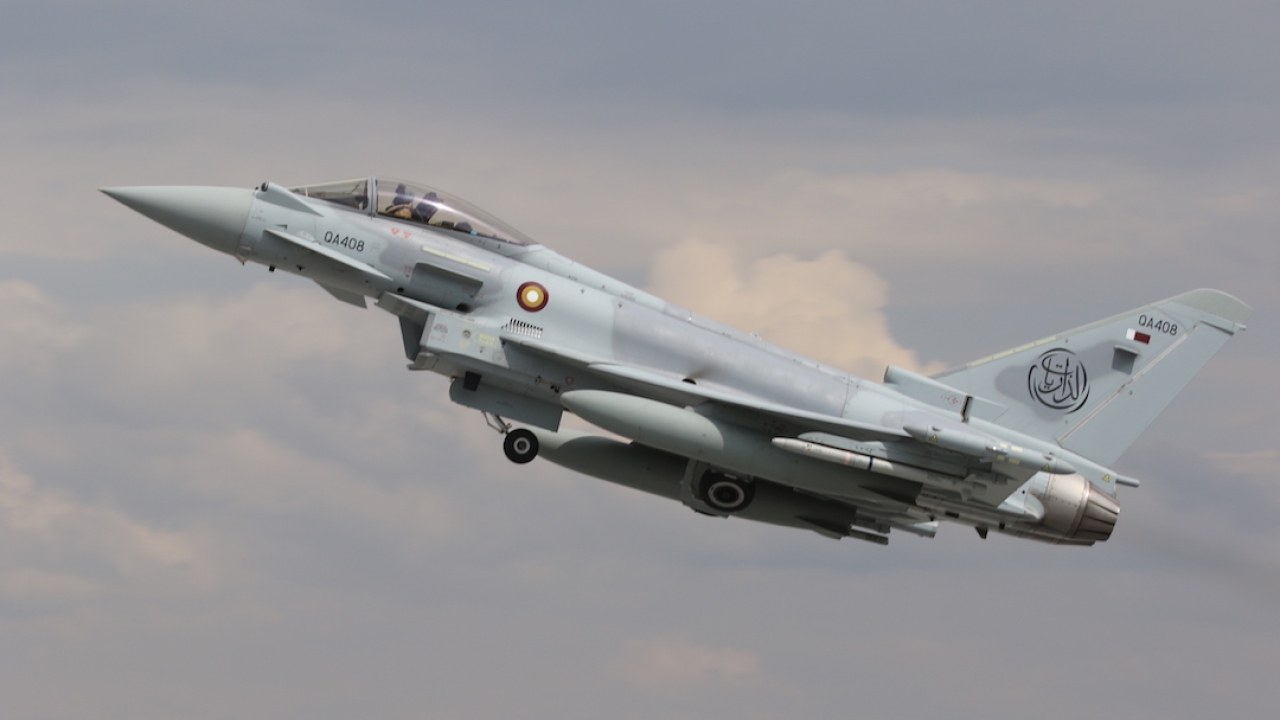 The prelude to the main event occurrew when four Lockheed Martin F-16E/Fs – the most modern fighters in the UAEAF&AD attended "Exercise Volfa" at Mont de Marsan, southern France in October 2022. While there, they worked with not just the French Air and Space Force but also several other NATO nations including Greece.
Then, in late-April, four Lockheed Martin F-16E/Fs deployed to "Exercise Anatolian Eagle" in central Turkey – an event taking place annually at Konya Air Base, officially known as the third main jet base – for two weeks of manoeuvres that ended on May 12.
The Turkish Air Force has incredible facilities and ranges at Konya, covering 50,000 square miles. The vast area is made up of two major exercise areas, over land and in the sea, south-west of the Turkish holiday resort, Izmir. There were the usual kind of scenarios acted out – air to ground, air to air and maritime.
The objectives of "Anatolian Eagle" are very similar to most other international exercises, allowing the participants to train in composite air operations (COMAO), time-sensitive targeting (TST), dynamic targeting (DT), high value airborne asset protection (HVAA-P) and anti-surface forces air ops (ASFAO).
In addition, experiences were exchanged among the participating nations.
The UAEAF&AD feels it needs to send fighters to other countries, not just to learn but allow younger pilots to gain the experience of working in an international arena.
While the UAEAF&AD's "Exercise Desert Flag" is a regular US "Red Flag" style drill, occurring annually at Al Dhafra in UAE's desert, it might not give the true sense of international ops, operating in the desert under sunny skies. Flying in France and Turkey though open the eyes of younger pilots to new experiences not just militarily, but culturally too.
Of the two UAEAF&AD Lockheed Martin F-16Es and two dual-seater F-16Fs that were present at "Anatolian Eagle", one single-seaters spent all its time in a maintenance hangar during the three days I was there. One of the dual-seater F-16Fs never flew either – leaving all the work to the other pair. Intriguingly, the UAE F-16s were the only aircraft carrying any type of air-to-ground weapon– albeit a training round.
According to one senior officer at the exercise, that was all down to personal choice. "If an air force requests to bring such weapons then they can, but most of the fighters simulated the dropping of bombs through their onboard systems." he said.
All three UAE F-16s on the flight line were fitted with sniper targeting pods, to both monitor the ground and to laze for laser-guided bombs. Two F-16s were carrying HARMs (heat-seeking anti-radiation missiles) for destroying or suppressing enemy air defence (DEAD/SEAD) radars and a third was armed with an AGM-65 Maverick for ground targets. The UAE probably wanted to train their pilots in SEAD/DEAD and close air support (CAS) roles, and for the latter mission the sniper on board would be extremely valuable. By being able to visually identify the target through the sensor, before 'firing' the Maverick.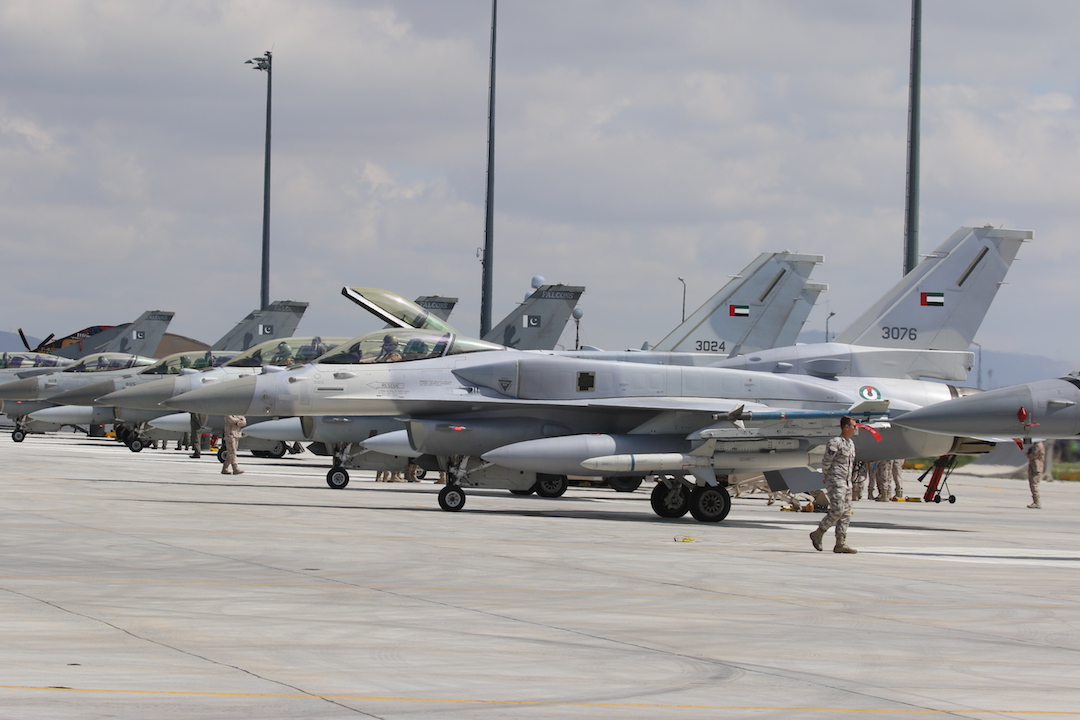 The F-16F on the first day flew with just AIM-9 Sidewinders for air defence, but by the second day had been fitted with a pair of AGM-65 Mavericks, presumably from the jet in the maintenance hangar. 
None of the F-16s flew with ACMI pods, so it's unclear how they were tracked during the 'air war' – maybe by integrated onboard systems.
Another Arab nation to send fighters to "Anatolian Eagle" was the Qatar Emiri Air Force, taking five brand new Typhoons supported by BAE Systems groundcrews.
The Qataris are not new to "Anatolian Eagle" – having sent Dassault Mirage 2000s in 2014 and Dassault Rafales in 2021, while Lockheed Martin C-130Js, Boeing C-17As, and during the recent "Anatolian Phoenix" helicopter exercise in June, sent NH Industries NH90s and Boeing AH-64Es.
Two years ago in a joint statement both Qatar and Turkey announced they would be setting up a joint training center at Konya, that would include Dassault Rafales but nothing has been heard since. The question fell upon deaf ears when the author enquired during this year's "Anatolian Eagle".
Clearly with little air space in Qatar, and a burgeoning combat fighter force, the QEAF are looking at all options to fulfil their tactical flyng needs. So Konya with its massive ranges, over land and sea, and just a short flight from the Middle East is an ideal location.
The Pakistan Air Force, which regularly works with Saudi, Qatar and the UAE air forces in international exercises, has reaped major benefits from sending their fighters and personnel overseas over the past 20 years, and now others are doing likewise.
The PAF detachment commander, air commodore Asad, Khan said: "We come here to learn, and if the pilots and aircrews only learn one thing its been worth it."
While the UAEAF&AD and QEAF are shy of the media, they would have voiced similar views.
Qatar's five brand-new Eurofighter Typhoons, included a pair of dual-seat Typhoon Ts. The aircraft have been in service since August 2022, although the first dual seater did not reach the new base at Tamim Air Base until November 2022, where they are operated by number seven squadron.
This was the first overseas mission outside of the Middle East – having attended the "Spears of Victory" exercise in Saudi Arabia in February.
All the jets were fitted with QEAF ACMI pods under the right wing and an AIM-132 ASRAAM (advanced short range air-to-air missile) for self defence under the left wing. 
All five Typhoons flew on the second and third day of the author's visit. At the end of the exercise, colonel (pilot) Faisal Khaled Al-Ghanim, commander of the QEAF, said "This joint exercise is part of the pre-prepared training programmes, and aims to develop and refine the skills of air crews, technical and administrative and support their readiness, in addition to raising the level of interoperability between friendly forces."
Clearly both the QEAF and UAEAF&AD went to "Anatolian Eagle" to learn, that was evident from the two dual-seaters that both sides brought. 
Another plus is that the groundcrews and aircrews would have experienced operations in another country, flying, working and mixing socially with personnel from other countries.
Unfortunately, the Royal Saudi Air Force which were expected to bring Boeing F-15 Eagles of some description, cancelled their attendance a week or so before the exercise started, which would obviously have been a blow to the Turkish Air Force. No reason was given, but two weeks earlier RSAF Eagles had visited Turkey's nemesis, Greece, for "Exercise Inichios" at Andravida.
Stay up to date
Subscribe to the free Times Aerospace newsletter and receive the latest content every week. We'll never share your email address.