Armed drone makes a huge impact in Africa
Amari Adebayo takes a look at the rise and rise of the Bayraktar TB2 armed unmanned air vehicle (UAV).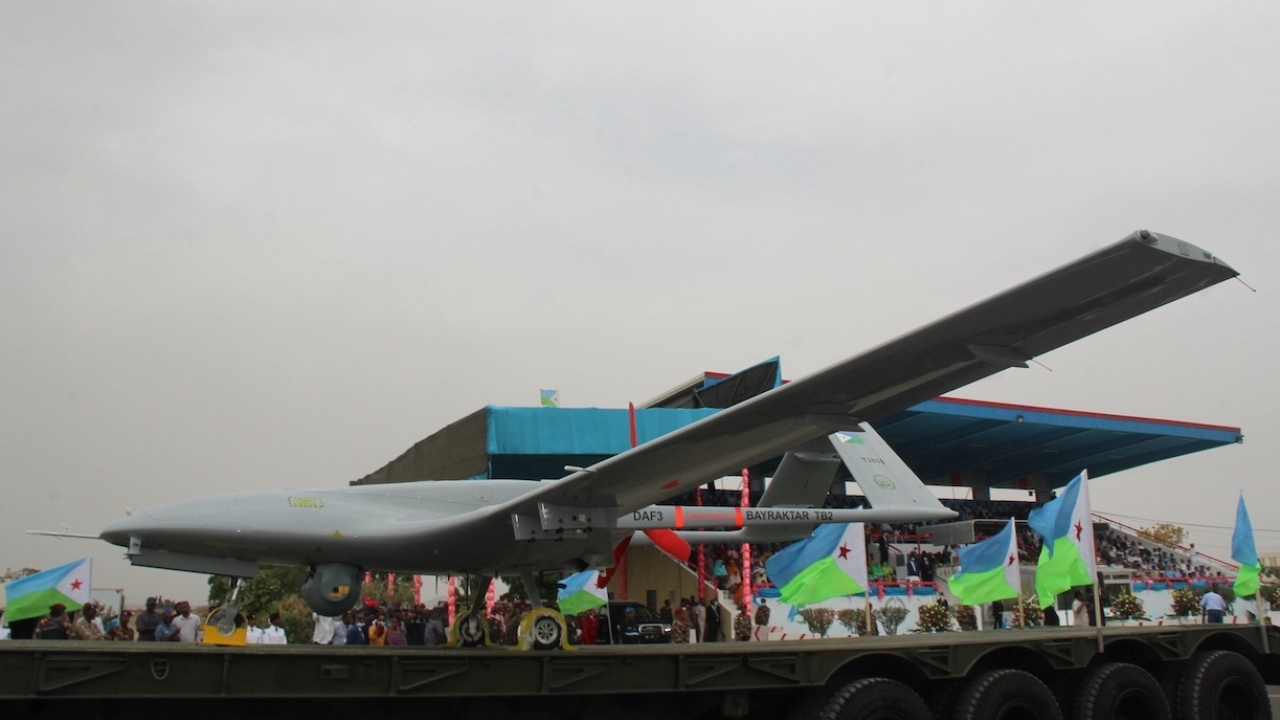 Renewed hostilities between Armenia and Azerbaijan in Nagorno-Karabakh in 2020 put the Bayraktar TB2 on the map as an extremely capable armed UAV.
The type was instrumental in Azerbaijan's military successes, acting as an effective strike platform against Armenian ground forces.
Multiple observers thought, however, that the TB2's success had been made possible by the permissive electronic warfare and air defence environment in Nagorno-Karabakh and that the Turkish UAV was unlikely to prove as capable in a high-intensity conventional conflict.
The war in the Ukraine has, however, shown this analysis to be largely erroneous and, while Ukrainian TB2 losses have taken place, the type has proven to be one of the most effective weapon systems in Kyiv's arsenal.
The TB2's performance in Nagorno-Karabakh caught the attention of several countries and Baykar started receiving a growing stream of foreign orders from mid-2020 onwards. Several African air arms were among the new customers, having grasped the potential of the aircraft, particularly for counter-insurgency operations.
The first publicly announced order in the region came from Niger, and was disclosed by Turkish President Recep Tayyip Erdogan in November 2021. The exact number acquired was not revealed but the delivery of a first batch of six was announced by several media outlets in May 2022.
In late 2021, following media reports of TB2s being flown by the Ethiopian Air Force in combat operations against Tigrayan forces, satellite imagery of the Bishoftu Airbase, near Addis Ababa, confirmed the type was, indeed, operational.
Other confirmed customers for the TB2 in sub-Saharan Africa include Djibouti, which has received at least three aircraft, two of which were displayed during its Independence Day military parade on June 27 last year. One was armed with Roketsan MAM-L precision-guided munitions.
Togo started flying the TB2 in 2022 and three aircraft are understood to be operating from Niamtougou Airbase.
Burkina Faso and Nigeria are also fielding the type. Indeed, photos of Nigerian Air Force TB2s being assembled in Turkey appeared online and, while the Nigerian Air Force has yet to publicly confirm this, it has been reported that at least part of these aircraft have already been delivered.
The TB2 is also reported to have been spotted in Somalia, although it is unclear if the aircraft noted there were Somali or Turkish. The latter is a possibility since Turkey has a military base in-country and has been providing support to the Somali military, including equipment and training.
Rwanda has also been listed as a TB2 customer, although this remains unconfirmed.
The TB2's success in Africa comes on the back of a massive Turkish effort to increase its footprint on the continent. Defence equipment sales have featured prominently, with Erdogan, himself, acting as an ambassador of the Turkish military industry in the course of multiple official visits to the continent.
The reasons for the aircraft's commercial success include its combat record in Nagorno-Karabakh and Ukraine, its competitive price, short delivery timeframe, and reliability, which come into sharp contrast with the checkered record of Chinese armed UAVs in African service.
The latter have generally suffered from poor availability, as well as sub-par performance. Indeed, it is telling that Nigeria, which already fields a large fleet of CASC CH-3A and CH-4Bs, as well as CAIG Wing Loong IIs, has decided to acquire the TB2 rather than continue expanding its inventory of Chinese aircraft.
Furthermore, with a price range of less than $20 million for a single system comprising two aircraft and a control station, the TB2 is much cheaper than even armed turboprop aircraft and provides a self-contained combat and surveillance capability well suited to countering the asymmetric threats facing many African countries.
This allows militaries with limited funding to acquire a capable offensive platform, which they would otherwise not be able to afford.
The TB2 has been used in offensive action by Ethiopia and Togo, where it is likely that it was involved in a night air strike in July 2022, which led to the death of seven civilians who had been mistaken for combatants. The UAV may also have seen combat in Burkina Faso, although this is unconfirmed.
Stay up to date
Subscribe to the free Times Aerospace newsletter and receive the latest content every week. We'll never share your email address.