Swiss roll out PC12 revamp
Swiss manufacturer, Pilatus Aircraft, has revealed a thoroughly updated version of its long-running single-engine turboprop with the third-generation PC-12 NGX recently announced. Dave Calderwood reports.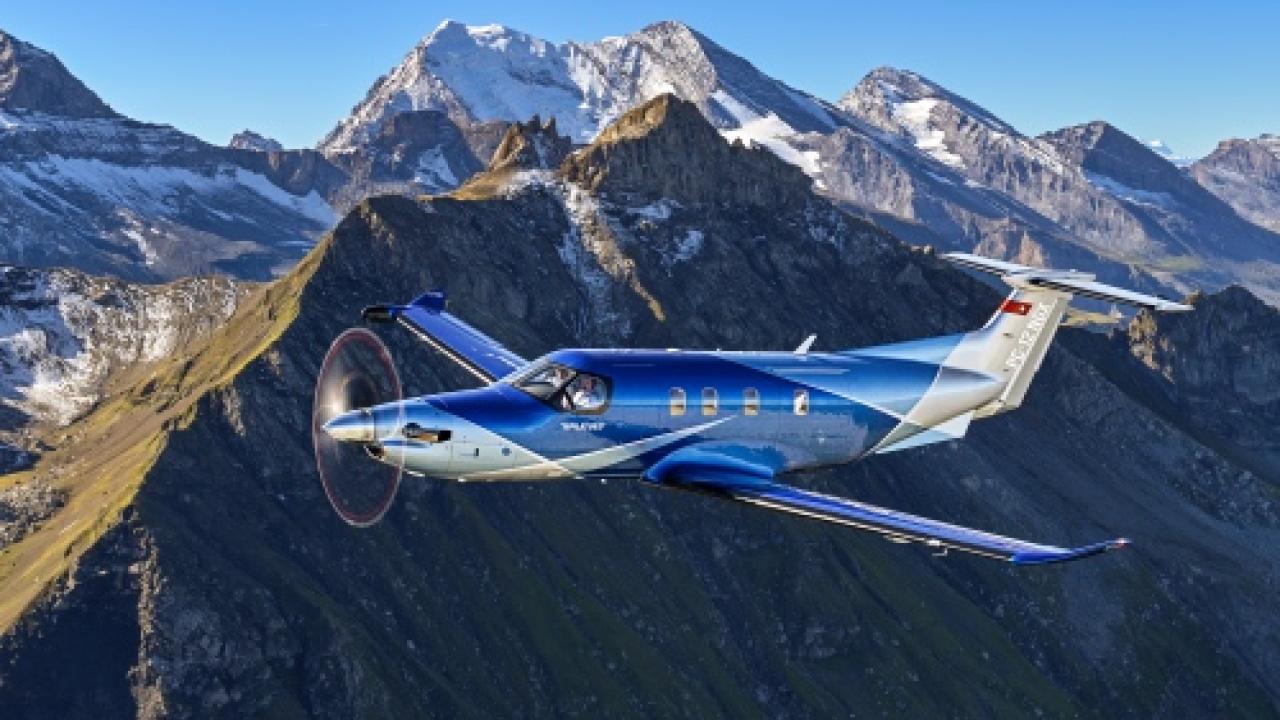 The NGX boasts a revised engine and propeller with a 'low-speed mode' for reduced cabin noise and higher cruise speed, an updated cabin with new square windows, and a host of other improvements – all designed to keep the PC-12 competitive when a new rival arrives soon from Textron Aviation, the Cessna Denali.
Markus Bucher, CEO of Pilatus, said: "To maintain the PC-12's leadership in the general aviation marketplace, we continuously seek innovative solutions, which benefit the safety, comfort and productivity of our customers.
"The PC-12 NGX is a showcase for the advanced technology collaboration between Pilatus, Pratt & Whitney Canada, and Honeywell. Together, we took the best, and made it even better. What's more, our customers do not have to wait years into the future to enjoy these benefits; the PC-12 NGX is here today."
Bucher confirmed that the PC-12 NGX has already passed certification and that its base price is $4.39 million. A typically equipped executive version would run out at $5.37 million.
Three customers for the NGX have already been announced, all owner-pilots. They are Dion Weisler, former CEO of HP (formerly Hewlett Packard), Shon Boney, founder of a US supermarket chain, and Brazilian businessman, João Carlos Marinho Lutz, who will use it to visit farms around Brazil.
The PC-12 is well-proven, with more than 1,700 of the type already in operation around the world. The global fleet has clocked up more than seven million flight hours, including many on unprepared runways, for which the aircraft is certified.
One of its principal operators is the Royal Flying Doctor Service in Australia, which often has to fly into, and out of, short dirt air strips in hot conditions.
At the heart of the new PC-12 NGX is the PT6E-67XP turboprop engine by Pratt & Whitney Canada. It is fitted with a new electronic propeller and engine control system, including full authority digital engine control (FADEC), said to be a world first in this market segment.
The new turboprop engine enables the PC-12 NGX to reach a maximum cruise speed of 290ktas, and is also able to operate without anti-icing fuel additives, such as Prist.
The Honeywell advanced cockpit environment fitted to the Pilatus PC-24 private jet has been adapted for the PC-12 NGX. A key feature is that the pilots can use either a cursor control device or a touchscreen controller, or both.
It's also equipped with a digital autothrottle for automatic thrust adjustment, which reduces pilot workload and optimises the power settings for every phase of flight.
The PC-24 jet has also supplied the 10% larger, rectangular cabin windows to deliver more natural light.
Other new cockpit features include a new emergency descent mode and feedback to avoid over-banking, plus brighter flight displays and higher resolution moving maps, Honeywell's SmartLanding and SmartRunway awareness systems, 'intelligent' audio with ATC playback and Bluetooth interface, electronic checklists linked to the crew alerting system, worldwide graphical weather and pilot data link communications.
Pilatus has a long relationship with BMW Designworks, the California-based design studio, and the NGX's cabin has been completely redesigned with six different interiors available. The extremely light passenger seats offer optimum ergonomics with full-recline capability if required, and they're arranged to provide maximum freedom of movement with more headroom thanks to a redesigned headliner. Important for the Middle East is an improved air-conditioning system, which delivers better and quieter air distribution.
The NGX isn't all about performance and looks, and Pilatus is claiming reduced operating costs thanks to scheduled maintenance intervals extended to 600 flight hours. The time-between-overhaul (TBO) period has also been increased from 4,000 to 5,000 hours.
Finally, there's a similar maintenance plan to that available for the PC-24 jet, covering every aspect of the aircraft and including both scheduled and unscheduled maintenance, and an aircraft-on-ground (AOG) recovery service.

Stay up to date
Subscribe to the free Times Aerospace newsletter and receive the latest content every week. We'll never share your email address.