Eclectic G700 heads for Qatar
Qatar Executive was named launch customer as Gulfstream Aerospace unveiled its new flagship private jet, the G700, calling it "the most spacious, best-performing aircraft in the business-jet industry". Dave Calderwood reports.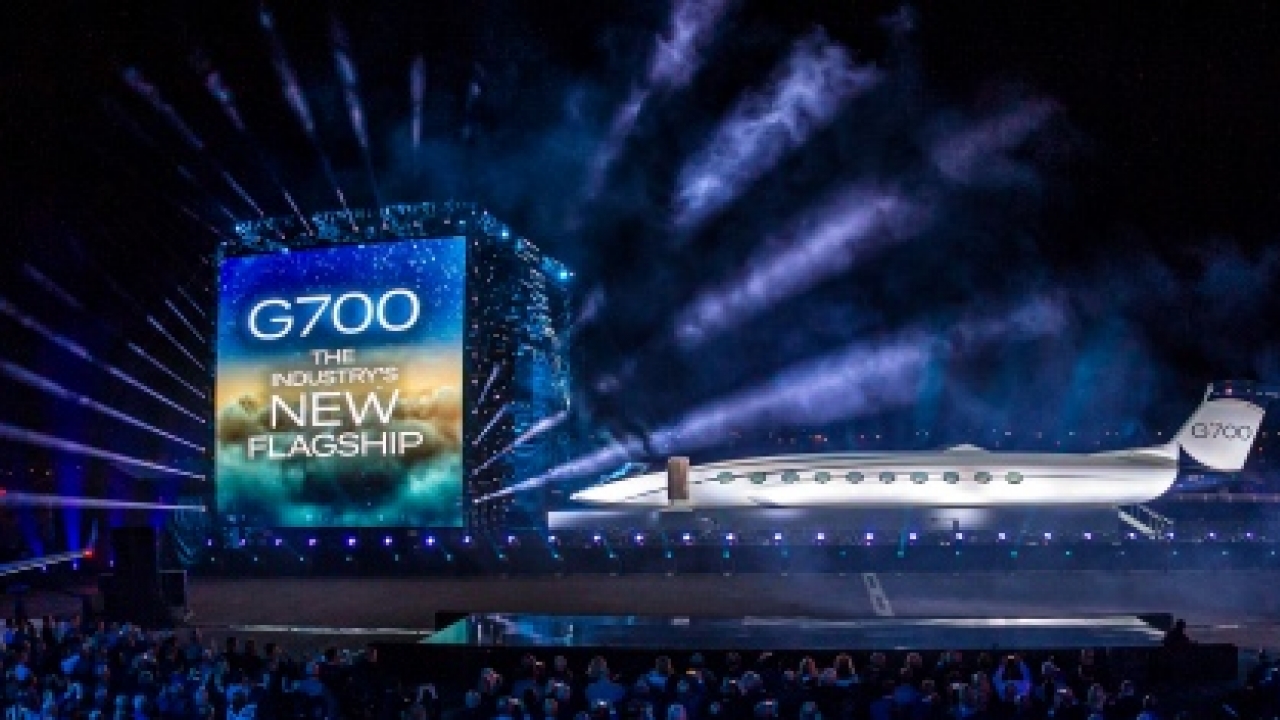 The G700 will take over from the hugely successful G650ER, bringing together ultra-long-range, speed and performance with flight-deck innovation and a cutting-edge cabin, to offer customers an unprecedented aircraft experience.
Gulfstream announced the G700 on the eve of the National Business Aviation Association (NBAA) show in Las Vegas at a special event for industry, customers and press.
Company president, Mark Burns, revealed a full-scale mock-up of the G700 and showed a video of the aircraft taxiing under its own power at Gulfstream headquarters in Savannah.
"The Gulfstream G700 takes the very best elements from our most innovative products and unites them with cutting-edge advances to create an all-new, advanced-technology aircraft that redefines safety, comfort and range at speed," said Burns.
"This announcement is the biggest news in business aviation history and is the result of the investments General Dynamics made to develop Gulfstream technology for Gulfstream products."
The G700 boasts the tallest, widest and longest cabin in the industry, with leading range and speed capabilities. It00 can fly 7,500nm at Mach 0.85 or 6,400nm at Mach 0.90.
Launch customer for the G700 was also announced. It will be Qatar Executive, the business jet side of Qatar Airways. The Doha-based airline has ordered 10 G700s.
Eleven Gulfstream aircraft are currently in service with Qatar Executive, including six G650ERs and five G500s.
"We are excited to be the launch customer and are looking forward to the aircraft joining our fleet," said Akbar Al Baker, group CEO of Qatar Airways.
One of the things that will appeal to Qatar customers is that the all-new cabin allows them to extend personal and professional lifestyle to the aircraft. With up to five living areas, the G700 offers an extra-large 'ultragalley' with a passenger lounge or crew compartment; a six-place dining or conference room; and a master suite with shower.
There are 20 panoramic oval windows, the largest in the industry, and the industry's lowest cabin altitude, in a 100% fresh air and quiet cabin.
"Gulfstream has a long tradition of listening to our customers, and the G700 cabin is the evolution of that collaboration," said Burns. "Customers shared how much they value flexibility and comfort in the cabin, all without compromising the speed and range advantages they have come to expect from Gulfstream. The G700 delivers all that and more."
The aircraft also offers a range of cabin amenities that revolutionise the benefits of business-jet travel, including the most advanced circadian lighting system in aviation. The Gulfstream-developed technology recreates sunrise and sunset through thousands of white and amber LEDs, gently coaxing passengers into their new time zone and greatly reducing the physical impact of travelling halfway around the world non-stop.
Up front, the G700 features the award-winning Symmetry flight deck and other new safety advancements. Along with active-control sidesticks and the industry's most extensive use of touch-screen technology, the flight deck also comes standard with another Gulfstream award-winner, the predictive landing performance system, which gives pilots advanced warning of potential runway excursions so they can adjust approaches or go around.
The G700 Symmetry flight deck also comes standard with Gulfstream's enhanced flight vision system and synthetic vision on dual head-up displays.
All-new, high-thrust Rolls-Royce Pearl 700 engines power the G700 and, along with newly designed Gulfstream winglets, ensure the aircraft achieves high performance capabilities with its larger cabin.
In preparation for the G700's first flight, Gulfstream has already accomplished nearly 14,000 hours of lab testing. It has successfully completed ground vibration testing, engine runs, loads calibration and all structural testing required for first flight.
The G700 flight-test fleet will incorporate five traditional test aircraft and one fully outfitted production test aircraft. Manufacturing for all test aircraft is well under way.
Gulfstream anticipates G700 customer deliveries in 2022.

Stay up to date
Subscribe to the free Times Aerospace newsletter and receive the latest content every week. We'll never share your email address.