My mission to set Africa free
The African Civil Aviation Commission (AFCAC) – the aviation arm of the African Union – has a new secretary-general. She talks about her hopes and dreams for the industry across the continent.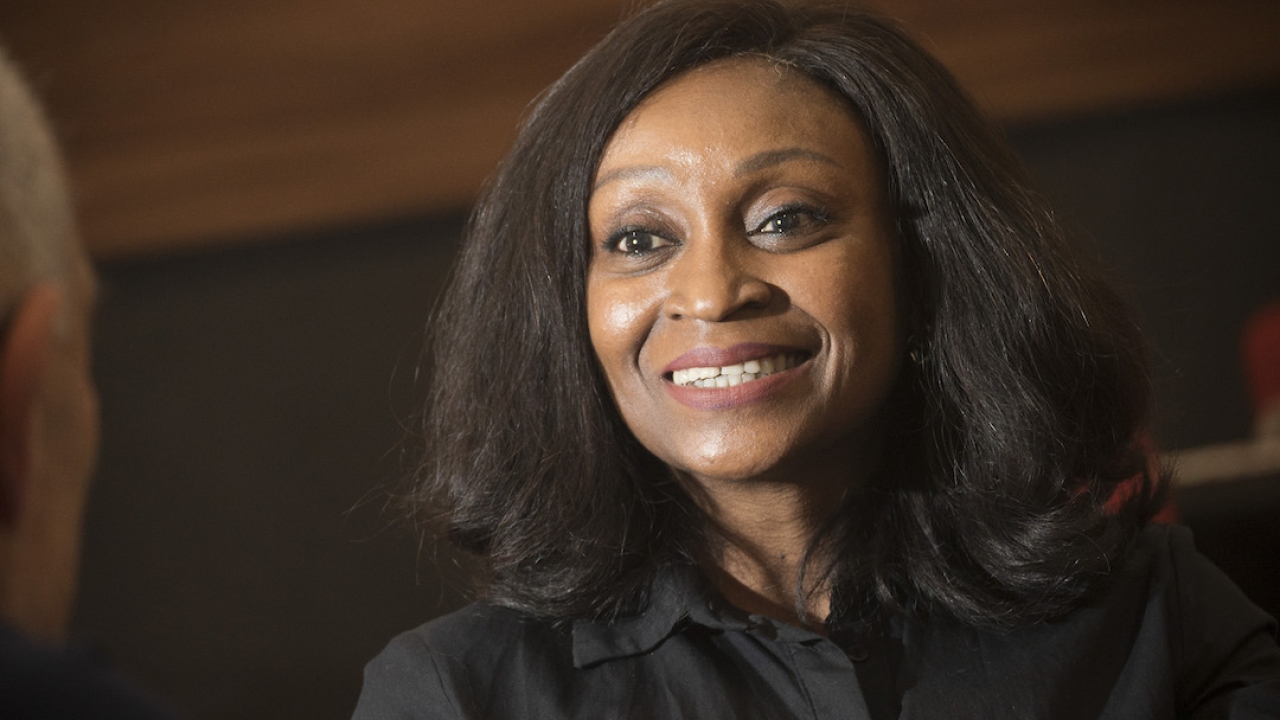 When Adefunke Adeyemi walks into the room, you can immediately feel there is a force of nature at work. She has a disarming smile, a firm handshake, and a clear sense of purpose. The new secretary-general of AFCAC is on a mission.
This can only be good news for the civil aviation industry across the whole of Africa as it embarks on the rocky road of implementing the single African air transport market (SAATM) agreement.
This aims to remove restrictions on Africans' ability to travel, work and live within their own continent by transforming restrictive laws and promoting visa-free travel to enhance movement as part of a continental free trade agreement.
Taking up the AFCAC role in July, Nigeria-born Adeyemi had spent 12 years working with the International Air Transport Association (IATA) and has been a keen advocate for the ideal of the SAATM agreement.
She is thrilled to be in the role encouraging implementation of the deal, which she fervently believes will deliver economic benefits across Africa.
"Aviation plays a role all around the world as being a catalyst for economic development and social enablement. But, for Africa, I have always said, I thought that it's existential. Aviation is not just the means of transportation; it's not just taking people from point A to B, it's about so much more.
"It's enabled many of these countries and continents, who have access to resources – natural resources, people resources – to have the ability to take those to other parts of the world, or to transport them in a way that not just adds value, but also helps the world. And that's a really fundamental aspect of aviation that I think a lot of people don't see."
Her first awareness of aviation related to business trips her father, a law professor in Lagos, made around the world.
"He worked for the UN in various capacities, and every time he came back, I and my siblings were always so excited, because he was bringing us part of the world back with him.
"I remember seeing old pictures of me and my younger sisters in Chinese outfits, with bottles of sake on the table for dinner, and things like that. It opens up opportunities for so many people.
"As one of my DGs used to say when I was at IATA, 'Aviation is the business of freedom.' If you really start to see it that way, then I think that whole transformational potential can come to reality.
"So, my job is really to try to persuade, to convince, to motivate people to understand the critical nature that aviation can play for Africa."
Early dreams of a travel career path were set aside when the young Adeyemi watched the film Roots. "I watched this movie, and I just had a total transformation on the inside," she said.
"It was a trigger and a driver and the most obvious path for that was the law. I loved the concept of the idea of what the law could bring. And so I became a lawyer. I qualified as a barrister, solicitor of the Nigerian Supreme Court. I went off to do my master's degree at Cambridge University as a Commonwealth scholar to the UK, and then I came back home and started practising law."
She began doing pro-bono work, going to prisons and trying to help where people had been awaiting trial for years on end. "They were there for stealing an orange or bread and just nobody cared enough to come and handle their case, so they just stayed there in prison," she explained.
One day her firm assigned her to help do the legal work to set up Virgin Nigeria, the flagship joint venture carrier between Nigerian stakeholders and Virgin Atlantic. When the airline launched, she was reluctantly recruited and became company secretary and general counsel.
"I was 32 and it was unheard of for such a young girl to be in such a role in corporate Nigeria at the time. But, I wasn't aware of all of these things. I was just doing my stuff.
"This was a wonderful experience to come into aviation and its culture. It was a start-up and we were building something and finding these talented Nigerians working side-by-side with people from all over the world. This was such a wonderful thing, a real multicultural, meshing, and a great experience. So that's how I started in aviation right in at the deep end."
She was headhunted by IATA and, again, was reluctant. But, as country manager, she was called on to engage with the governments and policymakers about what needed doing in those areas.
"This was a fascinating journey and also the focus on how policy can translate into something really powerful," she said.
One project was looking at the floundering Yamoussoukro Decision (YD) and assessing data to evaluate the economic advantages. The result was the SAATM. "It is like a full circle," she laughed.
"The vision for African aviation is to enable a fully connected, prosperous and united Africa. We have made so much progress and we must stay the course and build on current momentum to strengthen existing partnerships and create new mutually beneficial relationships.
"We are stronger together and I am fully committed to collaboration, multilateralism and fostering cooperation with all states, partners, and relevant stakeholders to move African aviation forward."
Adeyemi is a firm advocate for diversity in the industry and recognises she has a responsibility as a role model for women in aviation with a leadership position in a seriously male dominated sector. "This is something that we've really got to move the needle on," she said. "But it's not going to happen unless the men support it. We need to bring everyone on board, everyone who supports us, everyone who champions the cause, to come along and do this together. Let's make sure that we can get more women into aviation.
"There's enough science behind this with enough data to show that countries, companies and so on, that have more women in leadership positions, do better.
"We are setting up a 'women in aviation' platform under the human resource development fund of the African Union and AFCAC, that we're trying to put together to build aviation skills. We have an ageing workforce in African aviation and the younger people are not coming in. That's the gap that needs to be bridged.
"How do you make aviation exciting as a career opportunity for young people and for your women? How do you ensure that even from school, your young girls are not taken off science, technology, engineering and mathematics (STEM) subjects and socialised differently? We need to teach girls that it's okay and cool to like maths. It doesn't mean you are not too girly – you can still have red lippy."
Adeyemi is a serial marathon runner and, until her recent move to Dakar, loved spending time with her running friends and her family. "I've spent a lot more time with my mother now. My father passed; before, I was really a daddy's girl but now I've seen how powerful and just how strong my mother is. She's really become a rock for me."
Now in Dakar, she has discovered the Senegalese music scene. "I love dancing," she said. "I love music. I'm kind of sensual creature, you know, everything that is appealing to the eyes, to the senses. I love art. I'm a bit of a collector, particularly of Nigerian and African art, and there's so much beautiful art across the continent.
"The work is still hectic. But, really and truly, at heart I'm just a simple girl. I like the simple things of life. Good food, good company and good people, and to be at peace."
Adeyemi is not underestimating the task in hand and is embracing the goal of delivering the SAATM. You wouldn't bet against her achieving it.
Stay up to date
Subscribe to the free Times Aerospace newsletter and receive the latest content every week. We'll never share your email address.