The hot spot
In-flight connectivity has the potential to unlock a $5.2 billion market within the Middle East region by 2035, according to a new report from the London School of Economics. Steve Nichols reports.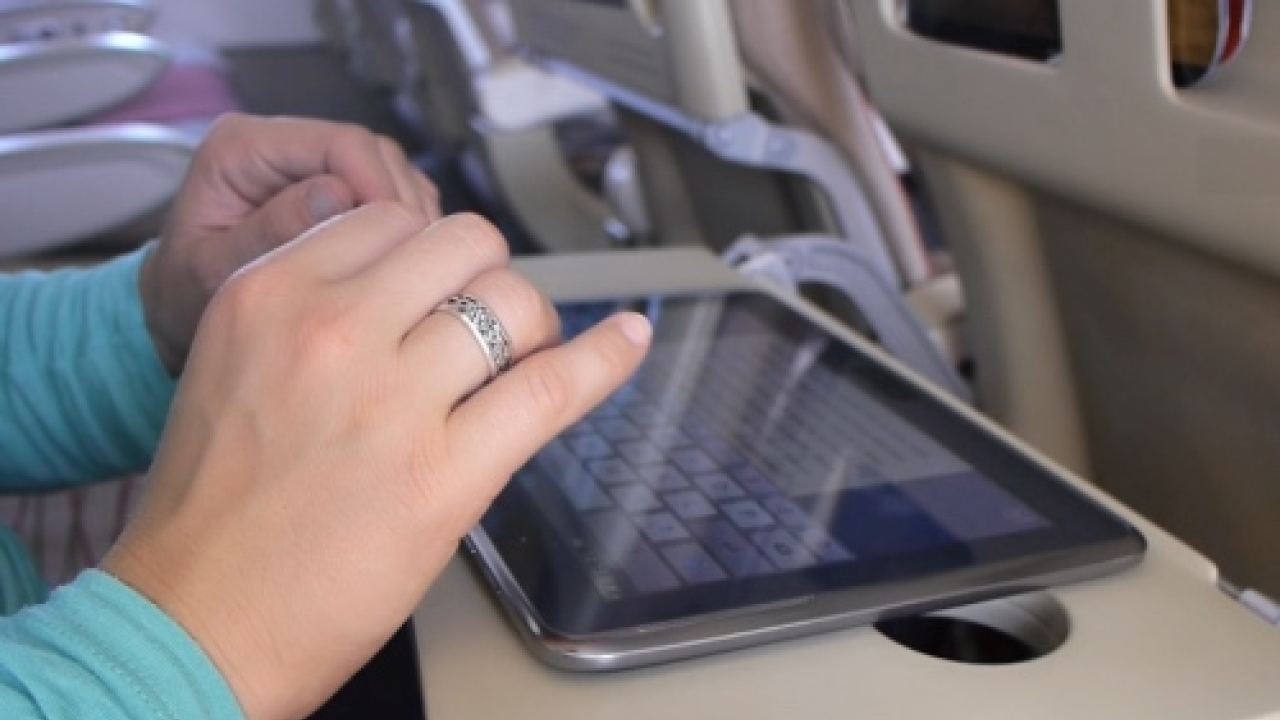 Based on current International Air Transport Association (IATA) data and industry sources a new report – Sky High Economics: Quantifying the commercial opportunities of passenger connectivity for the global airline industry – shows that airlines around the world are likely to increasingly benefit from four new revenue streams.
These include broadband access charges, e-commerce and destination shopping, advertising, and premium content.
The report was prepared by the London School of Economics and Political Science (LSE) in association with Inmarsat.
The research argues that, as passenger numbers grow globally, so too will passenger expectations for access to high-quality in-flight connectivity.
According to the data, when it comes to passenger value brought about by new, Wi-Fi-enabled ancillary revenue streams, airlines will benefit from an extra $3.21 per passenger.
At present, the report says, airlines around the world average an additional $17 per passenger from 'traditional' ancillary services, like duty-free purchases and in-flight retail, food and drink sales.
Also, despite the gradual blurring that has occurred in the airline type selected by many business passengers, the Middle East region continues to represent one of the higher revenue opportunities for both domestic and international full-service carriers (FSCs). In 2035, it predicts the split will be low-cost carriers (LCCs) at $239 million versus FSC at $511 million.
The research confirms the very strong position of many global FSCs based in the region.
Dr Alexander Grous from the department of media and communications at LSE, who authored the report, said: "The airline industry is rapidly evolving across the world, including the Middle East. This research shows that airlines have a clear strategic opportunity to become distinctly more retail-focused and reap the benefits of this."
Ben Griffin, vice president, Middle East, Africa and South Asia at Inmarsat Aviation, added: "The latest advancements in satellite technology have unlocked exciting new opportunities for airlines to enhance their passenger experience, increase their operational efficiencies and grow important new revenue streams.
"Having the right capabilities in place – from the cabin to the cockpit – is the key to benefitting from everything that a connected aircraft can offer, today and in the future. As the Sky High Economics report has identified, airlines in the Middle East are extremely well positioned to take a lead with the game-changing new trend."
On the back of strong passenger demand, Inmarsat says high-speed in-flight connectivity will be ubiquitous on commercial aircraft by 2035.
Airlines in the region that are currently signed up to Inmarsat's fast GX Aviation in-flight connectivity system include Qatar Airways and Emirates.
Qatar Airways is the first Middle Eastern carrier to offer the Ka-band GX Aviation service to passengers on more than 130 of its aircraft.
Emirates and Thales also have an agreement in place to equip the airline's new Boeing 777X fleet with Inmarsat GX Aviation, due for delivery starting in 2020.
In addition, the companies have a multi-million-dollar deal in place to fit the Boeing 777X fleet with a Thales AVANT in-flight entertainment system.
Emirates currently offers all its customers 20Mb of complimentary Wi-Fi data on board in-flight connectivity-equipped aircraft, while Emirates Skywards members in first and business-class enjoy unlimited complimentary Wi-Fi and discounted plans in economy class.
Emirates, Thales and Inmarsat say they have invested heavily in the new generation Wi-Fi solution and will work together to meet increasing demand for Wi-Fi on board.
Broadband connectivity speeds, coupled with Thales' AVANT IFE system, will provide a further boost to ice, Emirates' award-winning in-flight entertainment system.
Emirates has traditionally offered Inmarsat's slower SwiftBroadband in-flight connectivity system aboard its Airbus A380 fleet. Its 432kbps speeds now look a little slow when compared with the latest Ku and Ka-band high-bandwidth multi-megabit offerings.
Eagle-eyed observers may have noticed that some Emirates A380s have been fitted with Ku-band radomes. An Airbus source said about 20 of them have now been fitted with Panasonic Avionics' Ku-band global communications services (GCS) in-flight connectivity, while retaining the Inmarsat SwiftBroadband, possibly as part of a trial.
The SwiftBroadband equipment is being retained for safety services and back-up in case of loss of the Ku-band signal.
But the future of the fleet, in terms of what will be retrofitted and/or become line-fit, remains unclear as no official announcement has been made and Emirates hasn't responded to calls for more information.
Panasonic Avionics has a strong foothold in the Middle Eastern in-flight connectivity market with its Ku-band GCS solution.
It recently showcased a number of in-flight entertainment and connectivity (IFEC) firsts on Emirates' new Boeing 777-300ER, on display at the 2017 Dubai Air Show.
These include line-fit Wi-Fi connectivity and a new IFE system that is 12% lighter overall than previous versions, helping to cut fuel burn and emissions.
It also recently announced its third-generation communications network. This is built on Panasonic's high throughput satellite (HTS) service, which today covers all dense mobility traffic areas around the globe with high-throughput spot beams and wide overlay beams that support Panasonic's global in-flight television service.
When combined with the rollout of the company's new satellite modem, developed in conjunction with Newtec, Panasonic says it now offers bandwidth up to 20 times greater than previously available and virtually seamless beam switching.
This supports the provision of services such as fast internet, video streaming, VoIP applications, improved TV picture quality and a broader channel choice, the capability to offer 3G phone services, and greater bandwidth for crew applications.
The network is backed by a range of new measures Panasonic has launched to provide higher levels of support to its customers.
It says these initiatives are channelled through its new customer performance centre, which drives enhanced network performance, reduced outage times, and faster response and resolution times for customer enquiries.
The centre sees three previously separate support teams rolled into one and offers a range of value-added services, including traffic shaping tools, live monitoring and management of the user experience, and Panasonic's ZeroTouch service, which enables real-time IFE content loading, validation and management.
This includes a newly formed business intelligence group focused on usage analytics, demographics analysis, route-based statistics and predictive analysis on upcoming trends in connectivity.
David Bruner, Panasonic Avionics vice president, global sales and marketing, said: "We're really super excited about what we've achieved with Emirates. We've worked together for more than 20 years to provide best-in-class experiences for its passengers. We've also invested a lot in the region and that is now paying off. Our projections show business is going be very strong."
Flydubai also has fast Ku-band in-flight connectivity from Global Eagle Entertainment aboard its B737-800 fleet.
Speaking at the 2017 Aircraft Interiors Expo, Josh Marks, Global Eagle's then executive vice president, aviation connectivity, said: "The undoubted sweet spot for take-up by business users is on flights of about one-and-a-half to two hours long, but we are looking at how that varies across long, short and medium-haul flights."
He said Flydubai has routes that offer flight durations ranging from around one hour to six or seven (to Asia).

Stay up to date
Subscribe to the free Times Aerospace newsletter and receive the latest content every week. We'll never share your email address.