WORLD CUP: Transfer window
The Middle East's airlines have one goal as they gear up for a huge sporting event in Qatar.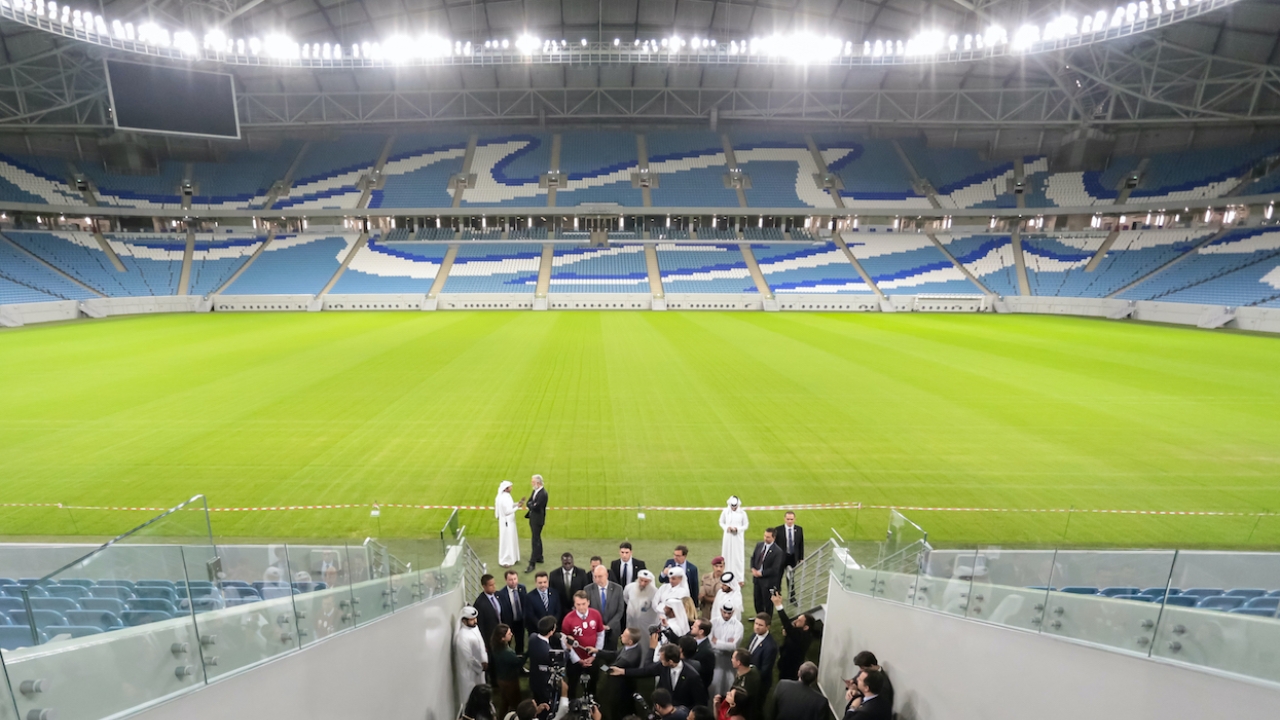 As the world's soccer nations prepare to descend on Qatar for the FIFA World Cup in November and December, plans to get them to and from matches are being drawn up.
Although Doha possesses a significant number of hotels, the Qatari capital cannot hope to accommodate the huge numbers of spectators – estimates are as high as 1.5 million – who want to see their country's team playing.
This means that tens of thousands will have to use hotels in neighbouring countries and fly into Doha on match days.
With most of the Gulf nations within two hours flying time of Doha, this plan is feasible – if expensive.
The numbers involved will overwhelm normal flight schedules, so many of the region's airlines are putting special arrangements in place to cope with the influx of fans.
Oman Air, for example, will operate 48 'match day shuttle' flights between Muscat and Doha from November 21 to December 3. The airline's extra services will include wide-body Boeing 787s for the short hop to Doha.
The airline is advising fans to arrive in Doha at least four hours before the start of a match. In addition, all passengers must register for a Hayya card, or fan ID, prior to their flight, as this will be required for travel on all the special flights and for entry to Qatar.
The airline will also be enforcing a no-checked-in baggage policy, to get passengers on and off flights in Doha as quickly as possible.
Meanwhile, RoyalJet Abu Dhabi, the premium private aviation provider, has announced match day flights to Doha.
RoyalJet has launched these flights to not only provide for the high demand, but also allow fans to travel at preferred times on match days and return the same day if they wish.
"We have seen a substantial rise in demand for travel this year, especially when it comes to short-haul flights across the GCC, said Mohammed Husain Ahmed, CEO of RoyalJet.
Abu Dhabi-based Etihad is more than doubling its services to Doha over the course of the event.
As well as providing 42 weekly return flights to the Qatari capital (up from 18 currently), the airline is provisioning charter capacity from within its own fleet to support large groups of travelling fans.
At the time of writing, other airlines had yet to formulate plans for additional flights.
Meanwhile, Qatar's own flag-carrier is preparing for one of the busiest periods in its existence and is sacrificing existing destinations in order to have enough capacity to ferry passengers to and from the emirate.
The airline plans to either reduce frequencies or even completely halt services to more than 30 destinations in its network as it focuses on the soccer fans.
The company "will have to grit its teeth and take a financial hit" as it makes drastic changes to its schedules during the World Cup, according to Group CEO, Akbar Al Baker.
"We have to withdraw from many destinations in order to relieve capacity and make room for others [airlines] to come to Doha and utilise the slots," Al Baker said during the annual meeting of the International Air Transport Association in Doha in June.
"It's a pain we will have to take but it's only for a period of 30 days."
At its Hamad International Airport hub in Doha, Qatar Airways will also modify the structure of its banks of flights throughout the tournament, releasing slots for airlines from those countries whose national teams are playing in the event.
Doha's former airport, Doha International, will be used by airlines from neighbouring states to fly in spectators staying in hotels around the Gulf.
Stay up to date
Subscribe to the free Times Aerospace newsletter and receive the latest content every week. We'll never share your email address.