Mack backs a Grand new fleet
Having ordered Africa's largest batch of Cessna Grand Caravans, Botswana's Mack Air is ready for a post-pandemic upswing in traffic.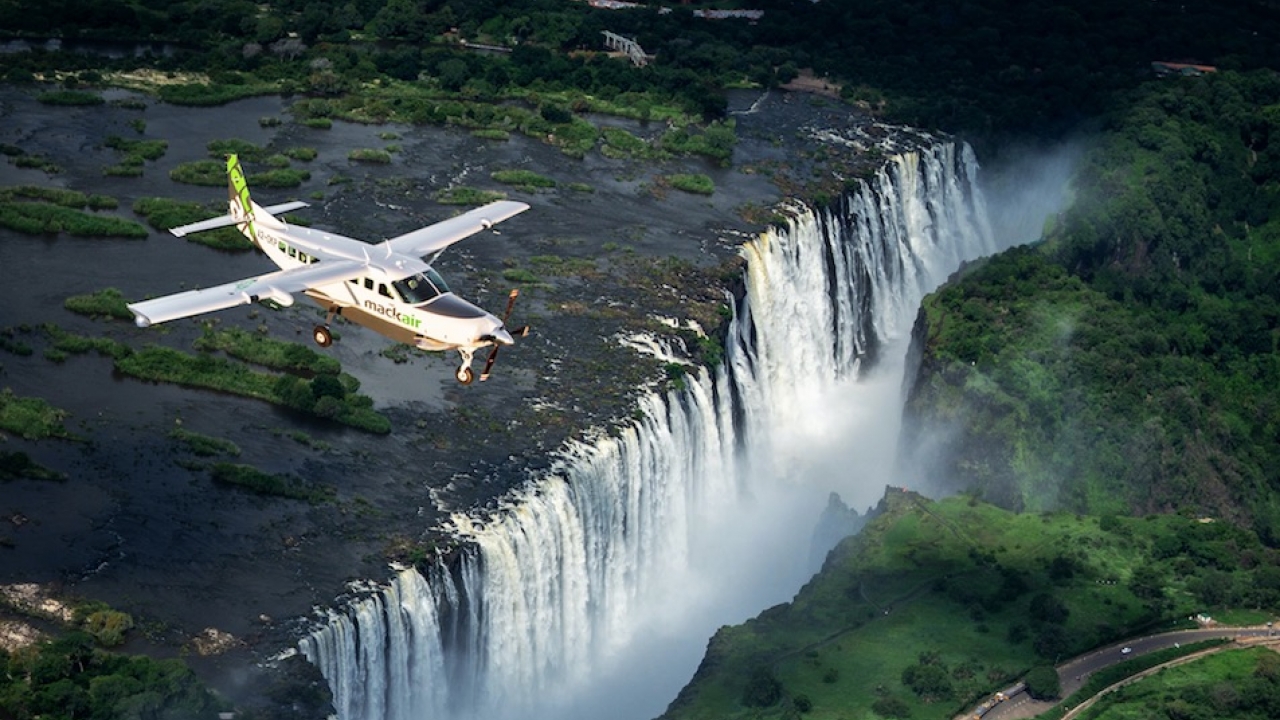 When well-heeled tourists disembark from their Boeing 737s and Embraer E-Jets at Maun Airport for the final leg of their journeys to Botswana's game lodges, the aircraft to which they transfer are almost certainly the smallest on which they have ever flown.
That can create some nervousness among travellers.
Mack Air's managing director, Michael Weyl, and his staff are well aware of this phenomenon. That's one reason behind their decision to acquire no fewer than 17 Cessna Grand Caravan EXs.
"Reaction to the aircraft has been excellent," said Weyl. "It's all about bringing confidence to travel. Safety, efficiency and comfort is our goal."
Another factor behind the re-fleeting was the modernisation of many of the game lodges. "We felt it was time we bit the bullet and brought the same level of service in aviation as the lodges were offering in accommodation."
Before the infusion of new metal, Mack Air operated a heterogeneous fleet of earlier Caravans, Kodiaks, GA-8 Airvans, and a variety of smaller Cessnas. Some passengers balked.
"When they climb off their airliner at Maun and the Caravan is probably the smallest aircraft they've flown on, you can imagine what they thought when they saw the Cessna 206," said Weyl.
While the Grand Caravan is still small compared to an Airbus A320, "You can see that level of confidence in the passengers when they know it's a new aircraft. It's a huge selling point, especially when they visit neighbouring countries and travel in Cessna 206s and 210s."
The Grand Caravan's air-conditioning is another plus point, said Weyl, especially in October/November when temperatures climb to 40-45C in the shade. "The better on-board conditions mean that we've reduced sick bag usage considerably!"
The fleet has shrunk from 32 aircraft a couple of years ago to 21 today (the 17 Grand Caravans, two Airvans, a single Cessna 210 and a Cessna Citation M2 business jet), but the larger Grand Caravans mean that capacity is the same as the old fleet.
The two remaining Airvans are often used for cargo flights, while the Citation, based in Johannesburg for VIP and business charters, is the busiest aircraft in the entire fleet, said Weyl. With the pandemic still a factor, the Citation is in considerable demand: "People feel safer flying as a family or a small group."
Tourism is one of Botswana's three main revenue earners and 2019 was its best-ever year. Naturally, that all changed with the arrival of Covid. "Tourism in 2020 was at 1.78% of 2019 levels. International tourism went to zero. We had to start looking at other options," said Weyl.
Those options included government flights, plus work for the mining industry (diamonds are another of the country's big earners) and scheduled international services, notably from Kasani to Victoria Falls.
All of those have meant that Mack Air is emerging from the pandemic in reasonable shape.
Services from Maun, Botswana's second city, to game lodges in areas such as the Okavango Delta, involve sectors as short as 10 minutes. A typical routing can mean anything from four to 11 sectors.
"We've come out of 2020 extremely strong and well-prepared. We're looking at bigger aircraft. We're in talks with Textron Aviation, looking at the new Cessna SkyCourier. That could be extremely useful and could exactly fit our operation," said Weyl.
The SkyCourier is in flight-test and is a twin-turboprop that can carry either 19 passengers or three LD3 cargo containers. "It's an extremely versatile aircraft for what we would need in Botswana."
And the future? Weyl sees the company stepping up its operations, particularly to airstrips in the Okavango.
"The delta was high-cost, low-volume tourism. The lodges started changing strategy, bringing in more lodgers and expanding. The more beds in the delta, the more visitors they need to find." That augurs well for companies like Mack Air.
Stay up to date
Subscribe to the free Times Aerospace newsletter and receive the latest content every week. We'll never share your email address.