Kuwait's inner vision
Maen Razouqi, chief executive of Kuwait Airways, has been brought in to restructure the national carrier and put it on a profitable footing with a growth trajectory.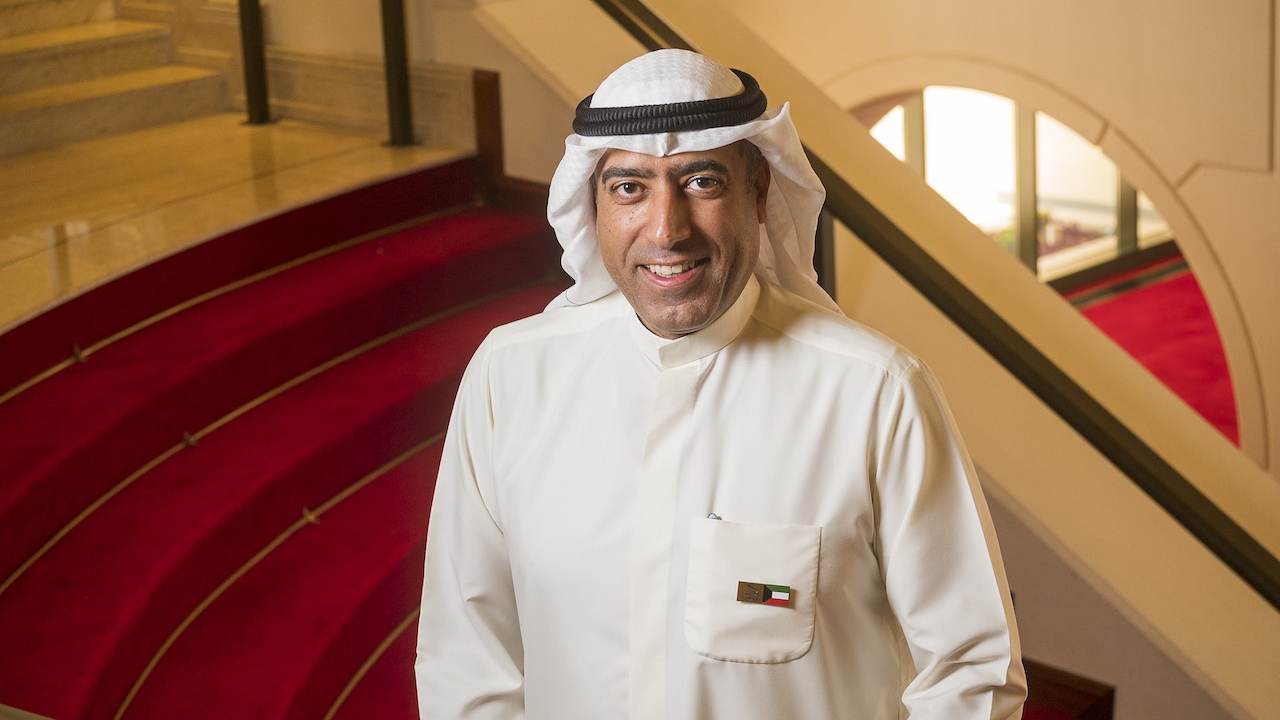 Maen Razouqi is clear about how to tackle the task ahead of him to turn Kuwait's flag carrier into a sustainable and profitable business, a mission which has eluded many before him.
The priority, he told Arabian Aerospace, was to look inwardly rather than worrying about the competitive landscape in the Middle East.
Interviewed in late June on the sidelines of the 78th IATA Annual General Meeting in Doha, with its back-to-back meetings about partnerships with other airlines and with the airframers, Razouqi's was adamant: "We have to compete with ourselves first. We must improve.
"One of the key aspects of our transformation is how to bring that competitive DNA internally before we worry externally. We have too much to do in Kuwait Airways for me to worry about others."
As he chalked up nine months into his tenure at the helm of Kuwait Airways, Razouqi was relishing the job, armed with strong board support to turn the business around.
"The objective that I was given is to make money," he said. "That's what excited me about the job.
"Kuwait Airways has a strong historical foundation. It has the resources, and it has absolutely some of the best talent [among its workforce in the region]."
While possessing these strengths is a positive, deploying them is the hard part. "The company has been relatively on pause for a few years," said Razouqi. "And a big part of that is this company has always had changes in management." That instability has held the airline back.
Now the hope is that the leadership combination of Razouqi and the airline's chairman, Capt Ali Aldukhan, who was a Boeing 707 captain and served the carrier for 45 years in various senior positions, will propel Kuwait Airways forward.
"There is a perfect complement when it comes to somebody who has the historical knowhow of the industry coupled [with someone] who knows how to make the right and fastest business decisions to turn around this beautiful bluebird," said Razouqi, referring to the emblem that adorns the airline's tailfins.
"Now it's just about how do you capitalise [on these assets]. On top of that, it is also about transforming the company," said Razouqi.
He has wasted no time in bringing his extensive private-sector experience to bear at Kuwait Airways, kick-starting a transformation programme, dubbed Beyond Excellence, that will restructure the carrier from top to bottom as it pulls out of the pandemic.
"The mission is very simply translated to be the most efficient airline in the world," said Razouqi. "The question for us is how to implement that because efficiency will reduce cost and gain value."
The Beyond Excellence programme has four pillars. The first is around creating a strong environmental, social and governance (ESG) platform in the business. The second is on improving the customer experience. The third is on improving the performance of the business including people development and succession planning, while the fourth focuses on growth.
Beyond Excellence is led by Khalid Ahmad Al-Bustan, in a consultancy role to Razouqi, who has been with the carrier for 30 years. Razouqi has recruited Lemir Walid Abillama, who previously headed up commercial strategy at Lebanon's Middle East Airlines, as chief commercial officer to lead the sales and marketing transformation at Kuwait Airways.
The appointment of Razouqi in October 2021 was a key move for a business that has had more than its fair share of turmoil, including the loss of its entire fleet in 1990 when Iraqi invaded Kuwait. The dynamic Razouqi, who describes himself on his LinkedIn profile as an "optimist CEO", obtained a civil engineering degree from Arizona State University in the 1990s and has spent his 24-year career in various technology companies, including a long stint at Schlumberger where he rose to become president Northern Middle East.
After a couple of years helping businesses and start-ups in logistics, entertainment, and the energy transition, he is already making his mark at the carrier. One of his first moves has been an internal restructuring to reduce management headcount by 20% and achieve a leaner management structure.
The second move is a fleet restructure to increase productivity and reduce ownership costs. Cost control is central too: "We don't approve anything that adds cost without adding marginal growth."
The over-arching plan is to position Kuwait Airways as a regional player able to sustain itself with a passenger and cargo fleet of 45-50 aircraft. Under the 2030 strategy, it will have a fleet of Airbus A320 narrowbodies, including the A321LR; seven A330-900s and four A330-800s for mid-range widebody services; and 10 Boeing 777-300ERs for the long-haul routes. It will standardise its service classes to economy and business and is assessing the introduction of a premium economy class on its A330s.
In February, the airline restructured its orders with Airbus, switching some orders to the A330-900 from the smaller A330-800 and adding three A321LRs. A further order for five A350-900s will see it take two passenger versions of this jet, while talks are under way with Airbus to convert the remaining three orders to the freighter version, said Razouqi.
The target is to achieve breakeven three years from the kick-off of the restructure programme, which means the first quarter of 2025. In 2020, with the pandemic bringing it to a virtual standstill, the carrier's latest full-year financial statement shows it sustained a net loss of KD264 million (US$870 million), as reported by Flightglobal.
In 2020, it received a capital injection of KD212 million from 100% shareholder Kuwait Investment Authority (KIA), the biggest and the oldest sovereign fund in the world, to shore up its balance sheet. KIA picked up Kuwait Airways in 2018 when it was transferred from the Ministry of Finance.
"So, we are very blessed, but they are also challenging because these are investors. The KIA board is not there to inject capital without returns. On a personal level that's what excited me because when you are working under patronage of KIA, it's a different ballgame. So, you don't become a cost centre you have to be a profit centre."
No further capital is required. "We are healthy. We are generating positive cash flow," said Razouqi, adding: "If at any time we need that cash call, obviously with the right business case, we will get it."
The first quarter of 2022 was a significant improvement in performance compared to 2021, despite the Omicron variant of Covid that slowed recovery, while the second quarter is seeing average daily ticket sales more than four times the rate of Q1.
For the full year, Razouqi expects Kuwait Airways to carry 3.5 million passengers. The hope is that the 2019 peak traffic of 5 million will be achieved in 2023. The new terminal at Kuwait International Airport, which will be the airline's home from 2026, should see the carrier handling 7 million passengers growing to 10 million by 2030.
Since the beginning of this year, Kuwait Airways has been restoring its network and has added 17 new destinations, often with relatively low frequency. It is also signing partnerships and codeshare deals with other carriers as it seeks to expand its reach.
As the transformation programme makes an impact, the carrier could perhaps one day revisit privatisation but that is a way off. Today, the focus is on profitable growth. "We will not grow if we don't continue to make money," said Razouqi. "I can tell you this, as long as I'm here. The top line is meaningless to us unless it's a healthy margin of growth."
Stay up to date
Subscribe to the free Times Aerospace newsletter and receive the latest content every week. We'll never share your email address.