It's all go for cargo
With seaborne freight still in disarray post-pandemic and air freight stepping in to take up the slack, Middle East airlines are ramping up their freighter fleets to help get cargo to where it needs to be.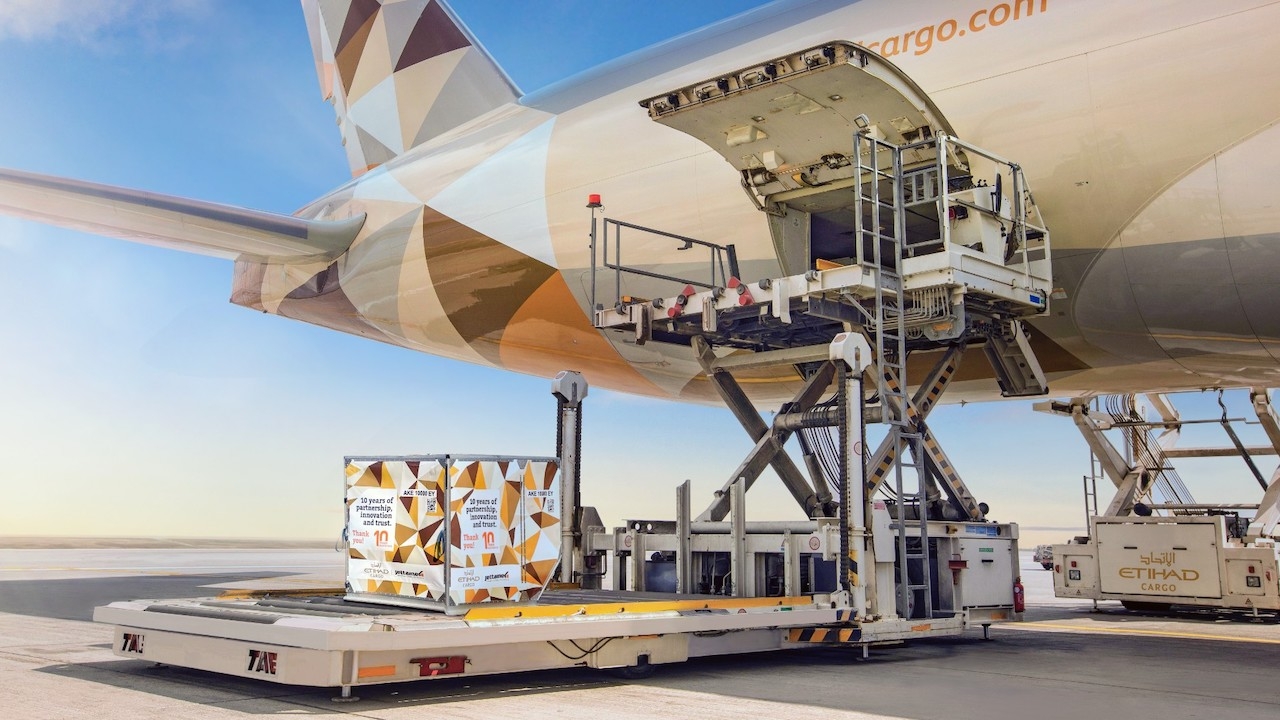 Passenger numbers are rapidly rebounding in the world's skies. But cargo, which never faded during the pandemic, is going from strength to strength as the echoes of coronavirus continue to reverberate.
At the time of writing, there were still lockdowns and other restrictions in Asia – notably in China, with its huge ports such as Shanghai.
This disruption has meant that containers are not where they need to be, leading to shortages of capacity and rocketing costs for sea freight.
To get around the logjams, increasing quantities of cargo are being moved by air.
However, temporary dispensations granted by aviation regulatory bodies such as the European Air and Safety Agency (EASA) to allow airlines to operate passenger aircraft in the temporary cargo role by carrying freight in the main cabin are coming to an end.
These factors, together with the ever-increasing amounts of e-commerce freight, are pushing airlines to invest in dedicated freighters.
Given their position at the nexus of three continents, Middle East airlines – both large and small – are finding a growing revenue stream in cargo.
Emirates SkyCargo (ESC), having received its 12th and last Boeing 777F from the US manufacturer in June, has turned to a source closer to home to continue to beef up its freighter fleet.
In June, it placed an order for six freighter conversions of Boeing 777-300ERs with Israel Aerospace Industries' (IAI) just months after having ordered an initial four from the same source.
There is a significant difference between the variants. The Boeing-built 777F is based on the 777-200, while the 777-300ER conversion has a fuselage 10 metres longer. That gives enough internal space for six additional main deck and four lower deck cargo container positions. The latest six conversions will enter service by 2026.
This will give ESC the capacity it requires to cope with rising freight volumes in several areas.
The first is pharmaceutical goods and life sciences. There have been understandable leaps in this field since the start of the pandemic in early 2020, as nations struggled, firstly, to source huge quantities of personal protective equipment (PPE) such as gloves, masks and gowns for medical personnel, followed by the rapid ramp-up a year later of vaccine supplies and their shipment around the globe.
In 2020-21, ESC moved 71,000 tonnes of such materials. In 2021-22, quantities had grown to 84,000 tonnes. It remains to be seen if these figures will start to tail off as the pandemic becomes an endemic disease in most areas of the world.
Secondly, the pandemic also saw a renewed emphasis on moving large quantities of fresh and perishable materials, as normal supply routes dried up. This was particularly important in the Gulf, which imports much of its fresh fruit and other foods.
ESC's expansion over the past two years has included a greater use of secondary hubs and a particularly strong increase in the amount of cargo passing through multi-modal hubs. In the UAE's case, this is focused on bulk quantities of material being shipped into Jebel Ali port – usually from China and the Far East – then being moved by Emirates' own fleet of trucks to Dubai International Airport for onward transport by air.
That trans-shipment process has become much slicker during the pandemic, said Dennis Lister, ESC's vice-president, commercial and product development.
"Before the pandemic it would take two to three days to get cargo from an ocean freight container on to an aircraft. We can do that now in under three hours. The trucks are pretty much waiting to take the containers off the ship."
The trucks are sealed, 'bonded' vehicles that are not subject to the curfew on Dubai's roads, helping to get them to the airport through the night.
Those cargoes are then loaded on board Emirates' 777s and forwarded to destinations such as Europe and the US. Dubai has also removed some of the bureaucracy around the import and export of cargo through cooperation between the port and regulatory authorities, customs and Emirates.
Emirates SkyCargo has used Dubai World Central (DWC) as the main hub for its dedicated freighters, but the pandemic and the slump in air traffic saw that airport being mothballed. As the global emergency eased – combined with the six-week maintenance closure of Dubai International Airport's North Runway in late spring – Emirates took the opportunity to return to DWC and is moving all its freighters back there.
Meanwhile, Qatar Airways Cargo is going even further, launching Boeing's new 777-8F Freighter with a massive order for 34 of the type (plus 16 options).
The 777-8F will have a capacity close to that of the older-generation 747-400F but will use around 25% less fuel and will effectively replace the four-engined type. Deliveries of the new aircraft are scheduled to start in 2027.
The importance of the 777-8F to the US manufacturer can be seen from the fact that the cargo variant will now precede the passenger 777-8 in Boeing's development programme.
The 777-8F will have space for up to 31 freight pallets on the main deck, plus space for a further 13 pallets and additional bulk cargo in the lower holds. The dedicated freighter will have a range of more than 4,400 nm and a maximum revenue payload of 112.3 tonnes.
Qatar Airways Cargo already operates 26 of the current-model 777F and is ordering two more as part of the sale. It is believed that 20 of the 34 firm orders for the new 777-8Fs will be converted from the 60 777X-family orders previously announced as being held by the airline.
Smaller in size, but still significant, is Etihad Airways' letter of intent for seven of Airbus's new A350F cargo variant.
Also joining the drive for more cargo capacity is EgyptAir, which in May ordered its first converted 737-800SF freighter.
US company Aeronautical Engineers Inc (AEI) will handle the conversion and the aircraft will be the first dedicated narrowbody freighter in the airline's fleet. Its existing freighters are three Airbus A330-200Fs.
EgyptAir aims to increase its freight capacity to give it greater access to new export markets, notably for fresh foods. Its cargo activities increased during the pandemic, not only in the transport of medical supplies but also of agricultural exports.
Work on the 737-800SF will start in October at AEI's conversion centre in Miami, Florida. The US company says that it is the only conversion company to hold extended range twin operations (ETOPS) 180 approval for the 737-800 freighter conversion, allowing it to fly more direct overwater routes.
AEI says the 737-800SF will offer a main deck payload of up to 23.9 tons. The conversion incorporates an 2.18m x 3.48m main cargo door.
Other regional players include express freight specialist DHL, which over the past year has added seven Boeing 767-300F freighters to its fleet; some of these replaced older aircraft but, together with three 767-200SFs, the trend is one of expansion.
Fast-growing freight volumes have also seen Bahrain-based cargo specialist Texel Air step up the speed of its expansion. In May, it signed an agreement for two more Boeing 737-800 Boeing Converted Freighters (BCFs).
The carrier had previously ordered a pair of BCFs, so the latest order will double its inventory of the type. Additionally, Texel Air operates two -700 FlexCombis converted in the US by Pemco and a single -300F. The -800BCFs offer 40% more main deck and 60% greater belly capacity compared to the -700s, offering around six tonnes extra payload
Another Bahraini carrier, MENA Cargo Airlines, is planning to quickly take on 'three to four" aircraft – the first is a 737-300F – and has ambitions to build up to 15 to 20 in the long term.
Stay up to date
Subscribe to the free Times Aerospace newsletter and receive the latest content every week. We'll never share your email address.