Dash 8 takes Auric to a higher plane
Tanzania's Auric Air, for many years a specialist Cessna Grand Caravan operator, is taking a step up with its first full-size airliner.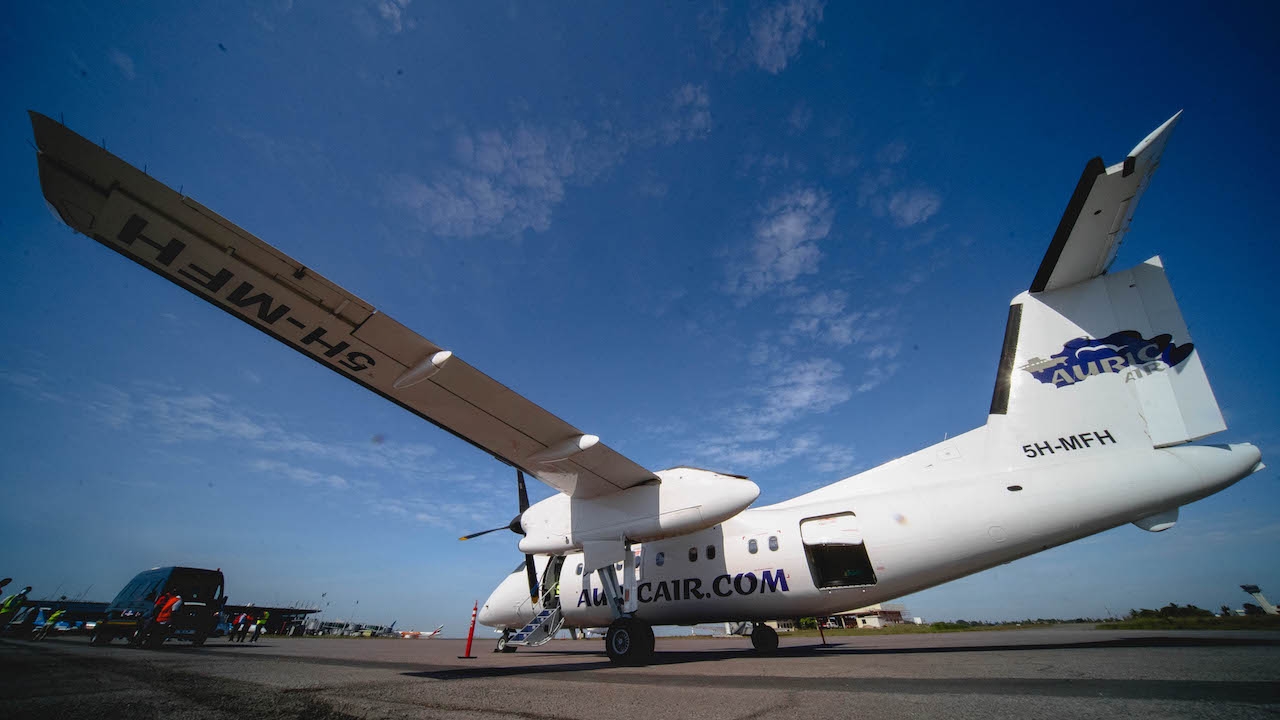 Twenty years after it started plying air routes over east Africa, Auric Air has moved up a couple of rungs in the aircraft size ladder.
Launching new services with its first De Havilland Aircraft of Canada Dash 8-100, the 37-seat twin turboprop marks a new chapter in the carrier's existence.
The Dash 8-100 was acquired from the Avmax Group of Canada. Built in 1999, it is one of the last -100s produced.
"We want to add more capacity on the routes we operate at the moment," explained Auric Air's managing director, Nurmohamed Hussein.
Many of the company's services involve picking up arriving international passengers from major international airports for onward connections to game lodges or national parks. Nairobi is a favoured entry point for tourists wanting to go on safari and, until now, the company's Grand Caravans have flown them to airstrips up-country. There is also a network of routes between national parks in nations such as Kenya, Rwanda and Uganda.
As the airline beds in the new aircraft it anticipates operating it initially between Zanzibar and the Serengeti National Park, either direct or via Arusha.
The Canadian aircraft may bring several advantages. "Once we're more comfortable with the Dash 8 and putting it on to some of those routes, it will reduce the cost per seat for passengers and that will, hopefully, bring more people," explained Hussein.
Additionally, it will potentially allow Auric Air to extend its working day: "In Tanzania, we're not allowed to operate single-engined aircraft after sunset." The twin-engined turboprop will solve that problem if the airline wishes to extend its operating hours.
Around 80% of Auric Air's passenger traffic is tourism-based, with the remainder being local residents.
Based at Mwanza Airport in northern Tanzania, the company has succeeded in maintaining business throughout the Covid-19 emergency.
The pandemic saw many wealthy travellers flying into east Africa on business jets as a health measure, explained Hussein: "The number of private jets coming into Tanzania increased significantly."
And Auric Air's charter business also increased as people who could afford it hired one of the company's 14 Grand Caravans for families or small groups, to minimise the chance of infection.
The Tanzanian Government imposed no restrictions on travel, which allowed the country's vital tourist trade – much of it high-end – to continue: "Last year, from September to December, the whole world was pretty much shut down but Tanzania was open and Turks and Russians were still travelling," said Hussein.
Tanzania's airport infrastructure is also improving, which may make it more attractive in relation to neighbouring countries. A new terminal at Dar es Salaam and "a really nice terminal building under construction" at Auric Air's Mwanza base will help the airline's prospects. Many of the airfields into which the company's aircraft operate are rough dirt strips, "but they're taken care of".
Until recently, the company filled gaps in the country's route network where national carrier, Air Tanzania, did not fly. However, the state-owned airline has embarked on a major re-fleeting and expansion programme and is now operating into more of the country's airports, which has an effect on Auric Air. When Air Tanzania started to fly into the capital, Dodoma, for example, the smaller airline stepped back.
Auric Air is already in discussions with Avmax for a second Dash 8-100, to ensure the timetable can be maintained in the event of the first aircraft going unserviceable or being hangered for maintenance.
"We have no choice but to get one more Dash 8 because we definitely need a back-up aircraft," said Hussein. "It would be a huge embarrassment if the original aircraft has a tech problem or is out on maintenance."
The second aircraft may appear in 2022.
Stay up to date
Subscribe to the free Times Aerospace newsletter and receive the latest content every week. We'll never share your email address.