Buzzing Ibom
State-owned Ibom Air is making a name for itself in the African market as a strongly-run Nigerian airline that is growing profitably with Airbus A220s soon to enter the fleet.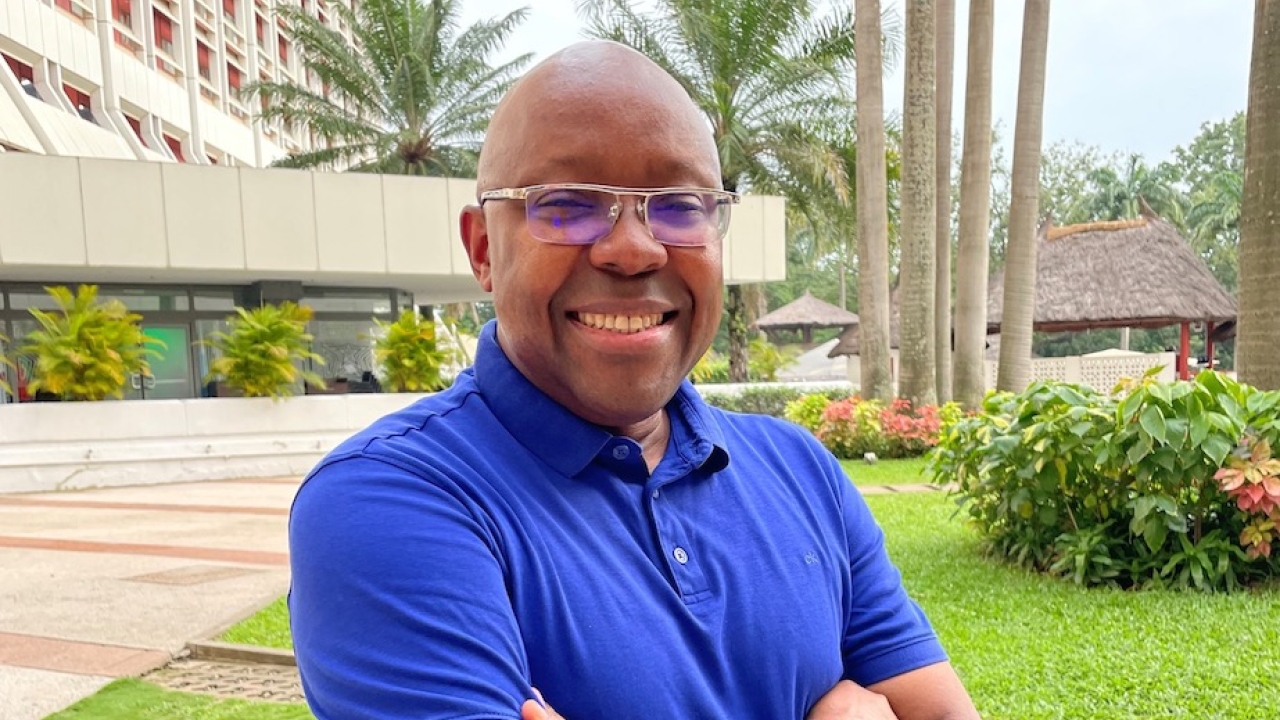 Credibility is a word that comes up a lot when talking to Ibom Air's George Uriesi, the managing director and chief operating officer of this start-up that is growing methodically from its base in Uyo in southern Nigeria.
For Uriesi, who helped found Ibom Air five year ago, it is vital his carrier's management team builds credibility with all its business counterparties. The airline's vision is to be "a world-class, African regional airline" that is executing a sensible business strategy and gaining a reputation as an African airline that is a reliable partner, paying its bills on time and in full.
African Aerospace interviewed Uriesi at the 7th Aviation Africa exhibition in Nigerian capital Abuja in mid-September as the airline prepares to take delivery of its first of 10 new Airbus A220s in November and embark on a new phase of growth.
The Ibom Air case offers a blueprint for the right way to set up an airline in Nigeria, and to a wider extent in Africa. The barriers to airline success are high in Nigeria, a country where costs are high, there is a volatile exchange rate of the naira to the US dollar, and the availability of critical foreign currency to pay overseas suppliers, especially aircraft lessors, is scarce.
According to Uriesi: "The uniquely 'Nigerian' issues can be overcome with deliberate, focused action and transparency. The management and organisational culture of an airline are important to building the confidence and buy-in of key partners in the aircraft acquisition business."
Ibom Air is an unusual start-up. Uriesi's CEO, captain Mfon Udom, was tasked by the state government of Akwa Ibom to create a business plan for a regional airline. He immediately called Uriesi up and together they worked on the plan for the airline.
"The aim is for Ibom Air to be a major plank of the state government's economic strategy to diversify the state's economy and move it from government-dependent to private sector-led," said Uriesi.
"The vision of state governor Udom Emmanuel was to develop a successful, well-run carrier like Emirates," said Uriesi, who was invited to run the carrier after preparing the business plan.
Uriesi, who's CV includes stints at Procter & Gamble, South African Civil Aviation Authority, Airports Company of South Africa, and CEO of the Federal Airports Authority of Nigeria, was the credible leader to navigate all the trials of establishing this state-owned, but privately-managed airline in Nigeria and get Ibom airborne.
"The idea was to take all our experience and build this right first time and for all time," he said. "Pick the right people, have the right structure, choose the right aircraft, create the right vision, and mission and try to just lead it clean with very top-notch corporate governance. Let's see if this is possible to be done in Nigeria."
Ibom Air began operating on 7 June 2019 when a Bombardier CRJ900 took off from Uyo's Victor Attah International Airport en-route to Muritala Muhammed International Airport in Lagos.
The business plan envisaged Ibom Air to begin operations with five aircraft, but it settled on three CRJ900s to ensure it had enough working capital, said Uriesi. This turned out to be a blessing because the shutdown caused by the pandemic almost caused Ibom Air to stall.
A quick recovery of Nigeria's domestic air travel market helped revive Ibom Air from August 2020 and it has not looked back. From day one, the carrier was founded to be built as a safe, service-focused, and profitable, said Uriesi.
So far, building back from the Covid crisis, it has made the grade, carrying 2.5 million passengers by July 2023, undertaking nearly 35,000 scheduled flights safely up to the end of August, having the best schedule reliability and on-time performance in the country and it achieved IATA operational safety audit (IOSA) certification in March 2023.
Uriesi describes Ibom Air's operational platform as a tripod with the legs being the airline, its expanding MRO base (with the aim to be self-sufficient in six-eight years), and its home airport at Uyo, one of the fastest-growing airports in Nigeria.
Today, Ibom Air's exclusively domestic network is focused on Uyo and Lagos. However, a new terminal being built at Uyo for the carrier will see it increasingly create a transfer hub operation, said Uriesi. The carrier will also launch flights to neighbouring countries in Africa, but it will remain within the continent, he added.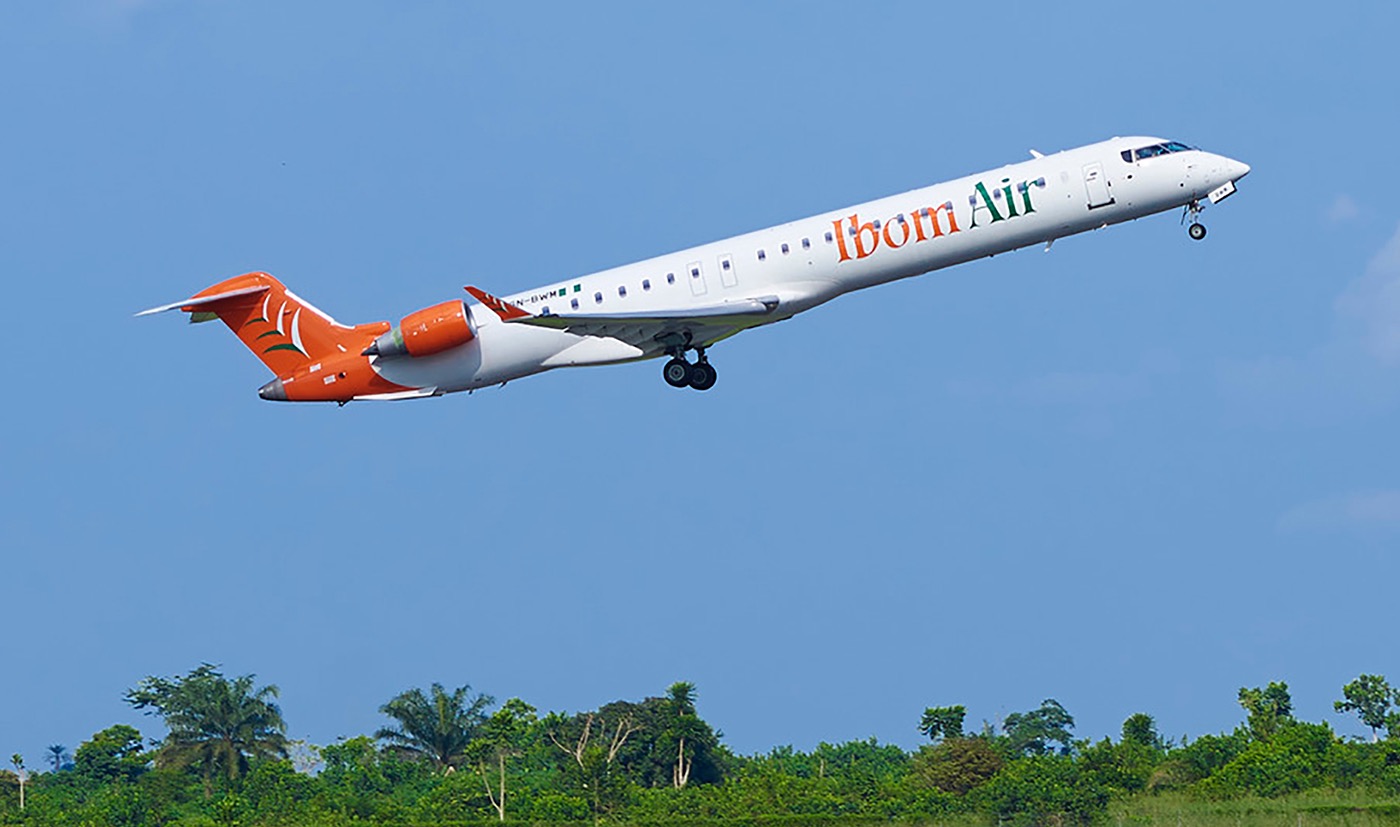 Starting with the 90-seat CRJ900, which has performed "fantastically", was a sensible move for Ibom Air, with the aircraft relatively inexpensive to operate.
However, despite its strong naira-based revenues, Ibom faced a constant monthly struggle to secure enough US dollars from its various bank sources for its lease payments, explained Uriesi.
It overcame this problem with a simple, yet ingenious plan, in partnership with its banks, which helped it secure the US dollars to buy its CRJs outright and then arrange a naira-based loan that Ibom Air is paying off.
It's a deal that works for both sides, with the banks enjoying a healthy interest rate and Ibom Air able to pay in local currency. "It is better for us paying the monthly loan in naira rather than looking for dollars every month to pay the overseas financiers. It is a saving grace for us," said Uriesi.
"Two years plus down the line of consistent monthly payments in naira to the bank they are asking us when the next aircraft is coming," joked Uriesi. He stressed that despite the difficulties of securing US dollars Ibom Air has never defaulted on its lease payments in its short history.
In 2021, Ibom Air began reviewing its fleet plans. "The burgeoning strength of the brand based on wide acceptance in the market created a serious capacity crunch in the first half of 2021," said Uriesi.
It selected the Airbus A220-300, which can seat from 130 to 160 passengers, and signed for 10 of the type at the Dubai Air Show in 2021. With the long lead time to receive new A220s, Airbus helped Ibom Air wet-lease two A220s from Egyptair for a time, giving the carrier a chance to "test" the aircraft, which was a great success, said Uriesi.
Today, Ibom Air's fleet consists of five CRJ900s, which it will retain, and two wet-leased A320s, which will be returned to the lessor in April 2024. The A320s have been added to boost Ibom Air's capacity while waiting for the A220s to arrive.
The airline will receive its first A220 from Airbus in November and is seeking at least one A220 and possibly two in addition to its delivery stream from the manufacturer to add capacity faster, said Uriesi. The second of its 10 A220s from Airbus arrives in November 2024.
The plan is for Ibom Air to move into its new Uyo terminal in Q4 and begin its new regional services, with routes launching over a six-month period to Douala, Cameroon; Accra, Ghana; Malabo, Equatorial Guinea; Libreville, Gabon; and São Tomé and Príncipe.
A side benefit of its overseas services will be an increase in foreign currency revenues, which will increase over time, helping Ibom Air generate cashflow in dollars. The carrier will also seek partnerships with other carriers in the markets it flies to and eventually look to join one of the global airline alliances, said Uriesi.
The carrier will carry more than a million passengers this year, and around 1.5 million are expected in 2024, said Uriesi. "We are growing fast, from a seven-aircraft operation to nine aircraft at the end of this year. We see ourselves as a 40 aircraft airline by 2028," he added.
A new administration in the Akwa Ibom state government recently took office and thankfully the change has kept the airline's mission unaltered. "The transition is done, and they continue to maintain the same level of independence as we had with the founding governor," said Uriesi.
At the operational level, Ibom Air is making money, although its financial information is private. Those that do see the books, like OEMs, bankers, lessors and suppliers, are impressed and want to do business with the airline.
These players are also impressed with the carrier's professional and confident approach as the management team establishes the credibility of Ibom Air on the international stage.
Stay up to date
Subscribe to the free Times Aerospace newsletter and receive the latest content every week. We'll never share your email address.