Bringing up the RIA
This year's Paris Air Show gave the world the first real idea of what the new national airline of Saudi Arabia will look like.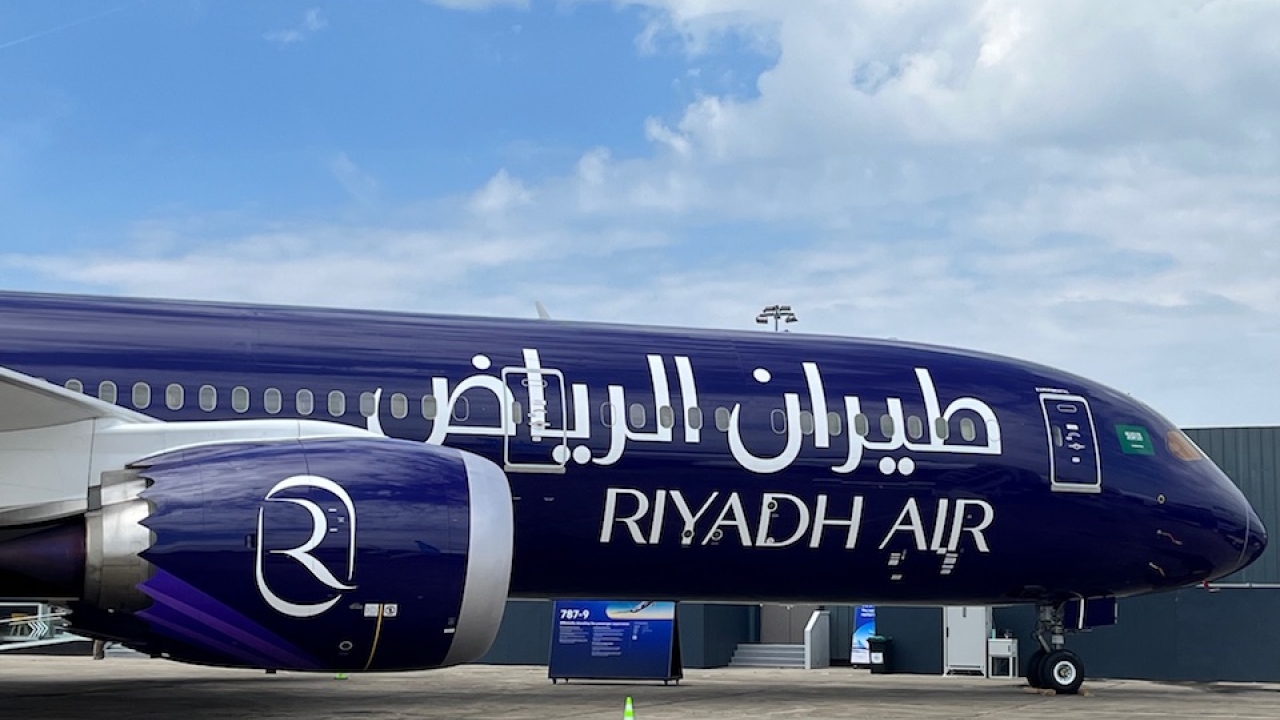 One of the French capital's most expensive venues, the Hotel de Crillon, was the setting for what will be the first in a series of unveilings of aspects of the new Saudi flag-carrier, on the eve of the opening of the biennial salon at Le Bourget.
Riyadh International Air (RIA) plans to start services in early 2025. Although that date may seem some distance away, "That's a relatively short period of time when it comes to standing up what's probably the largest new full-service carrier in recent times," CEO Tony Douglas told journalists. "Probably nothing since Emirates in this scale of ambition."
That scale of ambition is absolutely required to support Saudi Arabia's Vision 2030 project to diversify its economy away from oil and gas, said the CEO.
The intervening two years until the first flight will be punctuated by a series of what Douglas calls "tease and reveals", when more details of RIA's planned services will gradually be unveiled.
However, RIA's creation is not only serving an ambition, but also a need. Its planned home hub, King Khalid International Airport, in the Saudi capital, is notable in that 93% of its current flights are point-to-point services. In other words, there are very few onward connections.
This means that the capital's airport is badly under-served, a situation RIA intends to remedy. By 2030, the airline intends to be serving 100 destinations. Its first wave of routes will cover all of Europe and Asia's major capitals, Douglas said.
There will naturally be a build-up towards that goal: "Because we're a start-up by definition we'll need three aircraft at a minimum to start the first route. We'll start the minute we get three, and build progressively from that."
RIA placed a firm order for 39 Boeing 787-9s, plus 33 options, earlier this year and Douglas has said that a narrowbody order is anticipated imminently, although nothing was forthcoming at the show.
What was forthcoming was the first public viewing of the airline's striking indigo and lavender colourscheme on a 787-9 temporarily supplied by the manufacturer. The livery will mean that the airline certainly stands out among rivals on airport aprons.
Intriguingly, Douglas added that RIA would be rolling out a second colourscheme later this year, but he declined to go into further details.
Once passengers are on board, Saudi Arabia's new flag-carrier will aim to surpass the customer service standards set by other major Gulf carriers, according to Douglas.
Perhaps surprisingly, however, RIA will not offer a first-class cabin. This is in contrast with other airlines in the region such as Emirates, Etihad and Qatar Airways, which all offer one. The Gulf – and particularly Saudi Arabia – is one of the relatively few regions of the world where there are enough people with very high discretionary incomes to support first-class cabins.
"We won't go for first class, because for many airlines, first class is a sub-economic proposition when you're looking at financial stability," Douglas said. Often, according to airline insiders, the occupants of first-class cabins are people who have connections within the airline, or who are upgraded from business class. And, increasingly, for reasons of privacy, security and convenience, ultra-wealthy fly privately, by executive jet.
Instead, RIA says that it aims to offer new levels of comfort and facilities – in all cabins. "The standard we will represent and present will be of the highest order," Douglas said. "Think of the best…and then add a bit."
Riyadh Air aims to become a super-connector, similar to Emirates, Qatar Airways and, increasingly, Turkish Airways. All three airlines have major connection hubs.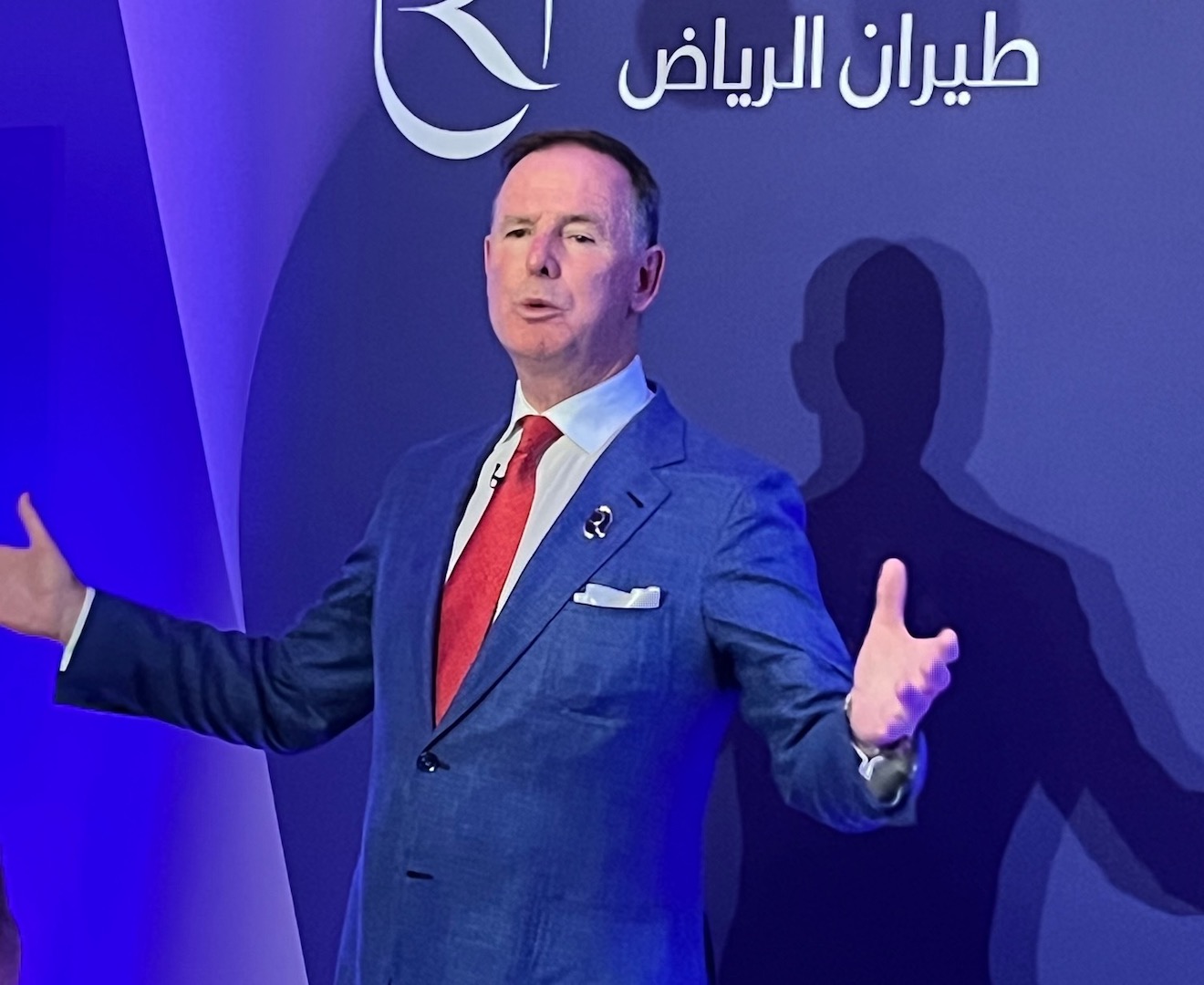 RIA will make use of the huge expansion scheduled for Riyadh's King Khalid International Airport (KKIA), as its hub. The new airline is a major plank in the planned growth of the country's aviation sector, which aims to triple passengers numbers at its airports to 330 million annually by 2030.
That connectivity will also apply domestically. With a population of some 38 million and a landmass roughly equal to half of western Europe, the country "We will be a global carrier, but we will absolutely connect within the Kingdom," Douglas said.
There has been much speculation about how the future role of existing flag-carrier Saudia after RIA becomes operational. It has been suggested that Saudia will focus increasingly on religious tourism traffic.
However, from comments from RIA executives at the briefing in Paris, it seems that the new airline will seek to co-operate with Saudia, particularly when it comes to domestic services: "It will be a very close, well-organised relationship," said one senior member of the management team. Other Saudi carriers may also be involved in RIA's domestic network.
Douglas has also said previously that Saudia and RIA will be connected in some way that will make it even easier for travellers to move in and out of the kingdom. That process will be eased by the new tourism visa system, which can be applied for and approved online in a matter of minutes. This will help attract foreign visitors to the wide range of tourism attractions that are starting to appear, such as Al Ula, Neom and the Red Sea Global Resort.
The airline will be 'digitally-led', taking advantage of the fact that it is not bound by legacy processes and equipment. Saudi Arabia's young population has the highest use per capita of electronic devices in the world: "They expect to digitally interact with everything."
He has also previously noted that an indicator of national enthusiasm for the new airline was that, in slightly over two months from the opening of applications for staff positions, 336,000 had applied. More than 120,000 of the applications were from Saudi nationals, with 52% of them women.
"People are seeing this as a fresh, innovative brand. That's what's so exciting about this. It's a young, vibrant, digitally literate airline," said Douglas.
The company is building a highly experienced management team. Dougas was previously Group CEO of Etihad, where he helped drag the company from making huge losses of $1.5 billion to a profit in the space of four years.
He has attracted to Riyadh Etihad's former 'chief people officer, Ray Gammell, as chief corporate development and enablement officer and former Ryanair COO Peter Bellew to the same role with the new company. Vincent Coste, formerly chief commercial officer at Gulf Air, takes up that role with the new start-up.
In keeping with Islamic teachings, Saudi Arabia has long had a policy of not serving alcohol on board its commercial airliner fleet. Whether Riyadh Air will depart from that policy may seem trivial compared to the bigger picture of establishing an airline. However, in past years, travellers flying on Saudia or other Saudi airlines were almost invariably travelling to or from a Saudi Arabian destination and thus accepted the lack of alcoholic drinks.
However, if Riyadh Air plans to become a super-connector for flyers heading between Europe and the Far East, for example, the expectation of having a drink on board may become a more pressing matter.
Douglas is diplomatic on the matter: "We will conform to the [relevant] legislation at any point in time."
Douglas has previously admitted that he is in unknown territory in creating a new airline: "I had the most incredible five years with Etihad , doing a big transformation project. I've never done a start-up before. This, for me, is the most humbling and amazing experience in my career, but I guess the connection between the two airlines is that I've probably got a PhD in 'how not to do it'."
Stay up to date
Subscribe to the free Times Aerospace newsletter and receive the latest content every week. We'll never share your email address.