Bouncing Ibom
Ibom Air chief operating officer, George Uriesi, talks about how his airline is taking the Nigerian air transport market by storm.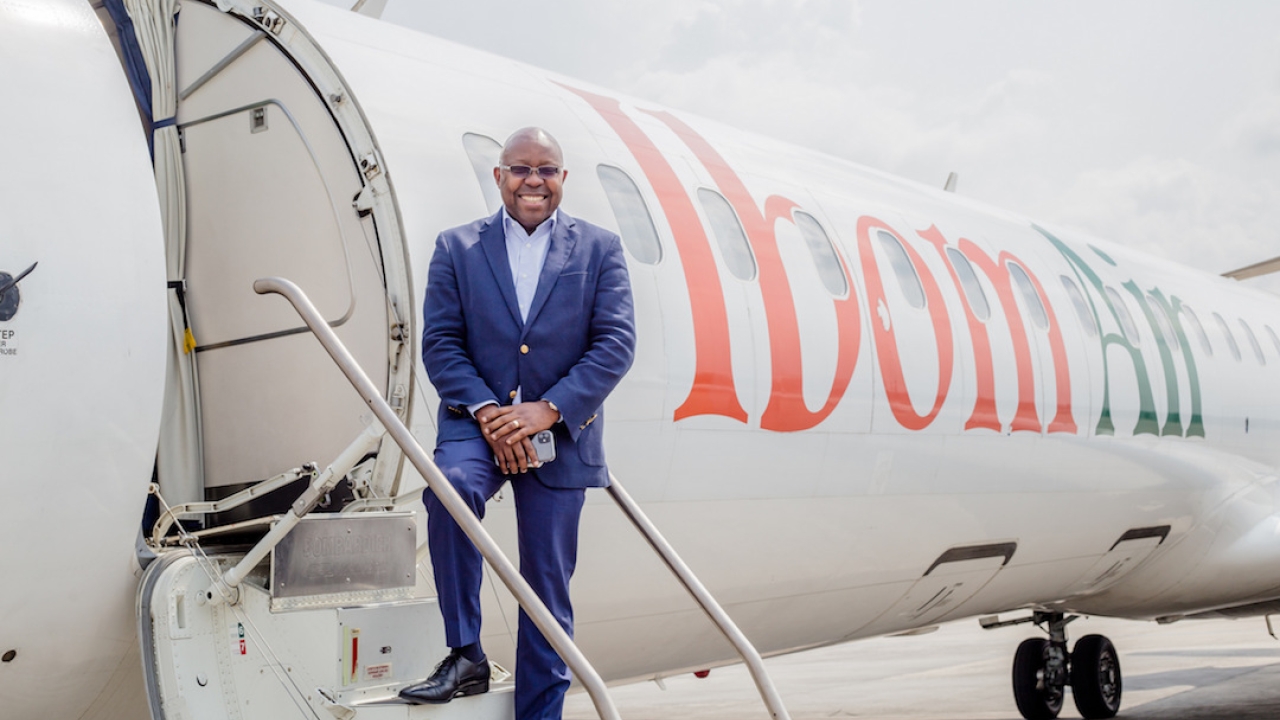 As Africa's most populous country, Nigeria is home to more than 200 million people and covers an area of 923,769sqkm.
Offering vast potential for leisure and business travel opportunities, in 2018 the United Nations World Tourism Organisation (UNWTO) declared that tourism is the future of Nigeria.
While the country has proven a tough market for airlines to operate in profitably, Nigeria's inadequate road and rail infrastructure mean flying is the default option for many domestic travellers.
Leveraging that opportunity is relative newcomer to the country's aviation market, Ibom Air. Having started operations in 2019, it has rapidly garnered a reputation as a reliable, on-time and friendly airline. Earlier this year it was ranked the best airline in Nigeria by the Travellers Awards and, at the end of last year, it marked a milestone, carrying it's one millionth passenger.
George Uriesi, Ibom Air's chief operating officer, attributes the initial success of the state-owned airline to Akwa Ibom's governor, Udom Emmanuel.
"He comes from a corporate background, so understands how to invest in a new venture. He was methodical about selecting experienced consultants to set the airline up and run it successfully," Uriesi said, explaining that, although the carrier is owned by the state, it essentially operates as a private airline.
"Our raison d'etre, initially, was to boost regional growth and economic activities in Akwa Ibom and the airline has delivered on that front massively," said Uriesi. "Passenger traffic at Victor Attah International Airport has increased threefold since we started operations and hotel occupancy in Uyo (the capital of Akwa Ibom state) is almost permanently at 100%. It's a popular destination for conferences and golfing, but it also offers an escape from the fast pace in cities like Lagos and Abuja."
Currently serving seven Nigerian destinations – Uyo, Lagos, Abuja, Enugu, Calabar, Port Harcourt, and Bayelsa (which was added to the airline's network in February 2022) – more routes are expected later this year.
"Beyond Nigeria we're looking at expanding our connectivity across the continent, initially keeping our focus on west Africa – Cameroon, Equatorial Guinea, Gabon, Ghana, Ivory Coast, Senegal, Gambia – and then we'll look to grow our network as far as Casablanca, Nairobi and Johannesburg," said Uriesi. "We want to reach the whole of Africa."
In line with its model for growth, Ibom Air began a codeshare agreement with fellow Nigerian carrier, Dana Air, in 2021. The purpose, revealed Uriesi, was to "reduce competition and encourage cooperation". He added that the airline is open to establishing similar agreements with other local carriers.
The Nigerian carrier placed an order for 10 Airbus A220 aircraft to enhance its fleet of CRJs during the 2021 Dubai Airshow. "Less than two years after launching, and five CRJs later, we had more demand than we could accommodate and needed to fast-track the introduction of larger capacity aircraft," explained Uriesi. "We had already leased two A220s from EgyptAir, so we knew it was the right aircraft model for our expansion plans."
The first two new A220s are due for delivery before the end of this year, with the full order expected to be complete by 2026.
While the airline is on track for continued growth, the question remains as to whether Nigeria's airport infrastructure is also ready to meet increased demand? "That's something we're really grappling with," agreed Uriesi. "It's already a squeeze with the current infrastructure at Lagos and Abuja. To avoid overcrowding at these hubs we plan to make more use of our base at Uyo."
Commenting on the wider lack of intra-African connectivity and weak airport infrastructure throughout the continent, Uriesi is optimistic that Ibom Air can be part of the narrative for change. "Our mission is to offer a reliable, on-time service and superior sales environment, enabling passengers to travel more efficiently between African countries. It's a model that's proven successful so far in Nigeria and we believe we can make it work across Africa."
Covid-19 invariably threw its fair share of challenges at an airline still in its infancy, but it has recovered well with passenger bookings on the up.
Other than that, the big challenge has simply been getting the airline up and running. "However tough it is anywhere else in the world to get an airline started, it's four times as tough in Nigeria," Uriesi concluded.
Stay up to date
Subscribe to the free Times Aerospace newsletter and receive the latest content every week. We'll never share your email address.