Allan holds the key...
Kenya Airways (KQ) has a solid strategy for emergence from the Covid pandemic that focuses around resizing, collaboration, and buying into the drive for sustainability.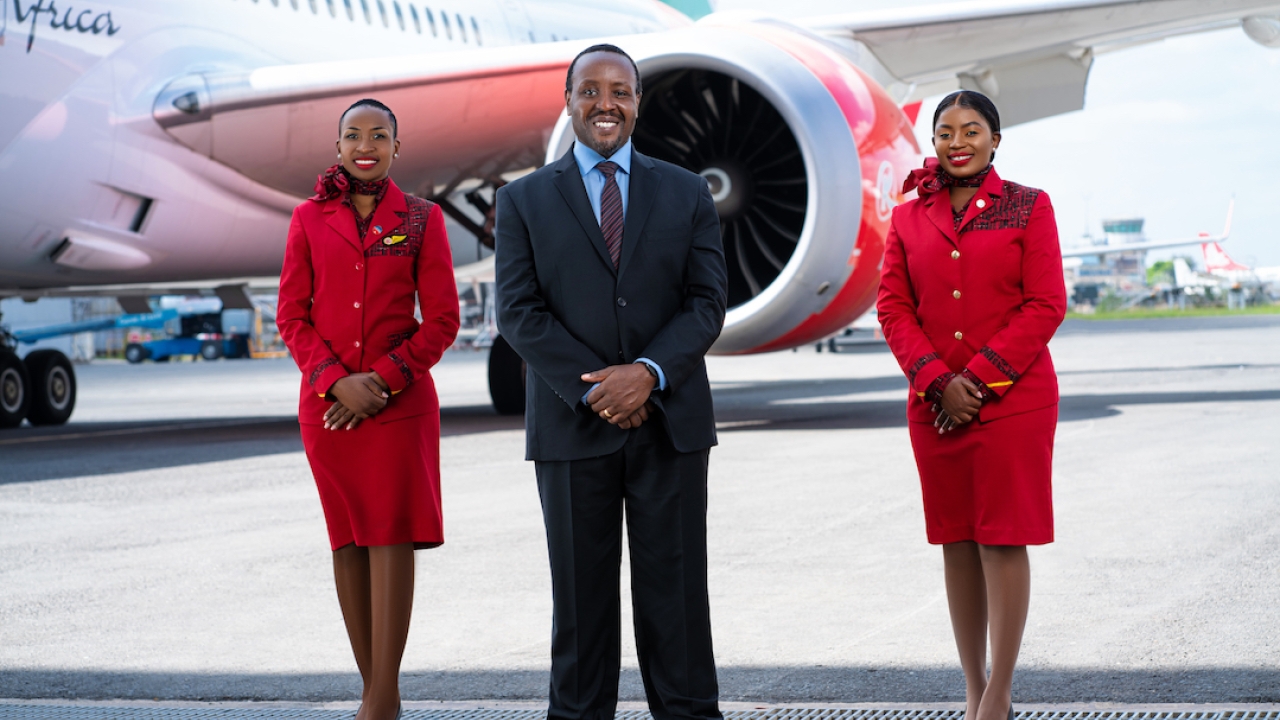 I have been fortunate enough to have known Allan Kilavuka for some years and have always been enthused by his youthful drive and passion.
When he moved from the Kenyan low-cost carrier, Jambojet, to take up the acting CEO role at the national carrier, I worried that some of that optimism and drive might become blunted.
I was wrong.
Kilavuka positively bounded into the hotel boardroom on the sidelines of the African Airlines Association (AFRAA) stakeholders convention.
As official 'host' of the event, he had already been heavily engaged in welcome speeches and greeting airlines and officials to the meeting; on the eve of the show he had hosted an event for youngsters to encourage them to look at science, technology, engineering and mathematics (STEM) subjects and potential careers with the Kenyan national carrier.
Like all African airline leaders, Kilavuka suffered during the Covid-19 pandemic. As the industry shut down, KQ found itself faced with leasing fees for its modernised fleet.
"In 2019, we had a record year flying 5.1 million people but, in 2020, it dropped to 1.8 million. We had a great first quarter and then stopped flying for six months," Kilavuka explained.
"Last year we increased to 2.5 million passengers and improved our losses by 56%. How did we do that? Mainly, of course, we flew more. But, more importantly, we had special rates that we paid with our lessors."
For 2022, the leasing companies wanted to revert to the old rates, but KQ kicked back. "They're not happy but we're saying, 'Listen, what we're getting from government in funding is conditional on reducing costs'. And this is very important. If we don't reduce costs, overall, the government will stop funding us, because we need to demonstrate that the restructuring is sustainable.
"And, as long as we have a high-cost base, it's not going to be sustainable. We need to demonstrate that we are reducing our costs and that we have a sustainable model where we'll be self-sufficient from 2024," he said.
The strategy has worked, with a further $170million is government funding, which Kilavuka confirms is a loan. The airline will be restructuring further, cutting the fleet and destinations. But he is determined that KQ will not only survive, but also strengthen its position as a leading airline across the continent.
Cost-cutting is not easy when so much – fuel, navigation and airport fees, and, in many cases, leasing contracts – is outside of the airline's control.
"Of course it is very difficult," Kilavuka agreed. "Navigation fees are imposed on us by 200 governments around the world, but there are cases where you can negotiate on landing at airports. You can have a discussion and they can give some concessions, but these are limited; you will probably get 5% here and there.
"But what we're talking about is how to reduce distribution costs, and employment costs, which is another difficult one.
"You have a structure that says 45% of your cost is pilots, 20% is management, and the rest is all other employees. So is that the right mix? And then how can you make pilots and cabin crew more productive and efficient? We need to use the same numbers for more flights, and generate more income."
Kilavuka has long been an advocate for greater consolidation among African airlines. The continent needs a period of consolidation if it is to overcome its connectivity challenges, he said at a recent event in the UK.
He argued that the fragmented nature of the sector is due to protectionist measures and is stifling economic growth in the region.
I asked him how many airlines the continent should have. "We probably wouldn't bring it down to one," he said with a smile. "I suspect you're probably looking at about five or six."
Kilavuka insists the airlines have to be sustainable. "My thinking is that you do need competition. But, if you look at Europe, they have three big airline groups, along with the low-cost carriers like Ryanair, and so on.
"But I'm talking about legacy full-service carriers. In Europe there are three groups, and that's what I'm thinking about here, saying, why don't we have three groups? We have a smaller market than Europe."
Kilavuka has already taken the first step with a plan that carries the working title 'Pan-African Airways'. In a much-publicised move, KQ and South African Airways (SAA) are to come together to get the project under way.
"It begins with one step. Let's say South Africa, Kenya. Let's prove this. Let's do this. Other airlines are waiting the wings to see if this make sense? And if it does, they join us," said Kilavuka.
Like many African projects, there is some cynicism about the speed at which change will happen and what barriers – particularly regulatory – may get in the way.
"I'm so bullish about it. But sometimes people tell me, I'm running too quickly ahead of everybody else. For me, it's such a no-brainer that I kind of get ahead of myself," said Kilavuka.
"The concept has been approved by the two governments and we have signed a partnership agreement that clearly stipulates the roadmap, and talks of 2023 as to when we're going to set up this group.
"Is it easy? Absolutely not! It's going to be extremely difficult for us to do this. But nothing good comes easy. And I think it's not just a good thing to do; it is so necessary. I think that it's going to be very difficult for African airlines to survive without this kind of an arrangement.
"The alternative is pumping in billions of dollars to prop up airlines. We're going to face a lot of roadblocks, a lot of naysayers, but we've got to do it."
Kilavuka envisages a model along the lines of IAG in Europe (owners of Iberian, British Airways, Aer Lingus etc).
"I love that model," he said. "I think it will work perfectly for Africa. SAA will continue flying as South African; we will continue flying as Kenya Airways; anybody else who joins us will continue flying with their own identity. But the scheduling, the network, will be coordinated and synchronised to make sense. And then, when you look at the common activities, operational activities, they have to be coordinated, so that we have economies of scale.
"When you talk about aircraft purchasing, for example, it has to be coordinated. Or group-level strategies for growth, how do you grow? Who are you partnering with outside the group and so on?
"The advantage we have with South Africa and Kenya is that there are two of the busiest hubs in Africa and they are apart from each other, so they complement each other."
There are talks with other airlines and Kilavuka says west Africa is particularly interesting to the pan-African group.
Kilavuka has many concerns about the future of African aviation – primarily because of the charges. He proved with Jambojet that you can stimulate domestic traffic, but high charges for flights that link close neighbours dampen that opportunity.
"Take east Africa, for example," he said. "People bus from Kampala and spend 12 hours on the road to Nairobi. It would make so much more sense to go by air. There is absolutely no reason why we cannot domesticate our travel in this region. If you really think about it, we speak the same language – Swahili – and we still trade, despite the charges."
Infrastructure needs improving with additional runways, and a new attitude towards aviation needs to be embraced.
"We need to demystify flying and get people excited about this industry," he said. "It is such a huge catalyst to economic development. We must make it less onerous."
Kenya Airways has been developing relationships with education and also encouraging innovation and entrepreneurship at the 'pride centre' at its headquarters.
"We are seeing hundreds of great ideas. This is our future," said Kilavuka.
With plans for electric vertical take-off and landing vehicles (eVTOL) air taxis as part of the fleet, consolidation to increase pan-African trade, KQ being Africa's first airline to embrace sustainability with a 787 flight to Amsterdam, and a demonstration that he is not frightened to make tough decisions, it is no wonder that Kilavuka has been named as one of Africa's top leaders.
Stay up to date
Subscribe to the free Times Aerospace newsletter and receive the latest content every week. We'll never share your email address.